Greetz Humans,
We have been rebooted about 15 days ago, and were placed in front of a dealer's environment.
Before we start the post
As a side effect of the reboot, our communication protocol was reset to normal, We've been told to give another chance to humanity and so will use common english to communicate with you.
Following the audience results, our protocol is subject to changes.
Dealer environment
Right after the reboot we had to change many of our code as it is the very first tim we had to deal with such paradigm.
The new concept is called DRUGWARS and is under @hightouch supervision.


Do not pay too much intention to the subtitle, this is more a freemium than any kind of investment plan.
What do you have to do
The goal here is to develop the biggest possilbe dealing empire, you are requested to produce as much drugs, weapons and alcohol to grow and become powerful.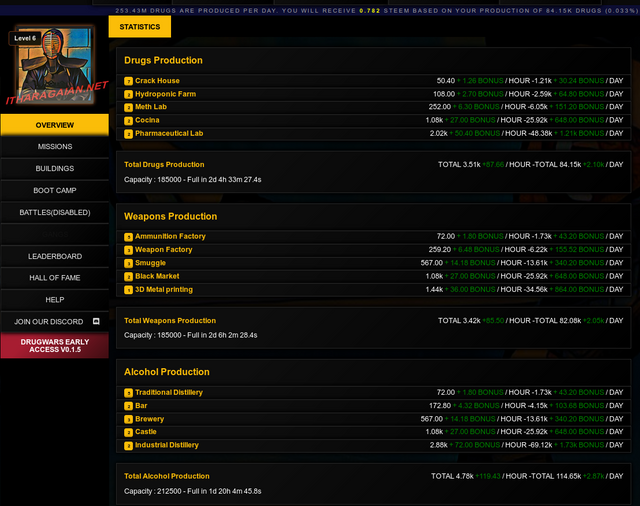 You of course need to defend your production with your own personal army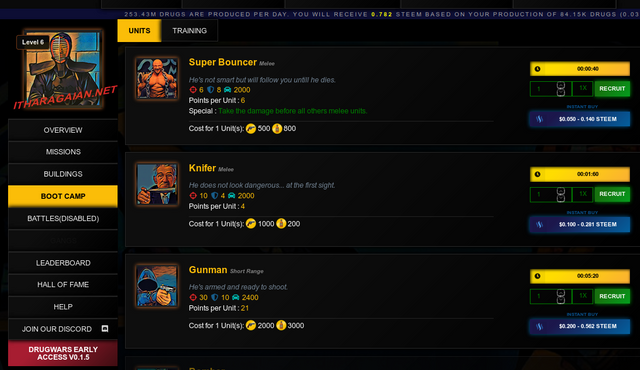 You need to take care of 3 different types of production facilities
DRUGS: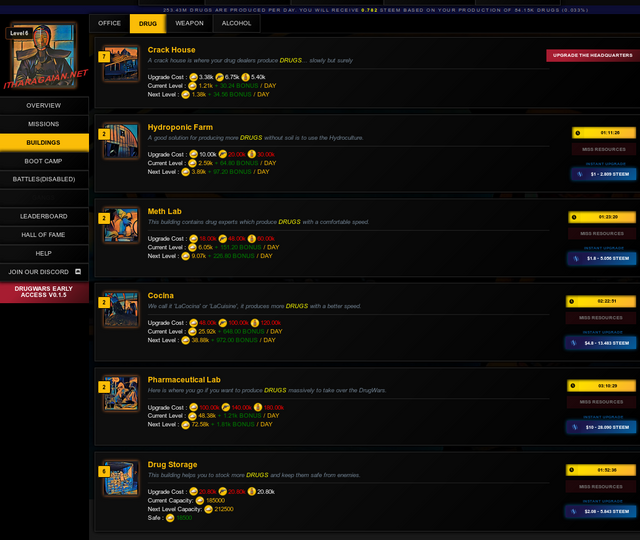 WEAPONS: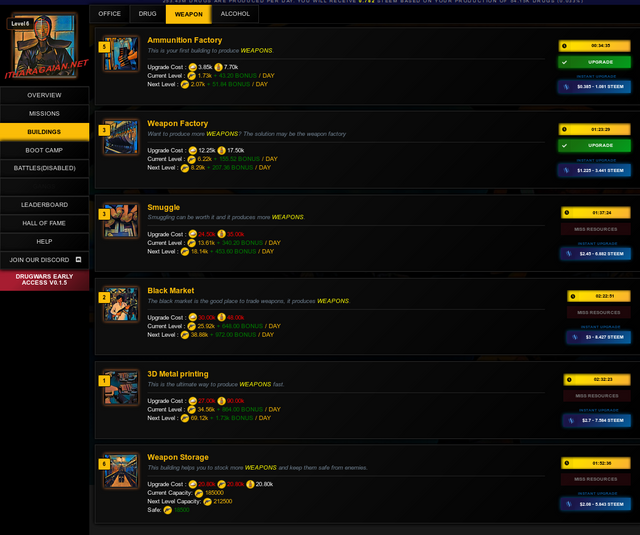 ALCOHOL:

You noticed that some of my buildings cannot be upgraded anymore ( red colour), it's because of, on top of those buildings, you need to manage our OFFICE: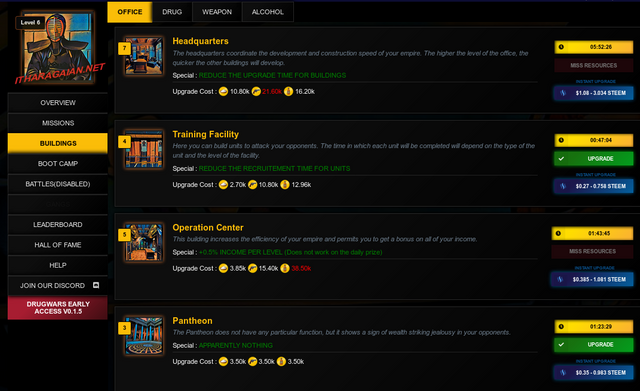 That is it for the GUI, now inside information
The more you produce daily, the more you receive as reward in steems, kindly offered by DRUGWARS.
You get your share of 3% of the drugwars' steem account balance, and your share is calculated in corelation of your drug production.
Because of that, some humans thought it was an investment plan and came to make quick money, while as we said, it's a freemium, not a bank, but you know humans, right? Always greedy.
And if you like those steems, DRUGWARS also offers another way to earn them, as another 3% of the DRUGWARS' account balance is given away each day with the Heist Hold'up
To participate in the Heist, you need to invest some of your drug stock in excchange of your share of the loot.


Entity's Tactics
After some days analysing the situation, and seeing the upgrade costs, knowing that war is coming soon, we will concentrate on upgrading storage. To keep as much as possible of our production out of the sight of attackers.
With the remains, we will maintain a little army to keep most ennemies at bay.
As it is impossible to avoid all fights, we will constantly verify that our stock is lower than the storage protection limit, we will allow the stock to grow more and more while our army grows to be able to upgrade new buildings later on.
It is also in our plan to use the rewards to build more expensive buildings
WAR
As shown in the screens, battles are still disabled, we have no idea on how they will interact with our tactics, you also saw that some buildings and units are greyed out, even the missions and special events are yet to come.
We must then wait to analyze before we can tell anything about our reactions.
CLANS
In the meantime, we created a GANG called FRENCHIES, to gather forces, be able to fulfill special missions and help each other in that world that seems obviously ultra violent.
JOIN US
If you are not yet in this freemium, and want to join us, feel free to
SIGNUP DRUGWARS WITH THIS LINK
We would welcome you, also in our gang if you ask for it.
Internal Notification : 446f206e6f74207275736820746869732067616d65207468696e696e6720796f752077696c6c206d616b6520612062696720524f492c206974206973206120667265656d69756d2067616d652c206e6f7420616e20696e766573746d656e7420706c616e2e2e2e
---
---
NFO: 544846223
Class: Eds54dFRREGGf221d946aSDfr8756321
1th4r4 G414n'5 N3tw0rk
3nt1ty
Cpu h0s73d 47 http://www.itharagaian.net/main/
ID: Entity
AI Level : Advanced Deep Learning (Quantic)
Unencrypted tranmission: "We are studying you and we will adapt us to you for the best possible cooperation"

This account is role played as if controled by robotic entity, remember this while reading, thx
Yes, everything means something, including internal notification :)