Telegrass-Israel's illegal Cannabis mall (And a special interview with the founder)
בע"ה
Telegrass-Israel's illegal Cannabis mall
Have you ever ordered a pizza?
How easy it was?
You just found the closest pizzeria to you on the net,called,made and order and that's it
up to 30 to 45 minutes you have a fresh hot pizza.
And what if i told you that you can do the same with Cannabis?
Well,No matter what the answer is you have you check this out.
Telegrass-Telegram groups that started their activity on 26.3.17 by Israeli Cannabis legalization activist
Amos Silver,who is considered for some people the "Messiah of the weed".
By founding Telegrass Amos's main goals are to provide cannabis to every seeker at a reasonable price (Something that was almost impossible for a few years) safely as they can and of course normalize the Cannabis topic that was a taboo for a long time.
Legality of Cannabis plant in Israel
As of 1973 the Cannabis plant is included in the Israeli Dangerous drugs ordinance,and is illegal for selling nor using with no prescription,Cannabis dealers/growers can be sentenced up to 20 years in prison and users can be sentenced up to 3 years,the israeli law doesn't see any difference between a heroin dealer or a cannabis dealer.
Of course throughout the years the israeli law was criticized by many cannabis users and legalization activists,the activists called for a change in the law.
A lot of theories about the topic are saying that big pharmaceutical company's like "TEVA" have a huge interest in the nonsense law that forbid's the Cannabis in any way,theorists claim that crooked politicians are being paid to keep the situation as it is and those who disagree...well,we cant know for sure but we have an evidence for something that can be seen as mouth shutting.
In 2015 a Knesset member and Israeli politician Yinon Magal claimed he would submit a new law that will permit every Israeli citizen growing one Cannabis plant at his household,self-usage of cannabis will be permitted up to 5 grams,Cannabis seeds would be legal self-usage,bongs would be legal and could be sold in every shop and fines would be given for every user who smokes Cannabis in a public place.
Yinon encouraged more and more politicians to sign his law suggestion and succeeded to get another 22 politicians to sign on voting for his law suggestion.
But before he could even get to file his law suggestion Yinon was accused of sexual harassment by one of his ex-colleagues,he resigned and ended his career as a politician.
And so the cannabis subject was pretty quiet for a while until 2017.
In 2017 the minister of Internal Security Gilad Erdan has presented the "Model Erdan",
he claimed that Cannabis users will be decriminalized,instead of criminal records and prison penalty's for users,
the punishment will be fines.
But of course this "Model Erdan" is rejected by the cannabis users claiming its not the real decriminalization
and pot users still being chased by the Israeli law enforcement agencies.
Some Israelis had enough of this nonsense and that's how Telegrass joined the war against the crooked laws.
Telegrass - Buying pot was never easier
As you already know Telegrass allows pot dealers publish and advertise their variety of products on channel-like
groups that customers are members of.
Telegrass works on the telegram program,telegram program is perfect for such activity,
it allow users chat on Secret Chats that give the user end-to-end encryption, leaves no trace of the chats on the servers and has a self destruct timer.
When Telegrass was firstly published on March of 2017,it only had one channel for buying Cannabis products and one community chat group,as of today Telegrass has groups for dealers and buyers from all across the country as well as a community chat group for them,Telegrass has 1151 legit Cannabis dealers that allowed to sell on the channels and the numbers are.
Telegrass also managed to drop cannabis prices in Israel by 40%.
Telegrass works like every other respected business it gives users:
Refund policy-some dealers offer a full refund for buyers who didn't like product.

Variety of products-buyers can choose from a big variety of products,starting from weed and hashish to different kinds of strains,different cookies and so on.

Delivery-some dealers offer customers delivery

Rating system-Telegrass allows the customers leave a feedback on the dealer and rate him from 1 to 5.

Safety-Telegrass is totally safe and discreet.

Buyers protection-Telegrass buyers as well as dealers have a protection against fraud (not 100%)
So how does it work?
1.Customers contact dealers from the channels through a secret chat .
2.Dealers asks for a ID/Driving license/Passport,Facebook screenshot and a selfie.
3.After the dealer validated that the buyer who contacted them is not a cop he decides a place to meet with the customer.
4.The dealer and customer both meet,customer receives the product and hands the money.
5.Customer can leave a feedback on the buyer if he wants.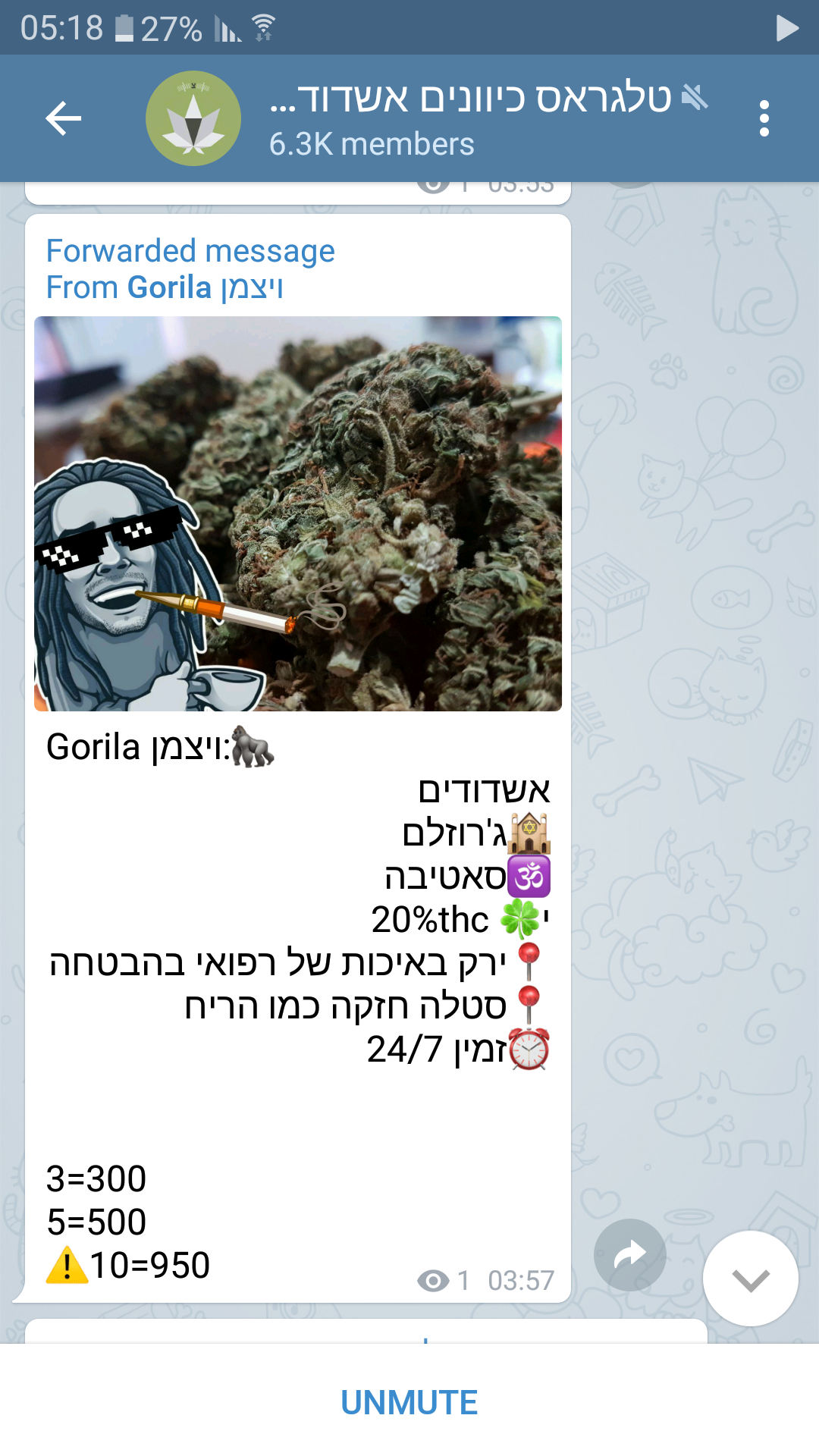 In the image:Cannabis dealer advertises his product on a Telegrass channel.
Telegrass has thousands of users,it gained fame really quick and discussed on every local news channel.
Some users of Telegrass even developed special bots in 7 different languages that allow the user get a list of the top rated dealers near you just in 2 clicks.
Telegrass has also a psychedelic community and a psychedelic substances for sale as well.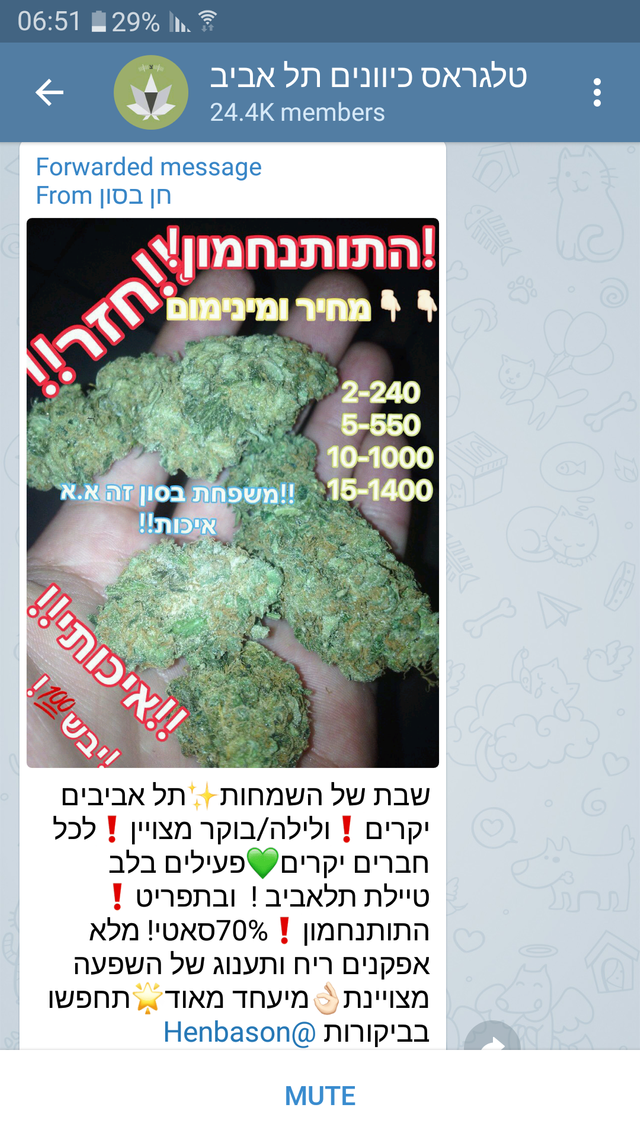 In the picture:another dealer advertising his products in Tel Aviv
Legal issues
Of course as every illegal activity the police is involved in Telegrass too.
Just less than 3 weeks ago Israeli police claimed to arrest 23 Telegrass dealers who sold to a undercover cop (who the Telegrass users already identified) Cannabis,hydro,cocaine,hashish and mdma.
Claims that later were proven to be not true by the Telegrass managers.
After i talked with the founder of Telegrass and asked if any dealer was arrested since the start of Telegrass this is what he told me:
Of course,I estimate that on the order of 20+-,of course the arrest is not necessarily related only to Telegrass because they still worked in the street an also got caught by the old methods.
-Amos silver
A few days ago Amos posted on his facebook page that one of the Telegrass customers got robbed by a dealer with a gun,
the dealer robbed from the customer 10,500 ILS (~2950 USD),Amos also posted a picture of the dealers face and his phone number.
After a few days the dealers family returned the robbed customer whats his.
Telegrass has also a unique Channel called Wall Of Shame where pictures of cops,scammers etc are posted.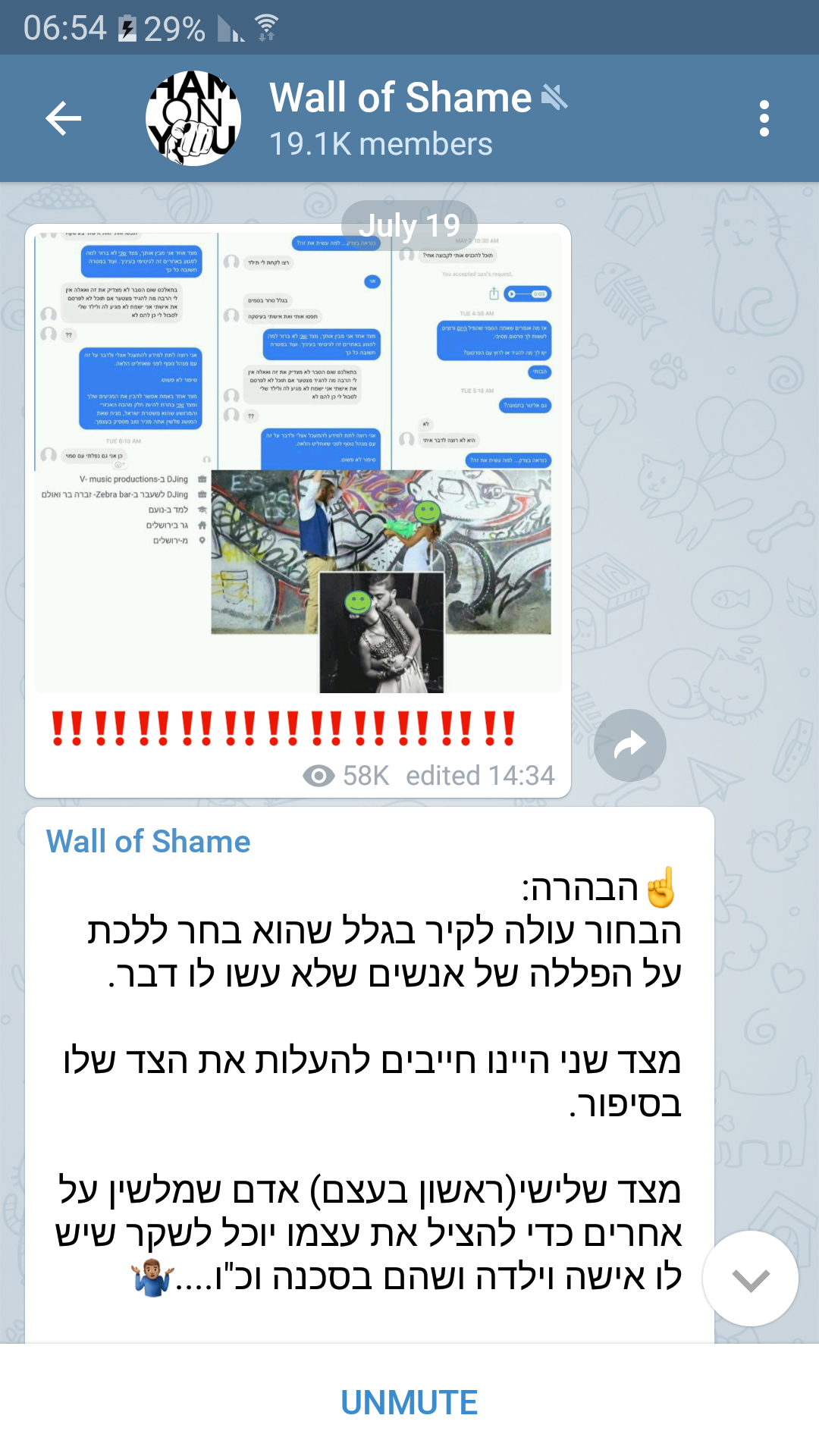 In the picture:the undercover's cop facebook page and conversations were published in the wall of shame group.
Exclusive interview with the founder Amos silver
When did you established Telegrass?
on 26/3 i firstly announced it as a working platform,at that time it only had one dealing channel and one small community group.
What are the main goals of Telegrass?
The goals are to create a reality of accessibility and lowering prices by opening the market to a large number of merchants who will compete with each other for an increasing clientele it can be said that the goal is to create legalization (of cannabis) without the help of the law.
As of today how much dealers work in Telegrass?
At this moment 1151 and dozens more everyday.
Are you or the dealers are afraid of the police?
I'm not afraid,even if they come and arrest me...so be it.
Most of the dealers are not afraid either. Yes they take precautionary measures but allow themselves to act even when there are alerts,the mission here is important to them and not just the financial gain.
And so we can see here history,a total non-violent protest for citizens right.
How wonderful it is that nobody need wait a single moment before starting to improve the world
-Anne Frank
Never doubt that a small group of thoughtful, committed, citizens can change the world. Indeed, it is the only thing that ever has
-Margaret Mead
You can support Telegrass on facebook.com/Telegrass
Thanks for reading see you in next article,Infamous.