"Tiny Drawing" by Richard F. Yates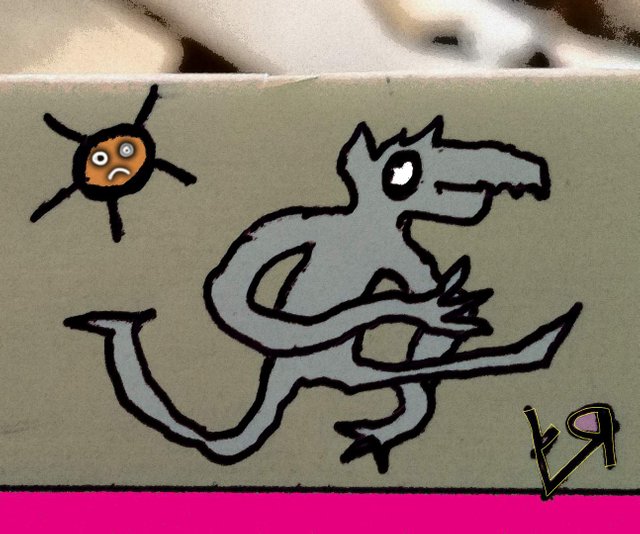 [Ink on paper with digital embellishments and color. 2020.]
Went on an adventure today (a rainy adventure) with Mariah. We headed south on Interstate 5, and landed in Kalama, Washington, where we hit a flea market. I found a novel and a box of "Good Fortune" incense sticks, and Mariah got some vintage postcards.
Then, since we were in Kalama already, we checked out one of the many antiques shops (we each bought a handmade postcard), and saw a couple of friends who had also come for the flea market and ended up antique shopping. (Mariah and I have the same idea of a "good time" as a retired couple! Good to know!)
Then we walked a couple blocks (in the rain) to the Lucky Dragon restaurant and ate lunch. Good stuff!
Returning to Longview, we headed to the local craft store so I could buy some more black stretched canvases, and we ran into our two daughters and the grandkid. (The little kid is funny.) I also grabbed a new notebook---even though my current notebook isn't full, yet. I haven't been journaling as much, lately, but I need to get back on it! Journaling helps me develop ideas for stories and artwork. (For example, the drawing at the top of this post began its existence as a doodle in my current journal.)
After we finished craft store shopping, we hit the grocery store, then came home, ate dinner, and watched Knives Out for the first time. (We both enjoyed it! Fun and snarky---but not for folks who are bothered by people throwing up. It's a major plot-point!)
I'm hoping to get more painting done tomorrow---and perhaps a book review!!! (Perhaps...) Only time will tell!
Later!
---Richard F. Yates (Holy Fool)
Posted using Partiko Android