It was a cool summer morning. She watched him sleeping, so peaceful, so innocent looking.
She smiled, as she brushed her fingertips through his messy curls. He didn't react at all. She could tell he was still in a deep sleep.
Softly, she kissed him on his cheek before she peeling back the rest of the covers.
She moved her fingertips down his body, watching him breathe.
Her excitement was already mounting as she gently kissed the head of his cock.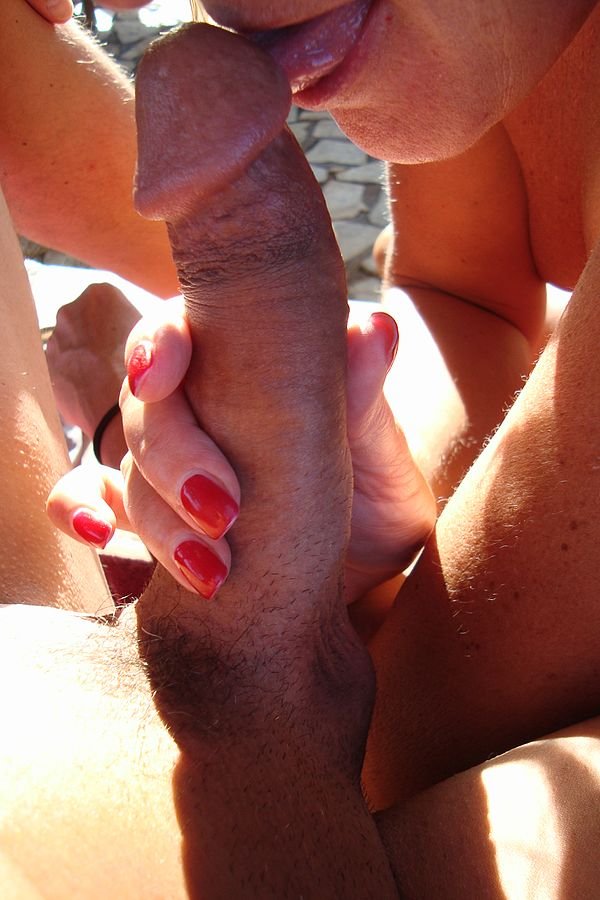 Commons Wikimedia
Even though he was sleeping, his reaction was instant.
She smiled, pausing for a moment to admire how hard and beautiful his cock was.
She licked her lips and ran her tongue down the length of his cock.
Mmmm. She loved the way he tasted, the way he smelt.
She continued to wet the length of his cock before drawing the head into her mouth gently sucking, one hand cupping his ball sack, the other around the base of his cock.
Incredibly, he was still sleeping, but she was so turned on that she didn't care.
She spat on the head of his cock, watching the spit run down its length, lubricating her hand. She began to jack him off while moving her mouth up and down on his cock, running her tongue over it as she sucked.
She moaned with pleasure as she took more and more of him into her mouth.
His cock was so hard.
She moaned again as she tasted his precum. It turned her on that he was getting excited.
He let out a soft groan. She could feel him shifting, moving, waking.
Her enthusiasm grew, she began moving her mouth faster down the length of his cock, squeezing the base of his cock with her hand.
He growled and she could feel his hands suddenly on the back of her head, grabbing her hair.
Without warning, he thrust his cock hard into her mouth, gagging her. Tears filled her eyes as he continued to thrust and gag her.
He growled again.
"I see my little cum slut needs some cock, hmmm?", he asked in a low raspy tone.
He pulled out his cock briefly, letting her breathe, slapping her face with it.
"I don't remember giving you permission to just take my cock whenever you want sweetheart. If you want Daddy's cock you have to ask me for it", he coaxed her, sitting up.
Her cheeks flushed. "Yes, Daddy. I neeeed some cock. I neeeed your cock. May I pleeeease have your cock? Pleeeease daddy?", she begged.
"Hmm. That's a good girl. I like your manners, I like that you asked so nicely. But, I still think you should be punished for taking without asking. Lay down on your back on the bed", he ordered.
Obedient, she immediately shifted her position, watching as he left the bed.
"Such a dirty whore. I want you to hang your head over the edge", he instructed her.
Again, she immediately did as she was told.
He came up beside the bed, "I am not going to be gentle on you. You made Daddy so hard. You made Daddy so horny. Daddy is going to have to fuck your mouth hole hard. Open."
She licked her lips, opening her mouth to him.
Carefully, he positioned his cock, supporting her head with one hand and placing the other on her throat.
Slowly he worked his cock into her mouth, thrusting it in and out. Deeper and deeper.
Then, without warning, he thrust into her throat, pumping her throat with his cock.
With his hand on her throat, he could feel his own cock as he throat fucked her. It turned him on so much. He could feel his orgasm building.
"Hmm", he growled. "You're such a good little cock whore."
He briefly pulled his cock out to let her breathe, before resuming fucking her throat hard..
She gagged, and her spit ran down his balls, turning him on even more.
"Hmm, you please me", he praised her as she let out a moan. "I'm going to blow my load right down your throat sweetheart. I'm not going to pull out, so you're going to have to swallow."
"Mmhmm", she managed, her mouth and throat full of cock.
"Good girl", he said breathing hard.
He growled as he released his load into her throat.
Slowly, he pulled his cock out.
"Hmm. That pleased me my little cum slut. Such a good little cock whore", he stroked her face. "Now, let me go to the washroom and take my morning piss. Go put some coffee on sweetheart."
"Yes, Daddy", she smiled, bouncing off to the kitchen.
"I love you sweetheart", he called out after her.
"I love you too Daddy", she chimed back at him.
~
Other Stories which we have written:
Yes Master
Please-Daddy Part 2
Please-Daddy Part 1
Yours