Do you like the recent Partiko 'Free Point Earning' feature?
---
Partiko recently add a new feature called "Free points". Where they are offering to see some short video advertisement and you can earn 200 points for doing so.
It's easy to earn and not mandatory if you don't like the system.
Partiko is saying there are some surprises coming for those who are holding more Partiko points. Maybe their tokens are gonna listed on token market or the price of the token gonna raise. I am not sure. Currently you will get 0.016 by using 1000 points.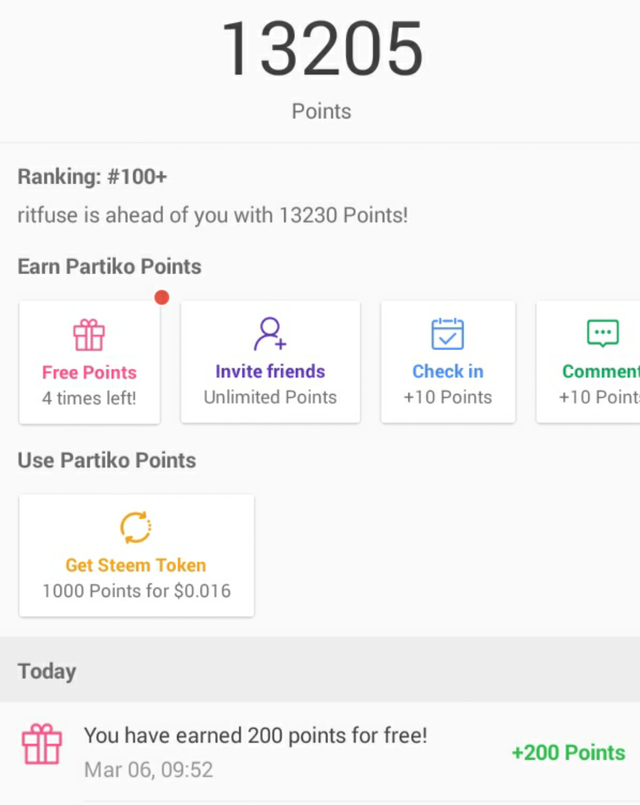 Img: screenshot
I personally don't like avert. But as voting, commenting, posting doesn't add high points on your profile, so it's the better option to earn some points by seeing short adds for people who want to accumulate more points.
I am curious to know did you checked the option yet? If yes what is your reaction?
If you are not using Partiko you can download it here-
https://partiko.app/referral/rem-steem
You will get 2500 points when you are gonna first post something using any referral link. Don't hesitate to use mine. 😊
Thanks for your time.
@rem-steem
Stay blessed. Keep Steeming.
---
Yes, I do. already get some points by seeing adds
---
Yes, maybe. I have seen the feature but did not try it yet
---
Not sure if I would like it or not. I don't like seeing adds, May be I would not try this
---
I don't know about the feature yet
---
---
I don't use Partiko (If you are interested you can download if through my referral link :) )
---
---
Answer the question at dpoll.xyz.