ReggaeSteem/JAHM Token Update & Community DPoll #1
---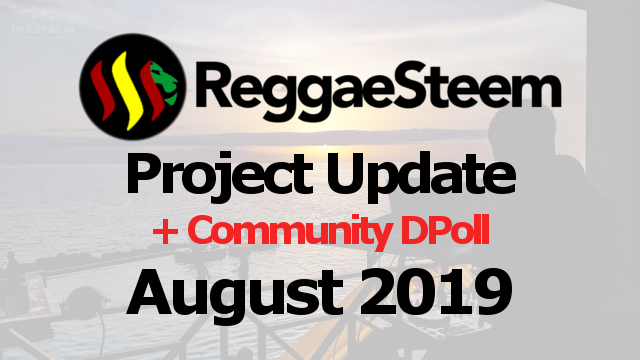 Hi everyone,
It's been just over 30-days since the launch of ReggaeSteem. In this time we've learned quite a few things, had some hiccups and made a couple mistakes. Some of which are common to most Steem Tribes who are rolling out their communities and tokens. In this post we'd like to briefly go over some things; mostly positive updates about ReggaeSteem, JAHM Token and our beta services.
For transparency, the first JAHM Token governance poll in which we ask the community to vote on the future of JAHM Token can also be found below.
Traffic and Analytic Data
We use traffic stats and insights from various sources to find out what works best for on-boarding, JAHM Token redemptions and to guage the general growth of our social reach.
Traffic Stats: ReggaeSteem.com
Data provide by Google Analytics.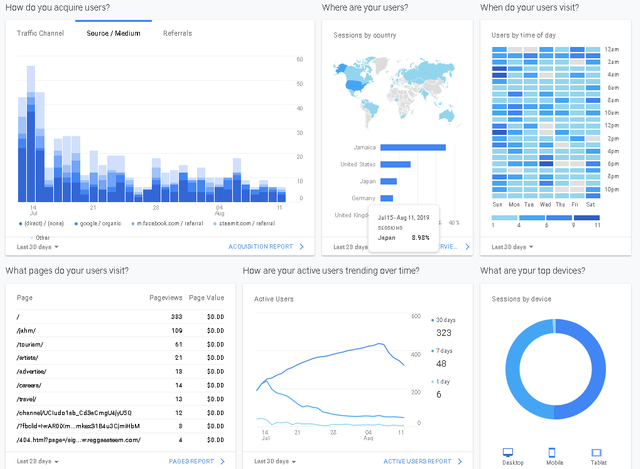 Traffic Stats: ReggaeSteem.io (Platform)
Unfortunately this is not yet available. We are working along with Steem Engine to make this possible via Google Analytics.
YouTube Analytics
Data from our main ReggaeSteem YouTube Channel, you can upload and promote a video or advert here via ReggaeSteem.com/advertise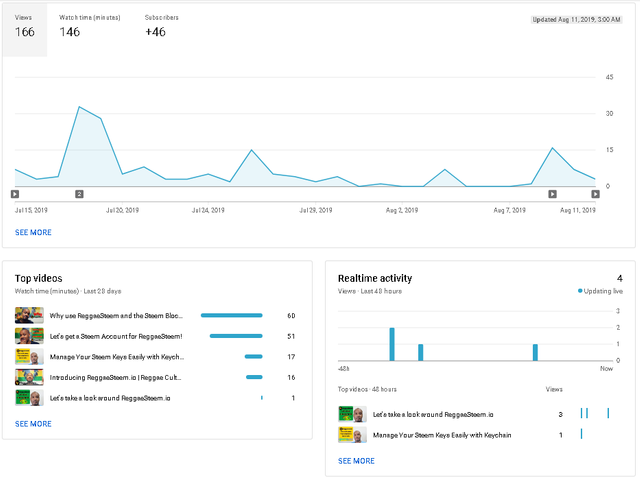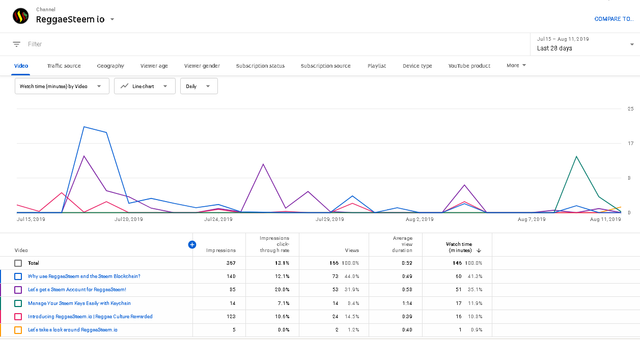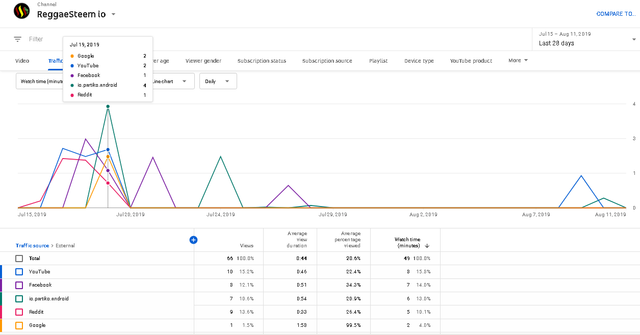 Twitter Analytics
Data from our main ReggaeSteem Twitter, you can pin a post or advert here via ReggaeSteem.com/advertise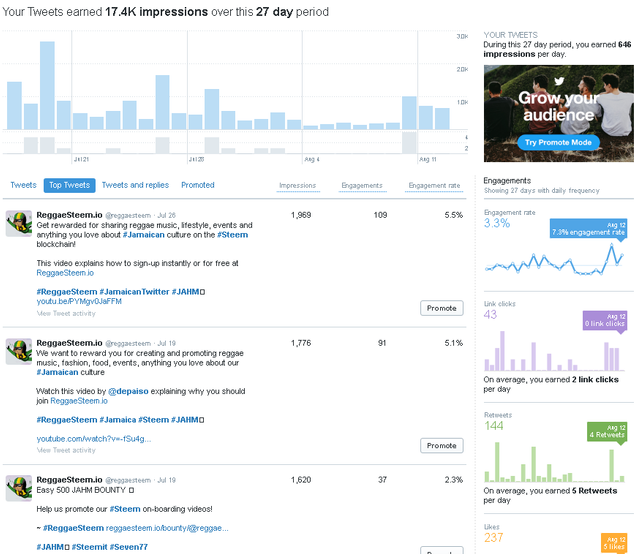 Facebook Insights
Data from our main ReggaeSteem Facebook Group, you can pin a post or advert here via ReggaeSteem.com/advertise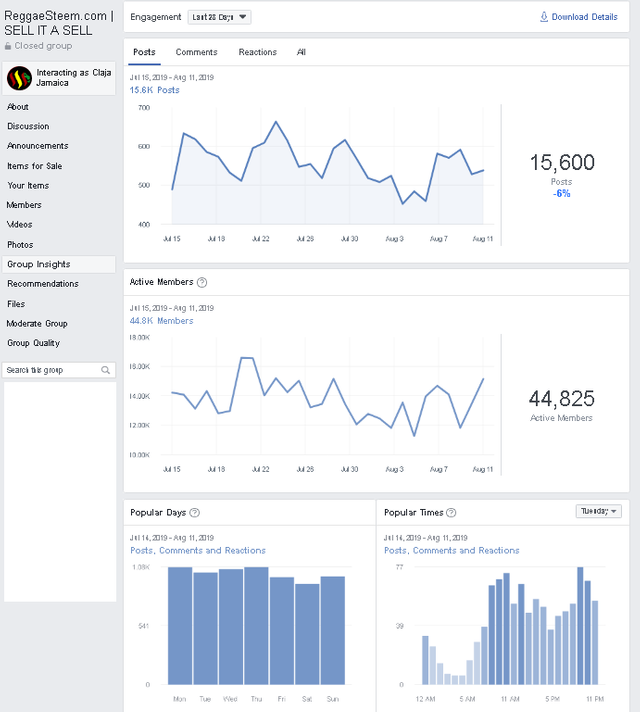 Other Data
We've attained a total of 100+ followers to @reggaesteem.
---
ReggaeSteem Accounts
For professional Steem on-boarding services tailored to established artists and content creators visit ReggaeSteem.com/artists
Top 5 Stakers
Not including ReggaeSteem team members, ambassadors/moderators and staff. Furthermore, these members are still eligible for a complimentary JAHM Swag Pack in the year of 2019. These gifts are only given to members once per year.

T-shirts will be sent out shortly, expect an update soon.
@pet.scoiety @shanibeer @aggroed @liaminit1 @jongolson
New Ambassadors & Moderators
@nojahm4u is used by our team to counter tag abuse.
New Steemians
These accounts are being setup by their respective owners and in some cases assisted by our team.
@jahjastarz @thrillertours @rodneysteem @mussbuss @johnveicle @claja @euwett @islandviewmagaze
---
JAHM Token Update
Snapshots taken at time of posting, for the current value of JAHM visit https://steem-engine.com/?p=market&t=JAHM
Current Value

Market Depth
The sell wall of 1m JAHM is there to help fund ReggaeSteem developement and was explained in our introduction post.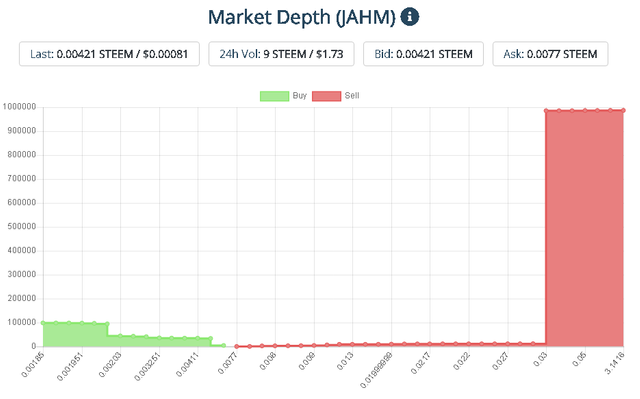 Added Services
Delegation
JAHM is now delegate-able, more details can be found in our JAHM Delegation Enabled announcement. Delegation info is also provided below for anyone interested in supporting our project.
Soon to be added
JAHM Vote Bot
Burn your JAHM and get an irie upvote ;)

SteamPeak Integration
ReggaeSteem Tribe enabled on SteemPeak.com.

ReggaeTube
The new hub for reggae music lovers, powered by Steem.

JAHM Shop
Redeem items, ReggaeSteem branded merch and more with JAHM.

ReggaeSteem 'Greenpaper'
JAHM Token use-case summary and Roadmap.
---
JAHM Fork 1 (JF1)
Proposed changes to JAHM Token's SCOT settings and/or metadata.
Proposed changes
In order to reduce the supply of JAHM, we are proposing to do the following:
Changing Token Precision: lowering decimals to 3
This change will make JAHM a lot easier to calculate, transact and account. Theoretically it reduces supply by reducing the amount of JAHM units. A side benefit is that JAHM transactions and wallets will be more appealing.
Raising Reduction Percentage to 2
By raising the reduction percentage from 1 to 2 (or yearly deflation rate from 1% to 2%), the amount of JAHM produced by the rewards pool will be reduced significantly over time. Not only does this affect JAHM supply, theoretically it will counter the effects of Steem's infinite supply.
There will only (ever) be max 100,000,000 JAHM.
Vote in DPoll
Please vote for JAHM Fork (JF1) below.
Each voter will be rewarded with a 3% upvote from @reggaesteem after re-steeming this post. If you have any issues, feel free to contact us on Discord.
Voting closes in 7-days. If voted 'YAY', JF1 will occur within 7-days after this dpoll. If 'NAY', the above proposals will be delayed indefinitely.
---
*Advertisement.

---
10:1 JAHM POWER Delegation
Gain influence and earn more JAHM rewards by delegating and supporting the ReggaeSteem project directly!
We are offering JAHM Power for STEEM Power (SP) at a ratio of 10 to 1. That means for every SP you delegate, you will receive 10X the JAHM Power delegated to your account in return.
Example: Delegate 1,000 SP today and get a 10,000 JAHM Token delegation from us at ReggaeSteem.
Delegation Links:
50SP| 100SP |200SP | 300SP | 1,000 SP| 10,000SP
Contact us in the ReggaeSteem Discord for assistance.
Please note: Delegated JAHM is not valid for any ReggaeSteem promotional package, advertising package or product offering. Delegations last as long as you delegate to us.

Thank you for being a part of this journey. We look forward to growing with you and bringing Reggae Culture and a nation onto the Steem blockchain.


Web| Tribe| Discord| Telegram| Twitter| YouTube


Community DPoll

---

YAY (Yes, please initiate JAHM Fork 1)

---

NAY (No, please delay proposed changes)

---

Answer the question at dpoll.xyz.