How do you determine which games to buy?
---
A while ago, I wrote about how I have not played most of the games in my Steam inventory. In theory, I should have plenty to kill time with when I need entertainment. The truth is, there are only certain genre of games I play. Even then, I have my own preferences in style and game play.
The hardest puzzle, like we face on the Steem blockchain, is content discovery. Not all publishers have massive budget to promote their games. Sometimes, they rely on more grass-root movement through their fan base. Sometimes, they may rely on built-in discovery mechanisms. Or, you know, pay some professional critics to write critiques.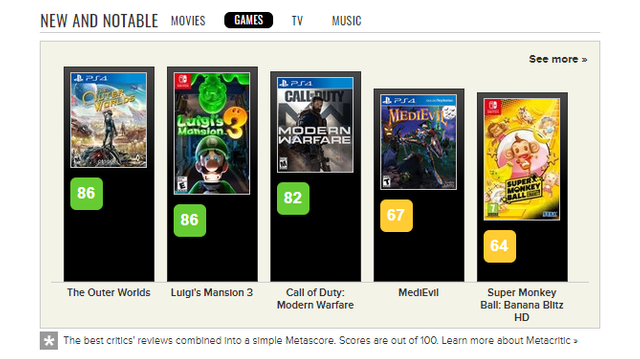 Today's front page on Metacritic
---
As a fun tangent, how many similar approaches do you think this blockchain has had?
---
For me, in more recent years, I have become the type of old grouch that only purchase things based on familiarity. That is, I go for known publishers and game developers. Take The Outer World, for example, I would go for it because it's from people who made my favorite Fallout series.
On the basis of that familiarity, I am also the type of guy who would buy remastered versions of games. I'm sure there are enough of us who feel that way to have a substantial market. And yes, you bet I will get the remastered version of Final Fantasy 7, despite how overrated it might be. When the remastered version of Resident Evil 2 came out, I went back, got it, and played it. Never mind the fact that it scared the crap out of me back in the old days. The new graphics made it worse, in a good way.
Anyhow, that's how I go about looking for new games to play these days. Some gamers may choose the most popular games out there. Some might take their favorite streamers' recommendations. Some might even follow voluntary "curators" such as those on Valve's Steam.
Let's be honest, though, I don't follow serious curators on Steam. Not when I follow Critiquing Doge and No, I am Your Father.
That's literally all they say
---
What tools and criteria do you guys use to determine which games to buy? Budget will not be part of the consideration here.
Most opinions are welcome.
---
---
Streamers/YouTube personalities
---
Brand/Publisher reputation
---
Remastered versions of previous games
---
---
---
---
Answer the question at dpoll.xyz.