SteemMonsters + SBI Shares Giveaway #3 (No Upvote, No Resteem, No Follow Required!)
---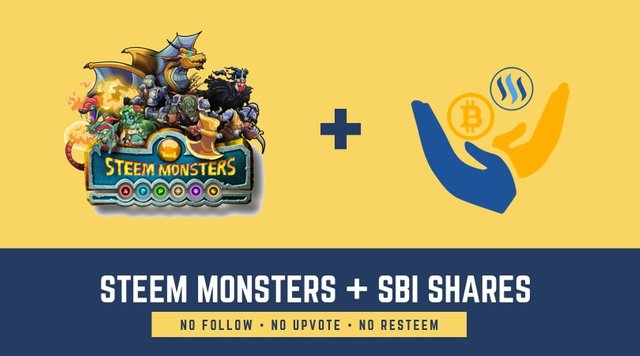 My weekly giveaway is back! And it's another double prize of Steem Monster Cards and SBI Shares, but with new rules and a DPoll twist.

The prizes
It's still a double prize giveaway for the winner.
#1 Common Gold Foil Goblin Mech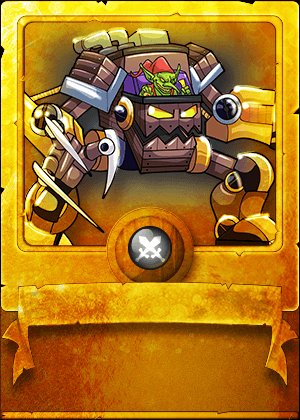 This one is a heavy hitter. At this level the Goblin Mech has 4 damage points, 6 armor, 8 health, and the Piercing ability. When placed in the first position, it will definitely cause heavy damage once it lands a hit. And because it's a neutral card, it can be played with any splinter. That means that with the Fire Summoner, he will get an extra damage point, with the Life Summoner an extra armor, and with the Earth Summoner an extra life.
Of course, there are downsides to this card. It's high Mana cost limits its usage to battles with high Mana limits. Nonetheless, it's very high basic stats make it a good addition to battles with Back to Basics rules, assuming the Mana limits allow.
#2 Two SBI Shares
@steembasicincome is a social experiment based on the idea of providing a universal basic income. It's purpose is "to provide every Steemian with a basic income" through upvotes that are calculated based on the number of SBI Shares you own. This prize basically enrolls you into the project.

Extra Prizes
As motivation for people to join and vote on DPoll, I will give additional SBI shares. Up to 3 participants will receive 1 SBI share each. And because it is a poll, the extra prizes will be awarded randomly.

New Rules
Don't worry, the rules may have changed but joining the giveaway is still easy.
All you have to do is to cast your vote on the DPoll link at the end of this post.
It's that simple. Comments are optional this time.
When this post pays out within 7 days, a winner will be randomly chosen from everyone who voted on DPoll. I will post a video of the draw for you to see.
One entry per person, please.
This is a 👊 No Upvote, No Follow, No Resteem kind of giveaway. So, while appreciated, you don't have to do any of those to win the prizes.
❗️❗️ Just remember, your votes won't count unless they are cast at the DPoll link right here OR at the end of this post. ❗️❗️

The Poll Question
Steem Monsters Tournaments have been open for almost a week. I want to know, which Tournament do you participate in the most?
---
---
---
---
---
---
---
---
I haven't joined a tournament, yet.
---
Answer the question at dpoll.xyz.