I have nothing against blackberries, pears, or smoothies. In fact, I start most every day with a smoothie (today was a simple banana/cherry/yogurt/chia). But I did find it somewhat odd to come across a smoothie recipe that this community believes is worth $1200.
Then I noticed that some some very high steemworth individuals had indeed said that the smoothie recipe was particularly valuable. Some of whom have suggested as recently as yesterday that posts that are earning more than their worth should be flagged. I read the recipe again. Still sounded tasty, still didn't seem like it was worth $1200 (to me).
I have no intention of flagging the post -- to me, a 'flag' connotes wrong-ness and there is nothing wrong with the post itself.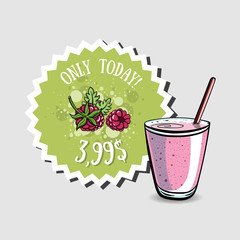 Would I "downvote" the post if that were an option presented? Again, probably not. "Downvote", to me, connotes some sort of disagreement with the poster's argument, or flaw in critical thinking. I don't disagree with smoothies.
What our upvotes or flags or downvotes or whatever really come to is a determination as to how much of today's pie your content deserves. There's only one pie per day, so if I give you a big piece of pie I am also taking pie away from other pie-worthy content. And face it, almost everyone likes pie.
Replace upvotes and flags with "more pie" and "less pie" buttons. Problem solved.