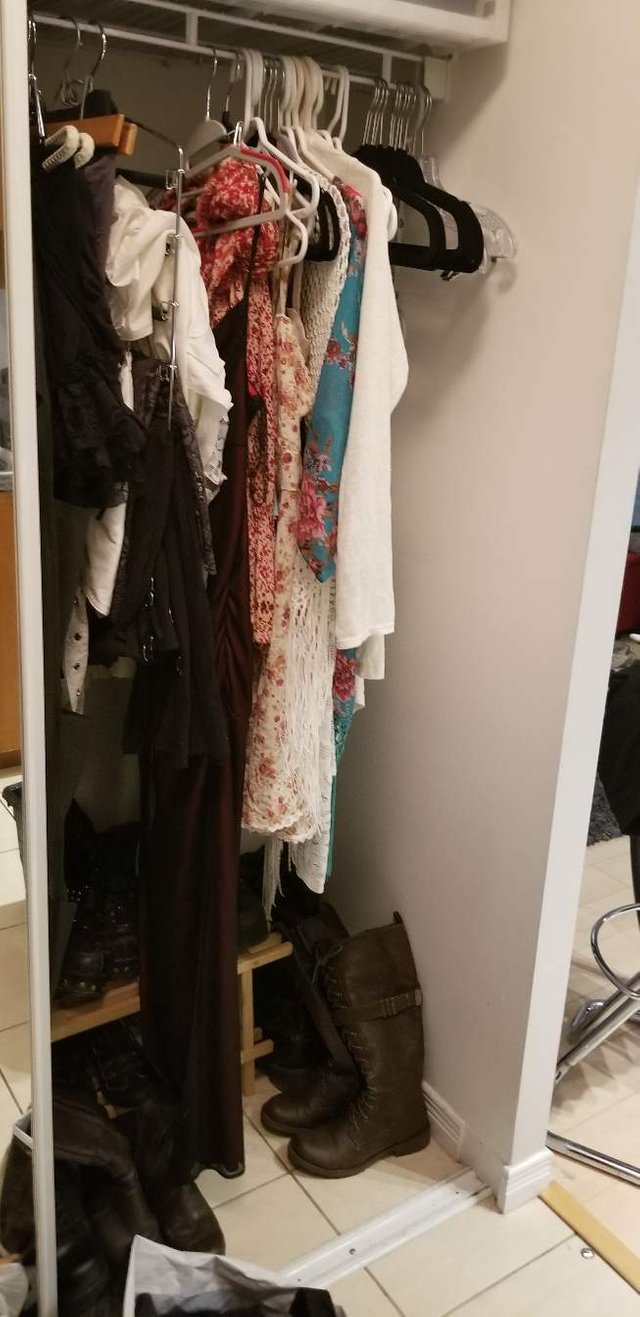 Above is a photo of my new closet as of yesterday. It used to be filled so full I couldn't even find things I needed in there.
You see, yesterday I embarked upon a downsizing project. A necessary process in my long term plan to relocate across the country. Also a necessary process for comfortable small space living. My condo is less than 500 square ft, and I have one closet! So, last week I read Marie Kondo's entire book, The Life Changing Magic Of Tidying Up. This was after @synrg sent me a video of someone doing the process. Little did I know I would get so inspired by it. I read the book cover to cover in 2 days.
I thought it might be a good idea to document my downsizing journey. This should hopefully keep me committed and held accountable to completing what I've started.
Yesterday I began with clothing. Here's my before pile, all of the clothing that I own except for undergarments and socks that I dealt with first. That includes the contents inside those bins and tote bags.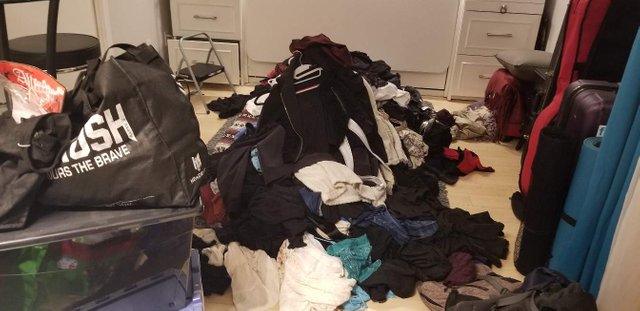 A little embarrassing to share this, but here's the pile of items I will be selling/donating/rehoming. It will be quite a journey getting all this in my car to my donation place! Hoping to find a women's shelter that will accept much of it.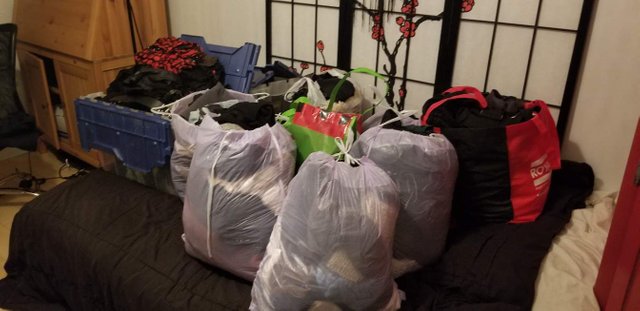 And here's another photo of my new closet! It's so nice to have space in my drawers and closet again. Not to mention, I've also downsized my enormous boot collection. I do still have quite a few shoes and boots, and I will indeed slowly be parting with many of them before its time to move west.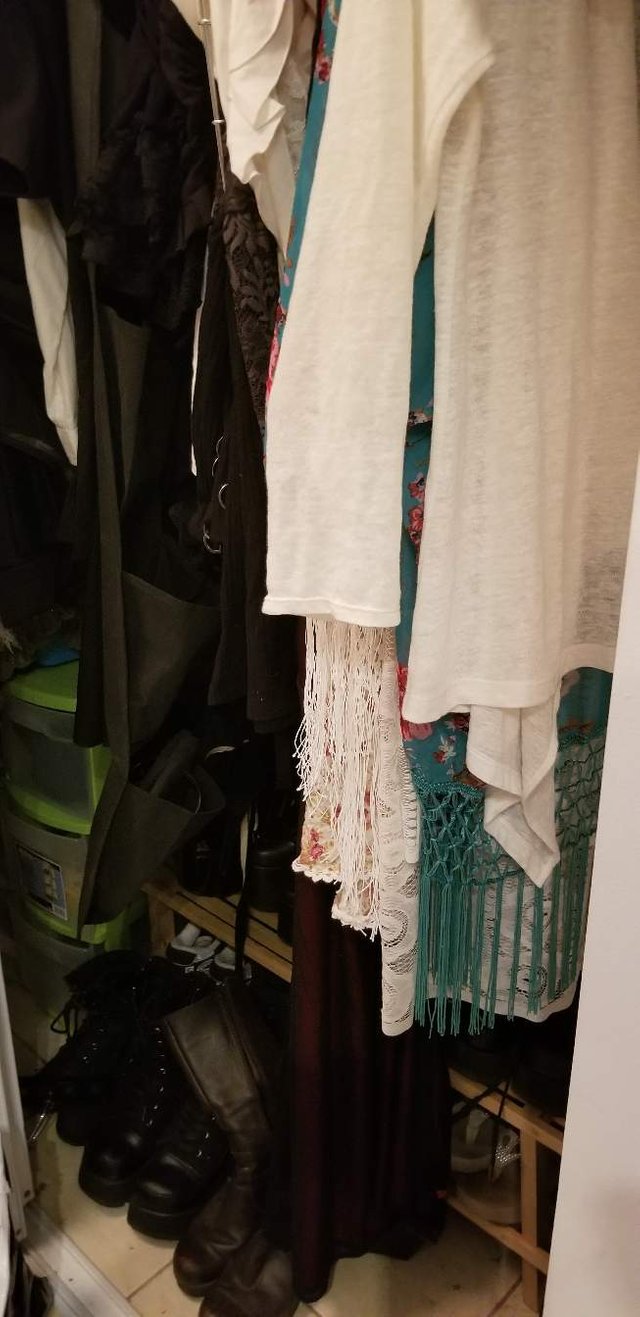 It really is nice having only items that bring me joy left.
I decided not to follow Marie Kondo's exact order of the process. I fear books may be a bit more difficult to depart with, so I'm saving that for a bit later. Today is sheet and towel day, including tea towels.
I've been listening to a few minimalism books on Audible to keep me motivated. Today I'm listening to, "Goodbye, Things" by Fumio Sasaki, which is another great book!
Here's my before photo of all my towels and sheets laid out on my floor mat: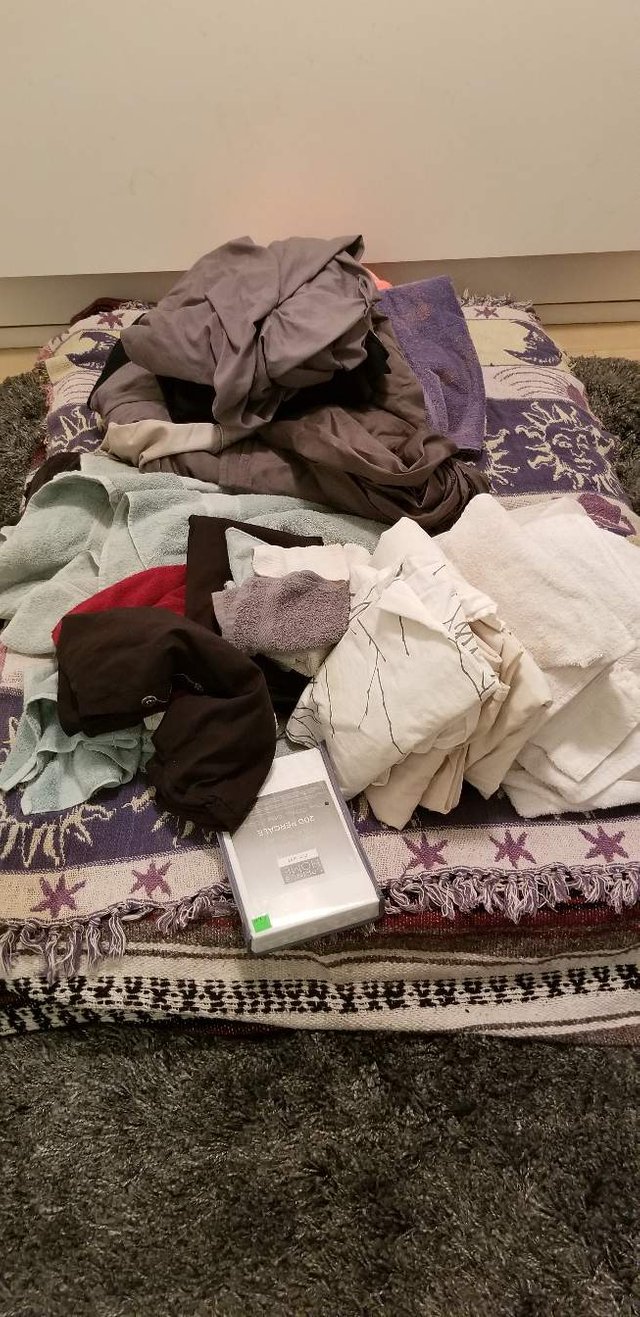 I don't have an after photo yet as I'm mid process now while writing this blog. I'll keep you posted as I move through the process. Next I'd like to tackle my bathroom products! A bit excited about it strangely. I feel quite a bit "lighter" since yesterday's work.
Have a wonderful day everyone!!!
~faeryboots
Posted using Partiko Android