Hello Doodletrendistas,
Happy Wednesday. Time for another Doodle Trends Drawing Contest. Our theme for today is about the fish Tawilis. This fish is on the local headlines in the Philippines recently as it is now being considered as an endangered specie.
Sardinella tawilis (the freshwater sardinella, freshwater herring, or bombon sardine), is a freshwater sardine found exclusively in the Philippines. It is the only member of the genus Sardinella known to exist entirely in fresh water.[1] Locally, they are known in Filipino as tawilis from Wikipedia
The said fish is found only in Taal Lake in Batangas Philippines and is the only known fresh water type. We do not want this precious fish to go extinct. Why not create a doodle of this poor little tawilis and share with the world?
Here is a doodle I made quickly for your reference. It only took me around three minutes to finish this art. I personally have not seen one in real life I might have eaten one before I am not aware. This news made me want to know a bit of the tawilis and made it as our drawing prompt for today. Let us hope that it is not going to be a rest in fish scenario for this little endemic fish. Hope you have an idea on how to create your own. Enjoy and have fun. I can not wait to see your entries.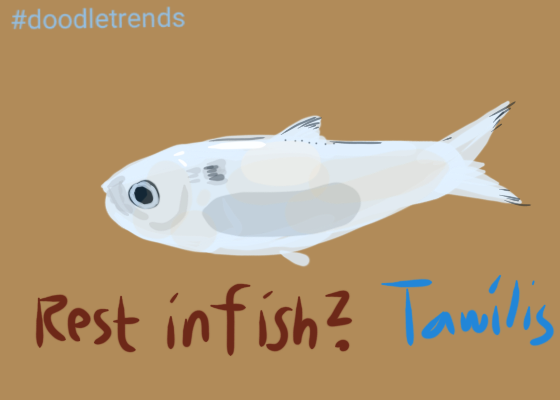 Guidelines For Joining In The Contest
Go get your drawing tools and start creating now. Remember anyone can join in this contest although the small prize is only awarded for those newbies with less than 200 SP. I am still accepting donations kindly leave your comment if you would like to sponsor this contest. I also do appreciate your help in spreading the word about this contest.
Thank you once again for showing up each day to steem on. Everyone like I mentioned is encouraged to join and have fun.
Cheers and Steem On!
Here are the other art activities and or contests that you could participate in. Feel free to check and follow the Steemians their names I provided below including their respective contests and activities.
Caption This Contest by @runicar
Pinky And Spiky Drawing Contest by@organduo and @laputis
Mermaid Monday Contest by @nymia.aryn
Love The Clouds by @tobetada