Yes, I Got Paid on Donkeyloot.io!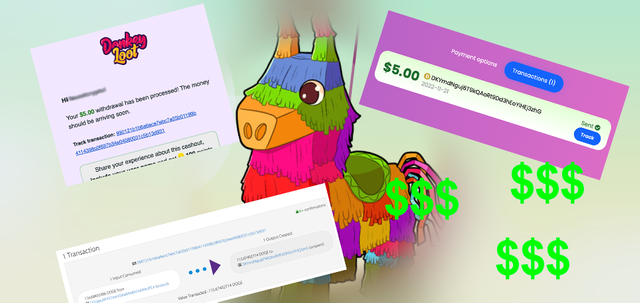 Donkeyloot.io is the most recent rewards game I know that is going viral right now, and it is one of the best games out there! The object of the game is to collect as many cash drops as possible, increase your cash balance and withdraw it to cryptocurrency wallet or through other payout methods.
If you're looking for some excitement on a dull day, look no further than Donkeyloot.io game! It's a perfect way to pass time and even win some cash. All you need to do is destroy pinatas one after another and see what's inside. Sometimes it will contain cash, extra lives that are needed to hit more pinatas, experience points or game's internal currency: Donkey Points. And there's always that exciting feeling each time you open a big reward, believe me!
Just make sure you always have plenty of game lives as they are required at every step of the game: you use up one life per each destroyed pinata. And destroying pinatas is what gives you rewards, including cash and various points.
You can earn or get free lives that you can use to destroy pinatas, but they might be quite hard to come by when simply playing the game. There are two much better ways to get them easier:
Check out the offers tab, where you can choose from lots of different tasks like app installs, surveys and email submissions. They will reward you with tons of lives for completing these. Usually you'll get an instant reward, but if a task is high-paying, then it might take some time to be confirmed. Still, even if you need to wait a bit, this is the best method overall.

Invite referrals ("friends") as this is the best way to get some passive lives every single day. The idea is that you invite friends, and you'll get 1 coin per user every day as long as they stay active on the site and as long as you request them lives and they accept your requests (they also get a life for accepting, so it's a win-win situation).
Besides these two options, you can also claim free lives every 15 minutes or so, however, this is much slower process and I highly recommend getting more lives as you will need them to reach a decent cash payout. Especially if you want to do it quickly.
So now we need to answer the question on everyone's mind: does Donkeyloot.io pay? And the answer is yes. I managed to withdraw $10 worth of DOGECOIN from just several hours of playing this game (stretched out over a couple of days). It seems they sometimes run out of stock for some withdrawal options but they refill quite often, just keep an eye out on this site if you're looking for quick payouts and don't want to wait in line!
Try it yourself: https://donkeyloot.io/?r=UKULZC