Donation Competition - Win The Lap Top And Donate It... (Prize 10 SBD + Donation) 10 Days - Day #9
The aim of this competition is to extend the idea of Steemit blogging. If we give a donation of food or money, when money and food are spent, we have the same problem - a poor family. If you donate a computer and teach people to make good posts and comments, then they begin to get a regular cash flow. I believe that in the first month, every new user can make $ 500, In the beginning, the most money is made on good comments. Steemit with this idea can feed many people, villages, cities and poor countries. I want to launch a human idea because more users bring higher and faster growth to Steem and SBD. I want this competition to grow, to get a global dimension. Now it's only one computer, the next time the prize can be 150-300 SBD - it depends on the support you give me.
The winner of the last competition :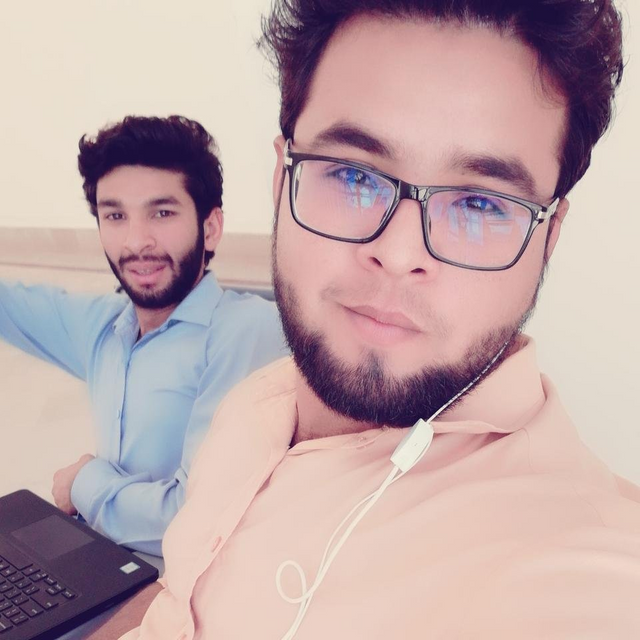 Sir @dobartim your project for donating a laptop to anyone who needs it in family or a part of family has moved me so much that i'm participating in this project and have done everything there is in the rules.
As you can see in this picture behind me is my cousin and he is 19 years old. He is like a brother to me and we are together since the day 1.
He is a software engineering student in a college and is doing great. He have lots of goals that he want to achieve but the difficulty is that he has financial issues and in his family he and his father works in a general shop as salesman. His parents are doing their best as they can to send him college to get higher education while they are facing economic issues.
He is a good student and have scored very good marks in his first year of college all of the family members are too proud of him yet he has no laptop or computer in his home and doing software engineering that entirely based on computing.
Whenever he needs a computer for his assignments or any work related to computers he come to me to use my laptop for doing his work.
In the photograph i took he is using my laptop and doing his stuff.
I always wished that i can bring any type of happpiness to them as a brother but i have my issues also that i can not help them as much as i want.
There are lots of issues like there are no part time jobs for students who work hard on studies and want to pay their own bills so he is working on a store after the college and i want to make him relax somehow.
That is why i am nominating him for this donative.I know he will be so happy to see his own laptop or computer and will appreciate. Thanks to you and to all the Steemschools team for all the support and the good vibes. Cheers!
If i will be selected for this donative i sure gurantee you that i will purchase him a good laptop and will help him further for his living.
Afterwards i will invite him to #STEEMIT community to come and join this lively community from where he got his brand new computer/Laptop to work here as part time and make some living with all other fellow steemians.
All thanks to sir @dobartim for this initiative.
GOD BLESS YOU
Rules for applying :
Rules for recipients of donations :
Place a photo of your family or children to whom you want to donate Lap Top at the place for comments
Make a brief description of why you need to donate Lap Top to them
The number of people you apply is unlimited
In the end - if you are selected for a donation, you should provide material proof that you used the money for that purpose.
You need to be my follower
Upvote this post
Resteem this post
Be active on Steem Schools channel https://discord.gg/9Yb3AMR
Be part of Steemit School Discord Channel: https://discord.gg/9Yb3AMR ( Awards are granted live on a discord channel after 10 days, we win together) .
Donor rules ( Everyone can donate how much he wants SBD to support this project ) :
You can donate how much SBD you want
Donations should be sent to my account
We will publicly put your name and amount of donation as a sign of gratitude to each post that will be posted
Rules for winning the prize :
The competition lasts for 10 days
Be active on our Steem Schools Discord Channel: https://discord.gg/9Yb3AMR
Only judges can vote: @dobartim ( From now I am the only judge of this competition, and I chose winners on discord channel )
Thanks to donors: @dobartim 10 SBD,
Day #1
https://steemit.com/donation/@dobartim/kzcg8-donation-competition-win-the-lap-top-and-donate-it-prize-10-sbd-donation-10-days-day-1
Day #2
https://steemit.com/donation/@dobartim/4xng7y-donation-competition-win-the-lap-top-and-donate-it-prize-10-sbd-donation-10-days-day-2
Day #3
https://steemit.com/donation/@dobartim/272amx-donation-competition-win-the-lap-top-and-donate-it-prize-10-sbd-donation-10-days-day-3
Day #4
https://steemit.com/donation/@dobartim/6adazg-donation-competition-win-the-lap-top-and-donate-it-prize-10-sbd-donation-10-days-day-4
Day #5
https://steemit.com/donation/@dobartim/4m55km-donation-competition-win-the-lap-top-and-donate-it-prize-10-sbd-donation-10-days-day-5
Day #6
https://steemit.com/donation/@dobartim/77hfgp-donation-competition-win-the-lap-top-and-donate-it-prize-10-sbd-donation-10-days-day-6
Day #7
https://steemit.com/donation/@dobartim/5eyscb-donation-competition-win-the-lap-top-and-donate-it-prize-10-sbd-donation-10-days-day-7
Day #8
https://steemit.com/donation/@dobartim/5pdt1e-donation-competition-win-the-lap-top-and-donate-it-prize-10-sbd-donation-10-days-day-8

---
We win together - Be part of Steem Schools : https://discord.gg/q9VEn5n
See you at the top @dobartim