Why I Play the Game - On Competition, Coaching, Creativity and Feeling Cool In Disc Dog Freestyle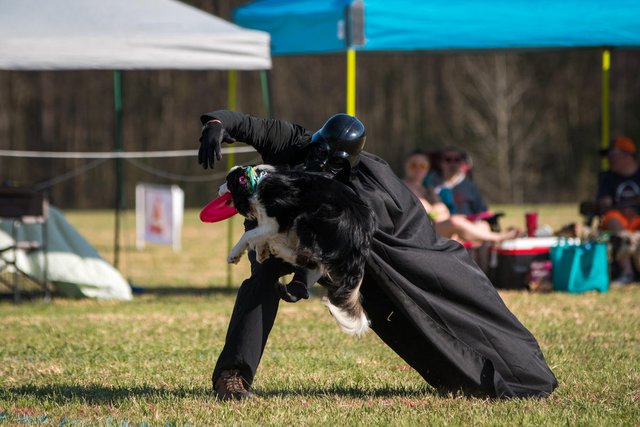 What is the nature of your game? Is it about competition and winning contests, or something else? It's OK, it's not a trick question... It's a good question to ask oneself.
Competition is perhaps my least favorite part of our game. I don't care too much for competition. Being "the best"; being a champion doesn't do much for me, my dog, or our team. Winning and being a champion in a subjectively scored game, especially one as subjective as ours, IMO, is mainly about external validation.
If I Were Playing To Win…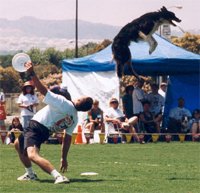 Here's Mo and I from the 1999 West Open Regional. I was a serious competitor back then. Winning wasn't everything, it was the only thing.
I don't play freestyle and do the things I do out on the field for external validation. Playing the game itself, with my little dog, is all the validation I need, and nobody gets a say in how I feel about that.
If I wanted to win, I'd do the same tricks, year in year out with some cosmetic changes; only the tricks that the judges like and understand or the rules require, and only the tricks that are guaranteed to succeed. And it would be tremendously boring for me.
I'd have to find "the right dog" (Epic & Leilani need not apply) and I would run that dog in a way that would play to the current understanding of the game. I would create a routine at the beginning of the year or the beginning of the dog's career and work it endlessly in order to perfect it. I really don't want to do that. It just doesn't sound like my idea of fun. * your mileage may vary...
Don't get me wrong. I enjoy competing, but I'd rather be on the practice field learning new things or talking with people and trying to figure out how and why things work. I'd much rather be working with you to help you learn or fix a trick or developing the skills necessary to take your game to the next level than running a competitive round of freestyle.
I'm Playing to Learn and Do Cool Stuff
Playing with Lei Lei and Eppie is a joy. I wouldn't trade it for the biggest leaping dog in the world.
Figuring out how to make these non-standard, smaller scale, hyper-dexterous canine athletes has been a real treat for me. It has given me so much joy and taught me so much - life lessons as well as jamming and dog training lessons - that I can't imagine doing it any other way. I wouldn't change it for the world.
Playing disc with my dogs is my job. It literally is my livelihood. That said, my job is not to win competitions, although that would certainly help my livelihood. If there were money on the line and I could put food in the bowl with big fat 5 figure purses for winning championships I might feel and play differently. But this is not the case.
Chasing championships and building a game to win might be fun for some people, but it is not fun for everyone, certainly not for me.
Learning and Teaching Is My Job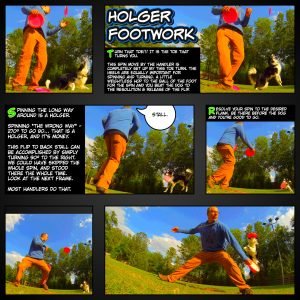 Here's some instructional work. This sequence didn't make it into our competitive routine, and probably never will, but the concepts involved are Epic. Click the image for the full lesson and full sized images.
My job is to learn how the game is played and how dogs, handlers, and teams work so I can help anybody, with any kind of dog, learn to play this amazing game and develop the skills to make themselves, their dog, and their team competent, confident, and cool.
If I can make you and your dog, the one you have right now, competent, confident, and cool, you will not only be able to compete but you will be happy and feel good doing it.
I find fun in exploring the game, developing the team, learning my dog and learning from my dog, creating new tricks, and figuring out how things work and why. I love to do this for my personal development and love to do it for my professional development as a teacher and coach.
Time On and Off the Field
I don't spend near as much time on the field training as I do off the field researching and thinking. I spend far more time drawing diagrams, writing, and editing video than working dogs. If you add the hundreds of hours spent studying philosophy, motor learning, learning theory, kinesthetics, and athletics, it ain't even close.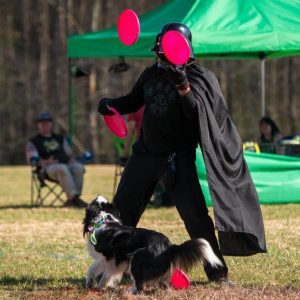 Here's a shot our UpDIF Championship Performance Freestyle Round. This routine was whipped up a couple weeks before the event.
The competitive routines I put on the field at championship time are usually a few weeks old. Most of our qualifying performances are whipped together in a week or performed as a natural, freestyle jam. Perhaps it shows a bit (heh), but I just can't (and won't) put forth the effort and time required to drill and develop that perfect competitive routine.
Working to win contests and championships is a full time job, and so is learning to teach. I choose to devote more time to learning all about the game and developing my teaching skills because that is my passion and my job.
---
Posted from my blog with SteemPress : https://pvybe.com/disc-dog-life/why-i-play-the-game-on-competition-coaching-creativity-and-feeling-cool/
---