Pawsitive Vybe on Patreon | A Black Friday Paradox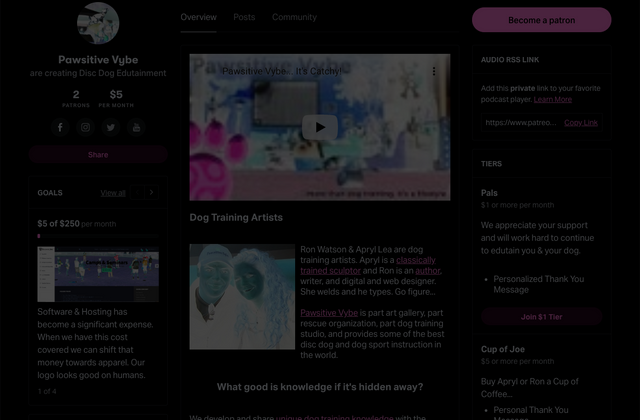 We're offering a special, paradoxical kind of deal this Black Friday...
We're offering you, the reader, the viewer, the jammer, and the friend, the opportunity to show Pawsitive Vybe some love by becoming a patron of Pawsitive Vybe.
Will you help support Pawsitive Vybe and our multimedia edutainment™ on Patreon? We've got thousands of followers, friends, and fans who seem to enjoy our content on a daily basis and we've got tiers of support available starting at $1 per month. It should be a good fit.
Together, we can keep the PVybe Free content train rollin'.
Become a Patron!
Need more convincing? Read on for a bit more of the Black Friday pitch...
A Long History of Complimentary Content
For 15 years we have freely given away our knowledge to the disc dog and dog training community. We've put out tons of free content depending on the long tail profits of social media sharing, personal interaction, and word of mouth. 700+ videos, 700+ blog posts, and 300 lessons, thousands and thousands of forum posts (anyone remember k9disc.com?) all pointed towards growing our business while growing your game and train and the game and train itself.
I really want to keep rolling with this stuff - teaching and learning is our passion, but the long tail of social media profits is not a sustainable path. It just isn't putting food in the bowl anymore.
Times Change So It's Time to Change
Between the fickle nature of the dominant social media companies changing their business models, algorithms, and applications and the inability of perspective camp clients to pony up hundreds of dollars plus travel, it is just not working for us.
I can't keep cranking out content and devote the time required for learning to teach this stuff without monetary support. It's time to try something new.
It's time to ask you, our readers, viewers, listeners, friends, and clients to support Pawsitive Vybe, not on a project by project or product by product nature, but as patrons - personal sponsors - teammates and members of the crew. It's time for us - you Apryl, and I, - to genuinely interact with each other and our content.
Things Change Yet Remain the Same
Not much will change. We'll keep kicking out the high quality free content, you'll keep gobbling it up and pushing the performance envelope to inspire us to create more. The only differences are that some of you will be kicking in a few bucks per month to help us keep it going and we will be relying on more on our patrons for direction and timely community feedback on our content.
I hope you will consider becoming a Patron of Pawsitive Vybe on this Black Friday. It's a pretty solid deal.
PS - It is the last day of the month. Patron payments post today, that means you'll pay today for November and tomorrow for December. If that's a problem in terms of money, wait until tomorrow. But if you can swing it, we surely would appreciate it and will make it up to you.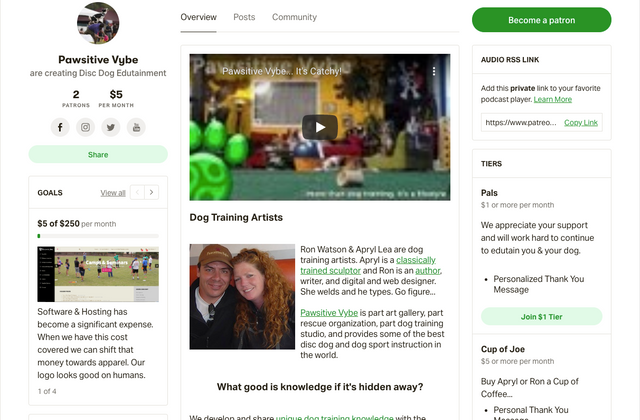 A screenshot of the Pawsitive Vybe Patreon Page... We'd love to have your support.
---
Posted from my blog with SteemPress : https://pvybe.com/featured/pawsitive-vybe-on-patreon-a-black-friday-paradox/
---