Heart Breaking Dog Rescue
Warning: This is a true story. Some images people may find upsetting.
Preface: I have been with dogs my entire life. Grew up training and owning American, German, & Belguin Shepards.
I have rescued several high rish dogs to be train so they can be adopted.
Presently I own two pit-terrier mixed male canines.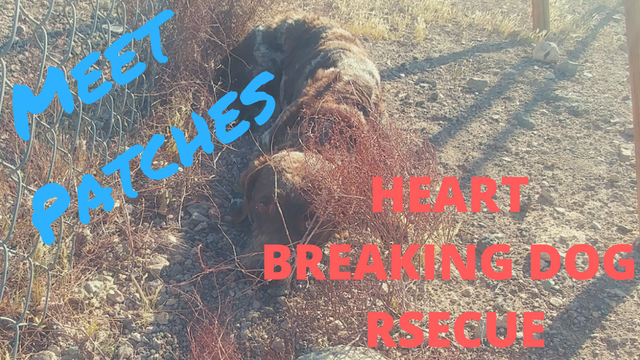 People who know me; know that I love animals. Especially my boys Maximus & Maverick. Here is a pic of Maximus.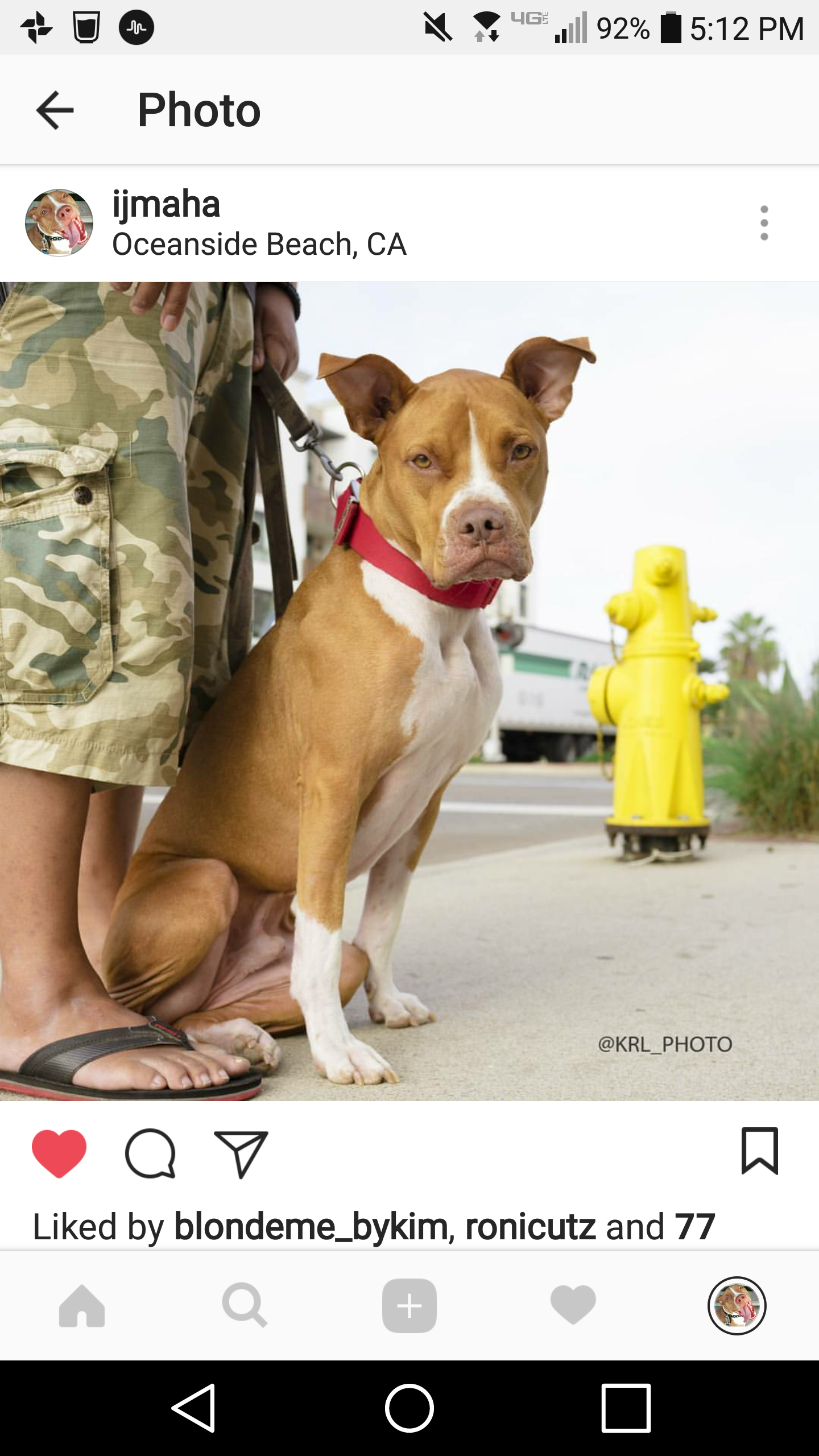 He is mostly pit bull but he is also an American Pointer. He is an amzing tracker. He even has a white tipped tail. So I can find him in the deep brush. Today the 3 of us went out to a closed lot near our place.
They can run around with no leash on. They love it. Instantly Max & Mav were on the scent. They ran to some brambles. I thought they were going to flush out a jack rabbit or even a cycote. It was a bad off dog.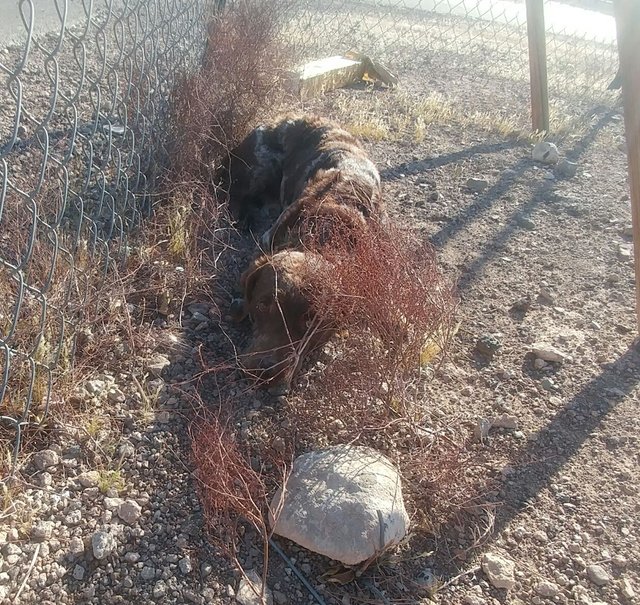 They chased him down. They dog ran to a lot near by and collapsed. I gathered my boys to make sure they didn't spook this dog anymore. I could tell the dog was very scared and in terrible shape.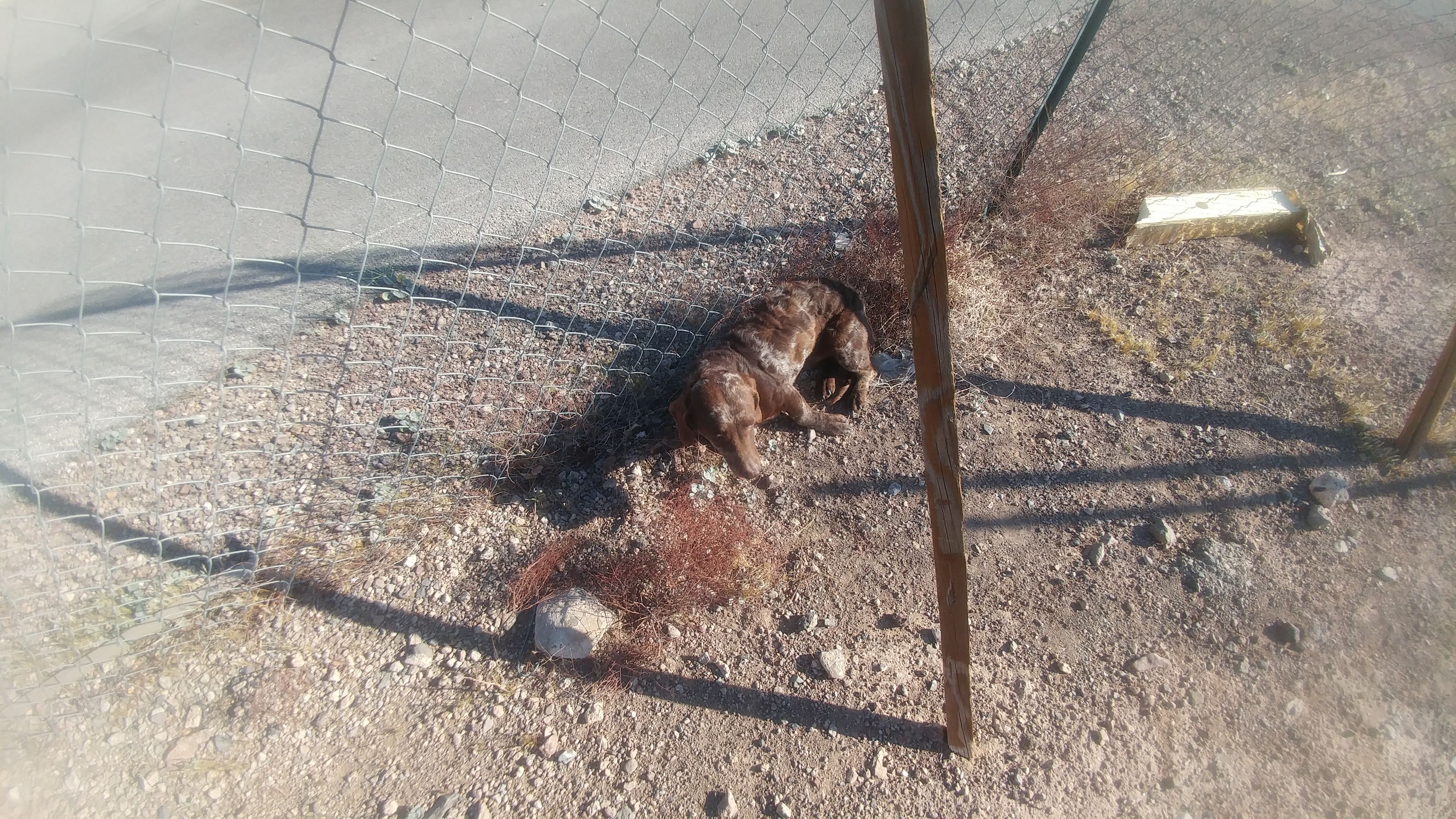 A women pulled up saying this is the dog she was dog sitting for. That the owners lost this dog on Sunday. And that on Sunday they left out of town with finding their dog.
It has been in the mid 90's here in Henderson NV the last 4 days. This dog has not drank any water and has not eaten in 4 days. That this dog was named Patches. She wanted me to retrieve the dog for her and give her the dog.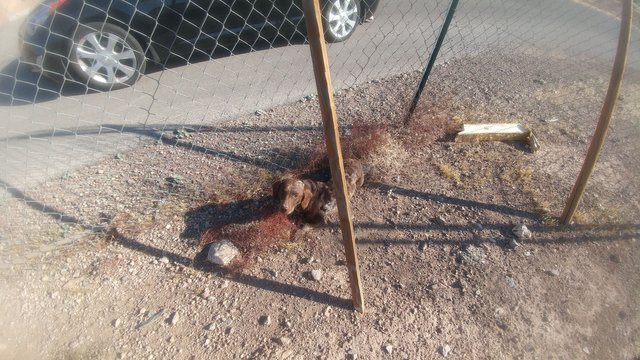 I said planned on helping this dog and that I would contact the authorities. A.K.A local Animal Control. I called and reported Patches to animal control. And began to wait for them.
A maintance person from the housing complex said to me. Yes that is the dog and that he would take him. This person told me reaptedly that I should not have contact animal services and that knew better. He was very aggressive towards me.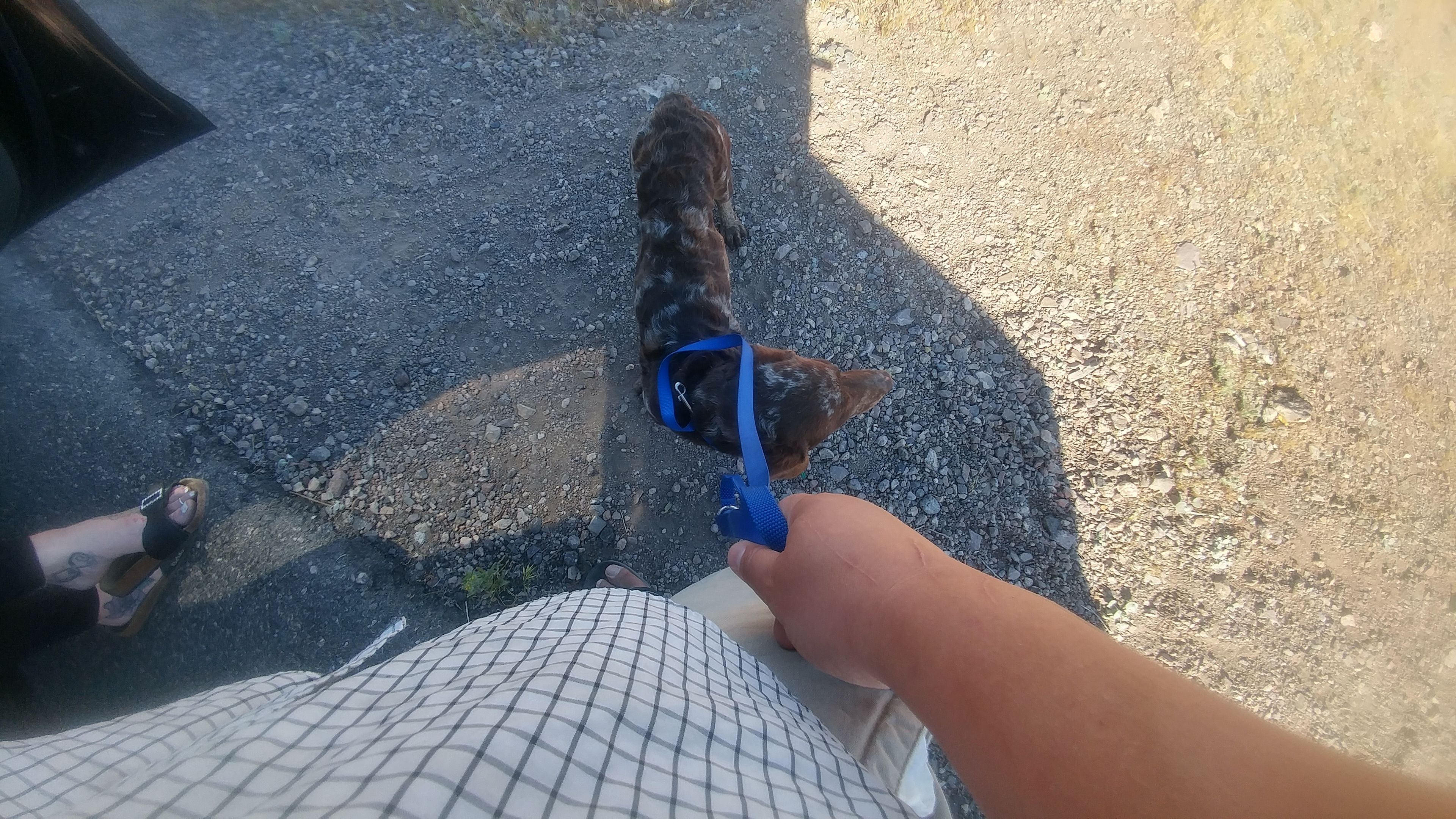 I was able to leash Patches and instantly started to lick me and show me affection. The complex worker insisted he take the animal. I disagreed. Explain the authorities are on the way and thwat they will handle the situation.
Once again he was very aggressive towards me. He said this dog has a chip and that he knew the owners. I repeated I am not releasing this dog to him. This dog has no collar, no tags, no leash. This dog needs medical attention. It is going take a lot more that a bully load mouth punk to scare me or intimidate me.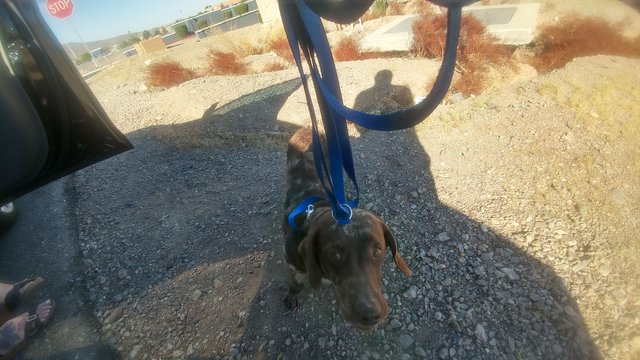 The Henderson Animal Control arrived. The lady who said she was charged with finding Patches and that she return Patches to the owners after they got back from their trip. I explained the situation we found ourselves in. Animal Control said they would not release the dog unless someone provide proof of ownership.
Animal scanned the dog and it did not have a microchip. It was clear that this dog has had a troubled life. Clearly this dog was on deaths dog and probaly would not have survived another day in the brambles with no water.
Animal control was super cautious because he and I also believe that this dog may not have been vaccinated and maybe very sick.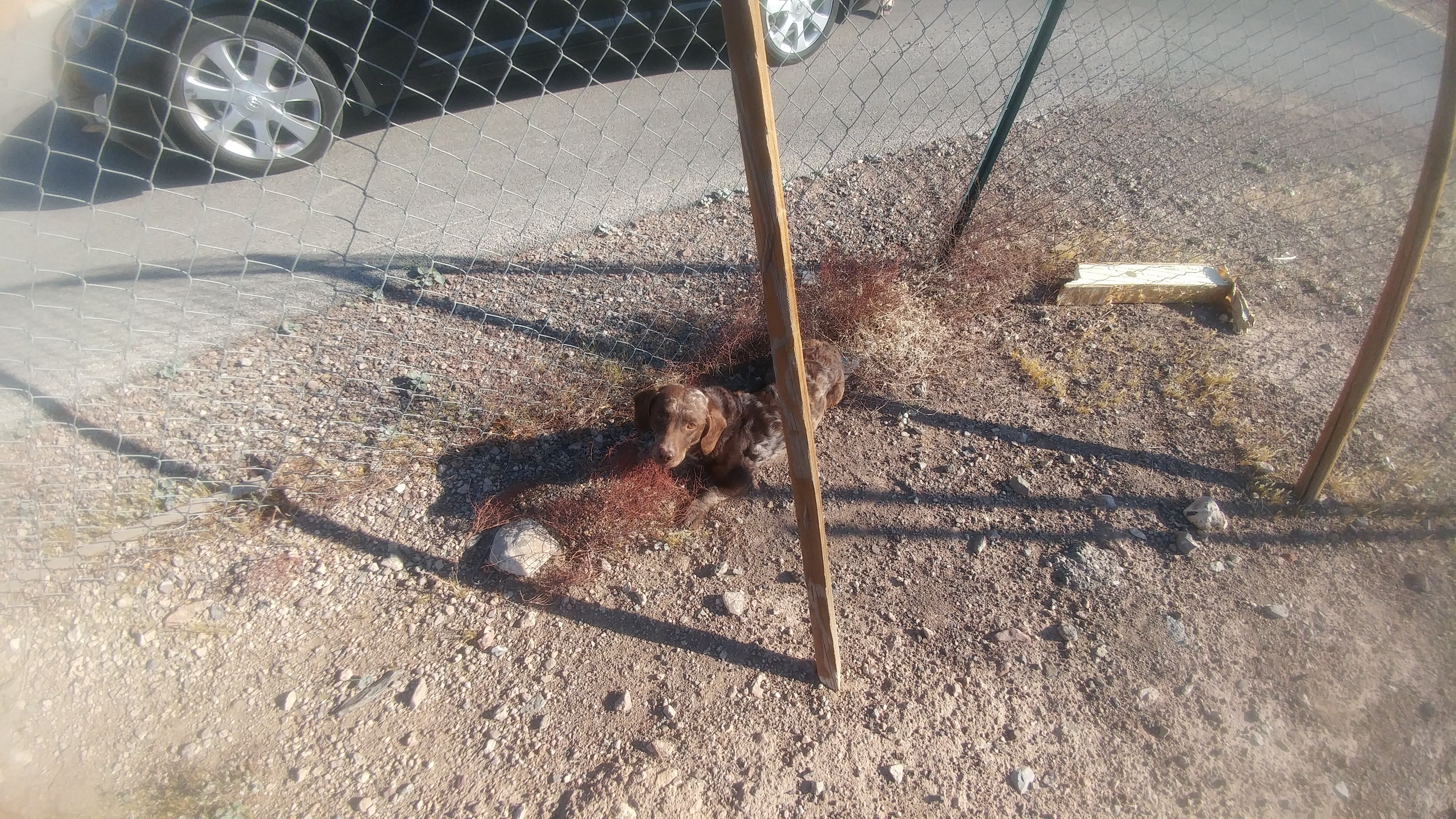 Why do I tell this story? It is very simple in this day and age there are good people and bad people. There are bullys and their are nice people. I've seen this before. Everyone has a story. This person was trying to scare me into getting their way. Tired being intimating and scary to me. Not this guy. He was barking up the wrong tree. These people the owners, the maintance worker, dog sitter were all B.S. Patches would go back into the hands of the people that acted like they cared for him but did nothing to help him.
My boys and I found patches in less than 2 minutes. He will recieve the much need medical care that he deserves. Odds are the people are not going to claim this dog because they have no proof of ownership and they have at least in very least shown to have neglected this animal. Also the Patches was not nuetered. Animal control will not release a dog if it is not fixed or you have to show breeding papers. The owners will have to pay costs to have this procedure done. Most times people say just keep the animal.
Patches is a young, smart, affection, well mannered pup. Even on deaths door. Feel that very soon he will be in a home that will love him greatly. And he will love them. Take care Patches.
Please delegate SP to @steemcreators. Any amount can make you $$$ & help a great cause. 25, 50, 100, 5000 SP. You will receive 75% of profits proportion to your delegated SP & help fund #steemcreators projects.
Steem Creators North September 6-7th Toronto, Canada, $125.00 USD
Steem Creators Conference April 11-13th in Austin, TX. $125.00 USD https://steemcreators.com
Help me reach 25,000 Followers & a 70 Reputation.
Please Follow, Upvote, Comment, & Please Resteem.
Thank you all.
I.J.