When we speak of living beings, the word "buy" sounds strange to us, and that is what is able to give us and transmit an animal, you can not buy or there is money in the world to pay.
It is true that, unfortunately, acquiring a breed dog should be, as a rule, through a store, but there are precious dogs that we can adopt and give them the home full of love they need. So: Do ​​not buy, adopt.
Let's see then the logical reasons why we should not buy and why we should adopt. And is that our advice "Do not buy, adopt," has a solid foundation and if not, look at our article and judge for yourself.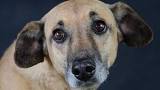 There are things that can not be obtained with money. And that is an important reason, but there are many more that are very important. And it is that the treatment that the animals that are sold in stores receive is not at all the treatment that our great friends deserve the dogs.
Cruel treatment
The dogs that we then acquire in stores are "made" in dog breeding sites. The first cruel treatment is towards the bitches or the mothers of the puppies that people buy later. And is that their only goal in life is to give birth to those who are better. More puppies, more money, so the people responsible for the breeding sites keep them pregnant again and again and when they can not have more puppies, or those that come out are deformed, they sacrifice them.
But this is not all, the puppies that are born without "quality" for them, are sacrificed or abandoned, while those of better appearance, are taken on long trips on roads with unhealthy conditions. In fact, on many occasions more than half of the puppies die on the way. Can you imagine that?
Due to this treatment, the puppies that are bought tend to have psychological problems due to the traumas experienced and therefore, bad behavior. Therefore, we reiterate our advice: Do not buy, adopt.