We are proud to present steem.events, a novel-yet-familiar take on event networking.
By utilizing WebXR (augmented and virtual reality) and our custom STEEM Sidechain, event organizers can gameify interactions in exciting new ways!
You may have heard we recently sponsored World Information Architecture Day 2019 in Los Angeles, CA by building an augmented reality scavenger hunt using smart contracts.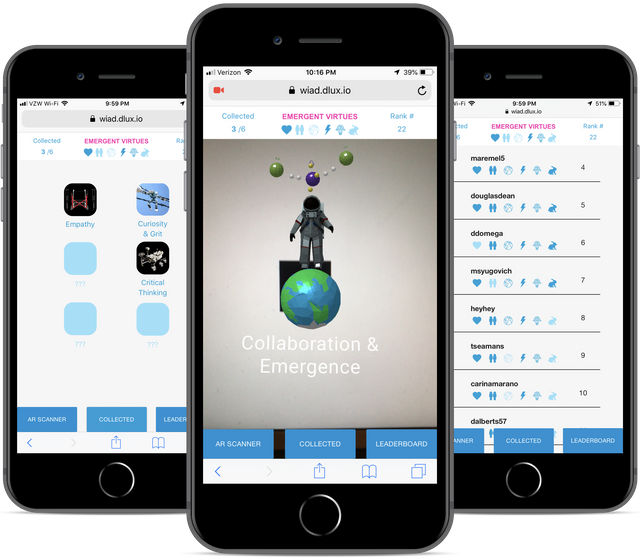 We developed and showcased a web app built on STEEM that was a tentpole experience at the event. It coincided with a panel, titled, "Emergent Virtues." Each of the six panelists chose a virtue and submitted a 3D model they felt embodied it.
During check-in, each attendee chose an emergent virtue that mattered to them, and stuck a corresponding QR on their badge. Each virtue had six possible barcodes to limit a user's ability to remember which virtues they'd already found.
Throughout the day, users could scan badges and talk about why they chose that virtue. As they collected the virtues, they appeared in their inventory, and their STEEM username climbed the leaderboard.
After some technical glitches in the morning, we got over 50 people onto STEEM for the first time to play our augmented reality scavenger hunt in their web browser - on everything from iPhone 5, to XS, to Pixel 1, to Galaxy S9. And 5 people even collected all six virtues! We count it as a huge success in demonstrating what is possible with STEEM.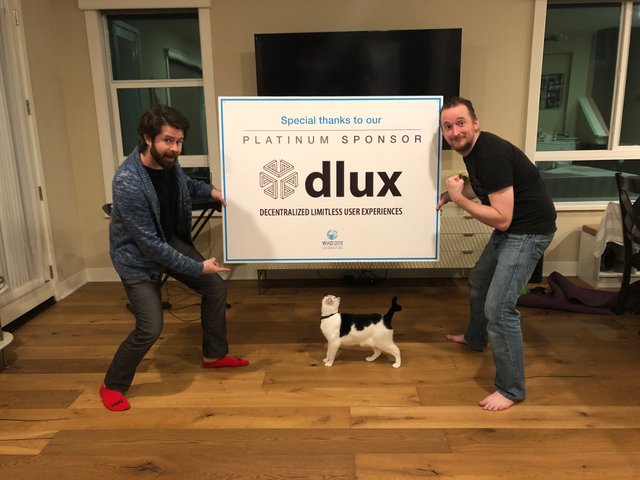 Of course, the sky is the limit in terms of what can be built. In addition to A-Frame AR.js augmented reality, this app uses React for the inventory, leaderboard, login, and on-boarding. You can imagine it would be very easy to run event eCommerce on STEEM, using PWAs (progressive web apps) like this to reduce POS (point-of-sale) fees.
We have lots of ideas for how to incorporate deeper social interaction, such as the ability to follow each-other, browse blog posts on the event hashtag, leave comments, and add profile pictures. One technical limitation we are still considering is how to delegate enough SP (Steem Power) to ensure new users on-boarded that day do not run out of RCs (resource credits).
Special thanks to @oracle-d for providing account vouchers though @steem.ninja! Honestly without their system I do not think this would be possible, and it provides the much needed tool for event organizers to utilize STEEM as their event infrastructure.
One brilliant idea from @starkerz was to have an automated post from those who complete the quest (collect all six) that could be upvoted by @oracle-d. I thought this was a great way to leave new users with a positive impression from day one, when they see they're already earning rewards.
While we didn't get every feature in that we would have liked, we are eternally grateful for the opportunity to share STEEM with a sharp UX audience. Thank you World IA Day!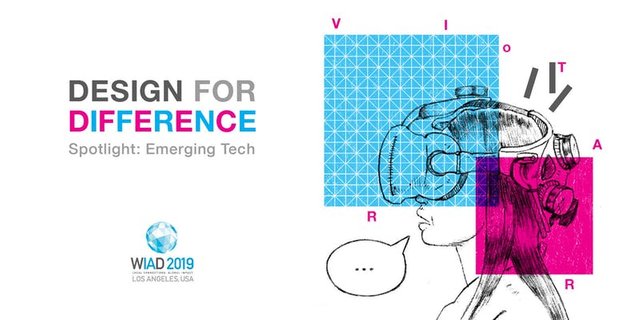 You may have noticed by now that steem.events redirects to dlux.events :)
We are dlux.io: decentralized limitless user experiences, bringing AR and VR to STEEM
If you would like to utilize this type of technology for your location based experience, chat with us on Discord. Thank you for joining us on this journey into the meta-verse.