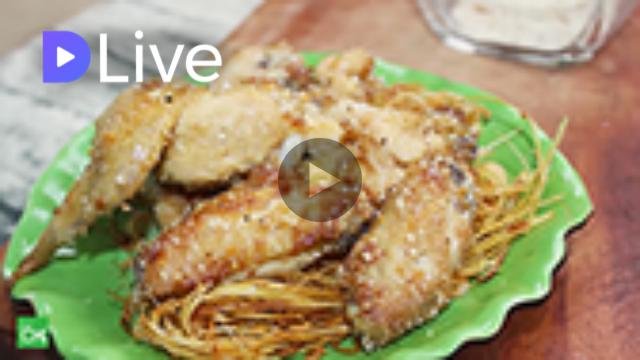 Roasted salted chicken is not only delicious food but also the children especially love. Chicken roasted salted soft, aromatic, often served with cucumber, lettuce. HOW TO MAKE RICE SALADS IN THE END OF THE DAY: https://steemit.com/@trang345
♨ CANNED RICE SALAD FORMULA:
4 chicken wings (or 1/2 chicken)

1 egg yolk

4 lemongrass

less purple onions, garlic, green onions

2 tablespoons of rice

1 tablespoon of green peas and peas

1 tablespoon cornstarch

2 tablespoons of salt

2 teaspoons black pepper

Oyster sauce, soy sauce, seasoning, pepper, sugar
♨ WASTE RICE SALT WASTE:
Onion cut, cut green onion, sliced ​​purple onion. Wash and rinse the green peas and then spread out on a tray, dry.

Wash chicken wings, chop pieces along the chicken joints. Marinate chicken wings with seasoning, soy sauce, oyster sauce, cornstarch, egg yolks in 20p.

Roasted rice until fragrant rice, white color, then green beans to roast. When the mung bean aroma, then salt and black pepper to roast. When the white salt and black pepper aroma up, turn off the fire. Bring shit.

Break a few lemon grass, and then pan the oil on the kitchen. When the oil is hot, the onion is purple, the lemongrass on the gold. For onion, scallions on the island and then pick out to separate.

Chicken after marinating to fry for nine golden.

Put the chicken in a cold pan, sprinkle with salt and pestle to light fire, roasted until the chicken wings dry, the onions, scallions on the island and off the kitchen.
♨ NOTE WHEN RICE SALT MAKING:
Choose the meat of the chicken when roasted chicken, eat more delicious.

When salting (salt, pepper, rice, green beans) do not retreat too fine.

Make the chicken pieces dry, do not add oil.
Wish you success!
Please, upvote and follow me.
Link steemit :https://steemit.com/@trang345
My video is at DLive