TidyLABS BETA Launch - Stream Alerts + Overlays for DLive.io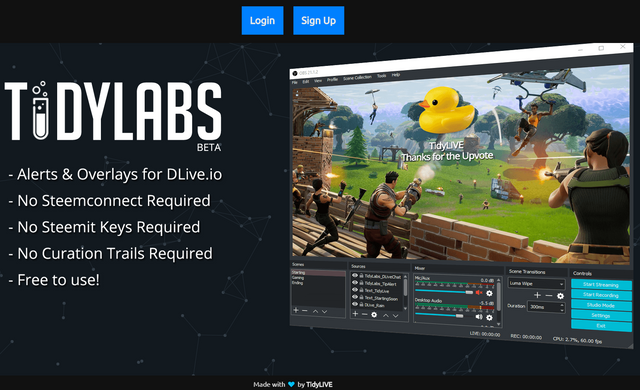 Sign up for Free:
https://tidylabs.stream

TidyLabs is a brand new alert system for https://dlive.io, compatible with OBS (Open Broadcaster Software and XSplit)
The site is still very new and has been in ALPHA since May 2018 - today we launched into BETA.
Current Features:
Custom Upvote Alerts
Custom Tip Alerts
Current Viewer Count Overlay
Custom Chat Overlay - Message animations / fonts / colours etc
Events List (Latest Upvotes & Tips)

Why TidyLabs?
Alert systems for DLive already exist, however many required you to login with steemconnect.
Although I am perfectly fine with SteemConnect, I saw no reason why 3rd party alert systems would require the end user to sign in and grant voting rights for your account.
TidyLabs is different, all you need is a valid STEEM username, and you will be issued with a unique key to login with.
With this key, TidyLabs can pull all the information it requires for notifications, without the need for Curation Trails, Steemconnect or Steemit Keys.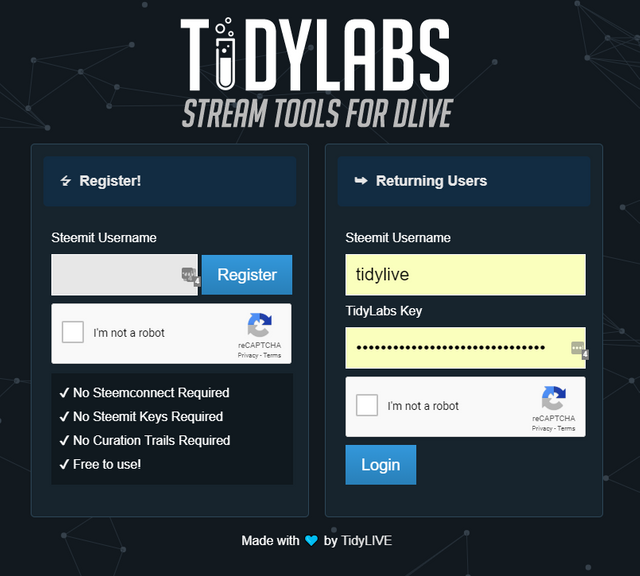 What if somebody signs up with my name?
The system will create a new account for each new sign up, so your key is yours. If somebody signs up with your username, it will not affect your alerts as the new user will be provided with a different key.

What does TidyLabs Look Like?
Here are some example screenshots from the TidyLabs interface.
1) Upvote Alert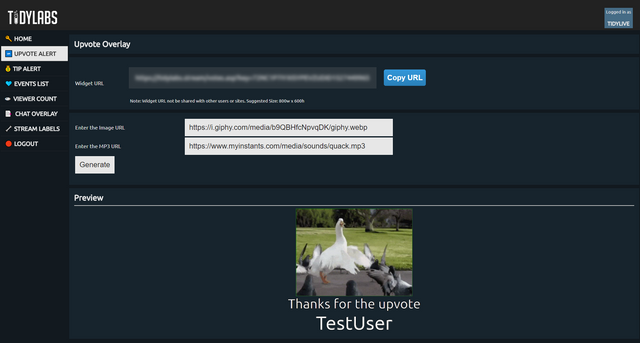 2) Chat Overlay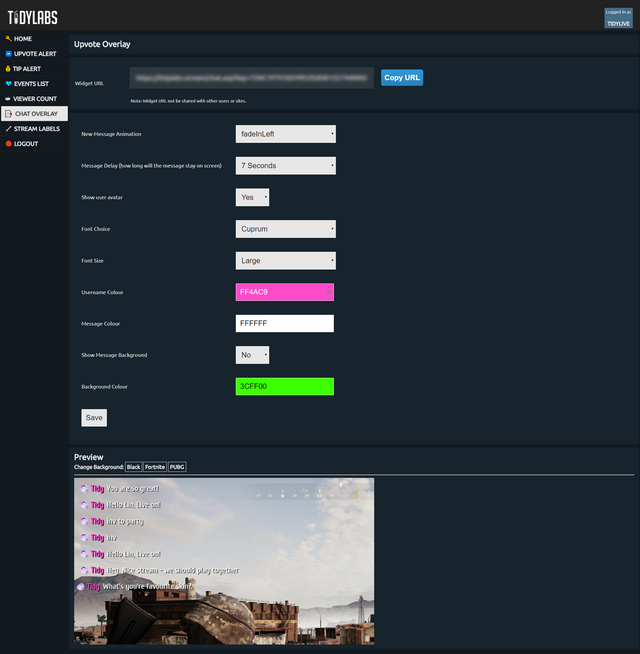 3) Events List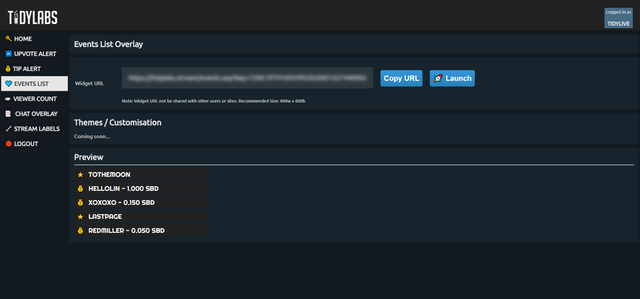 How much does it cost?
Nothing :)
I made this for DLive Streamers to enjoy.

Plans for the Future?
Upload Images & Sounds from the dashboard instead of linking to them
Upvote Alert Animation / Custom Upvote Text & Font
Tip Alert Animation / Custom Tip Text & Font
Latest Followers (DLive followers)
Events List Customisation (Colours / Icons / Font)
View Count Customisation (Colour / Font)
Mobile Access (Desktop currently supported)
TTS for Chat / New Message Sound
TTS for Alerts
Vote Filtering
much much more ;)

I need Help
TidyLABS is now in the BETA stage of development, so little bugs may arise - however if you require any help or advice, please pop into my Discord over at: https://discord.gg/tidy

Questions or Comments
If you have any other questions, please let me know by either commenting here, or sending me a message.