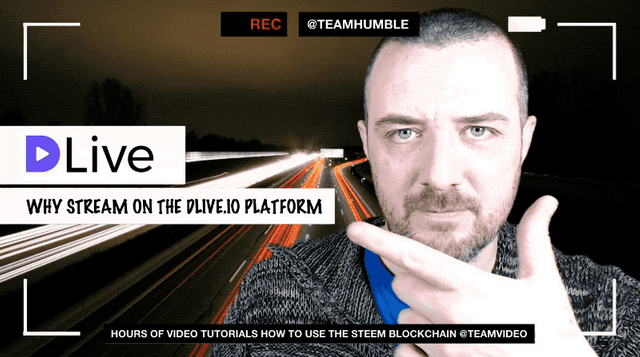 This is my submission to the recent blog post mentioned below, it's a collection of my experiences with the platform and if your new to live streaming you can find a bunch of videos showing you how to use the platform at https://www.dlive.io/#/help (some of my videos are in there) or go to my profile where you can find loads on using OBS to stream.
This blog post on steem is automatically tweeted out on my twitter account @philcampbell with over 10k of followers, I have over 101k of tweets and have been using that platform since 2006 — I sold a domain me.dm to Evan Williams of twitter in 2011 for five figures and I've been an early adopter there for a long time and believe that I provide value in digital audience development.
@dlive put out this post to help promote them on social media https://steemit.com/dlive/@dlive/campaign-or-spread-dlive-on-social-media — I made a little promotion video and pointed you to the assets that I've been making for brand new streamers on @dlive
introducing to you the DLIVE.IO platform
Currently the dlive.io platform is the only live streaming platform that pays you in a crypto currency that I know of. It's a similar site to steemit.com that it pays out in the steem cryptocurrency for your live streams and videos that you upload to the platform.
dlive.io is another way that you can earn and build up your STEEM power as all your video is stored using IPFS across many computers and nodes across the world, think of it like Napster but for your live streaming, you can even download your live streams and upload video to store on it as well.
Why now is a perfect time to LIVE STREAM!
The cross over from real life and digital life is blurring at an incredible pace, the world of on demand and real time have blurred together — we are watching more youtube and more video than ever before and live streams are the perfect medium between working from home and talking about what it is you do.
Take something like instagram and how they had to integrate instagram stories into their platform to compete with something like snapchat, look at the way people have 'reacted' to the way the interface was changed on snapchat, the way marketing is screwing up youtube and how adult content and poor life choices on youtube (you know the guy I'm talking about filming stuff in Japan that he really should not be) are effecting the way people making money from their content and streaming.
dlive.io is the jump in point, time to take a look at the help page and videos and get up to speed today.
The age of crypto currency going mainstream are a bringing us to the perfect storm of life, now, and ultimately time — how you utilise your digital time and what it means to be a digital worker on planet earth in 2018.
If you had told me as a teenager that I could get paid by people who don't know me for live streaming a game I like playing and that I could build an avid community that would watch my every move via a livestream I would have called bullshit and laughed at you all the way home. Not today.
The natural place for all of this to head too down is a stateless, decentralised, self healing, time based blockchain ledger system where proof of brain and the passage of time live together — from IRL (in real life) streams to e-sports and everything in between the trend of live video is not going anywhere and the hardware tools to get streaming are getting cheaper.
On top of that internet connectivity is getting faster, 5g will be rolling out next year and devices are already available to support it, once we start to have super fast connections and low latency we will stop worrying about speed and instead focus on quality, schedule, content and the 'package' of being an always on demand digital asset - your live stream will be a portal part into that life.
potential benefits of live streaming your business
Think about this for a minute.
How many times have you walked passed a really fancy building in a super city, let's say New York. How many times did you walk passed a really swanky art gallery and did not go in because it screamed expensive — that it was just a storefront for who they are and that people will money only go by appointment and to pick up pieces of art.
Ok, let's flip that.
What if you streamed, everyday, for a number of hours per day the art in your gallery, the pieces, what they mean to you, held a gathering of people together who wanted to talk about those pieces, fellow artists, brands, even the artist themselves to explain their process — wouldn't that make your art more accessible? Would that not open up to a potential audience that couldn't visit or cross over the doorstep?
Get it? Great? Now apply that to EVERYTHING in LIFE and you can see where i'm going with this — live streaming is a potential gateway to a global customer base like no other. They might not be even customers, it might just be an audience of people feeding you ideas or their own processes, think of it like pen pals 3.0. This stuff is not going away any time soon! :)
no longer game alone but also learn about blockchain!
Why spend your time alone playing games when you can potential EARN STEEM by hosting a live stream playing your favourite game to a potential remote audience? Maybe you've been wanting to learn about a blockchain technology and you have seen all of the up's and down's of bitcoin but you still believe in the technology.
dlive.io is a good place to start, you can stream or upload video there — mainly right now it's centerings around four areas — gaming, learning, music and lifestyle so if you are into anything like that you could or would do very well here on the platform.
Your time and investment to this platform has more chance of being worth while also because the platform has been given a large delegation of steem power, the way upvotes and your time is rewarded in the steem blockchain ecosystem — but don't forget to bring your A-GAME! :)
ten reasons why dlive.io is a better alternative to twitch or youtube and why decentralised streaming will win.
you get paid in STEEM within seven days (better than adsense)
they have an active and engaged support team in discord
no content matching system, speak freely same as steem
every live stream becomes a STEEM post
comments on your stream becomes a comment on your blog post
freedom to stream without ads and marketing politics changes
no minimum number of followers needed to actually stream
use animated gifs as your thumbnails for videos
upload up to 2 gig in size videos to host on the platform
supported by @ned from steemit.com ( 2 million steem delegation)
I've had nothing but support from them
Seriously, these guys have been awesome in giving me feedback and upvoting my posts and really feeling like I'm adding value to the community, the fact that a bunch of my videos were added to the help centre means I'm contributing to the platform and the hope that the platform grows — that's how you support a decentralised platform!
GET INVOLVED! :)

» TWEET ME «

» YOUTUBES «

» INSTARARA «

» PODCAST «



pinterest epic wins pinboard → brand advocate for nokia, 1000heads, verisign → won vloggie for node666 (san fran 2006) → television for time team history hunters 1999 (burton on trent) → sold me.dm to evan williams in april 2011 → went to phil campbell, alabama to help raise money after tornado ripped up the town (was on sky news, bbc news)→ CNN for sxsw 2013 about austin south by southwest event → video chat with robert scoble from rackspace → music video can you spot me? → won the digital derry contest for 5k euros → crowdfunded digital signage concept called pi street → now living life through digital blockchains.



My video is at DLive