EXECUTIVE SUMMARY

In our current environment of political correctness and internet anonymity, it is rare if not impossible to find a safe place where content creators have the freedom to tell the world what's on their mind. Trolls fueled with animosity, as well as centralized platforms who censor certain topics or opinions create obstacles to freedom of expression, and discourage users from publicly voicing their opinion.
The Speak Freely TV project, which runs on the Steem blockchain, offers a solution to this problem by enabling individuals to express themselves in a safe environment without censorship or fear of judgement.
BACKGROUND

Cahlen was inspired to create Speak Freely TV after waking up to the fact that he had been hiding his authentic self most of his life to avoid the discomfort of disagreement and judgment from others. Upon committing to being true to himself he found that the relationships he had previously formed began to fall away like structures built on unsolid ground, while new deeper and more authentic relationships formed to take their place.
Speak Freely TV is aimed at helping others to make this transformation by encouraging them to be true to themselves and to improve the quality of relationships in their lives.
MISSION & VISION

Speak Freely TV's mission is to provide a free platform on the Steem blockchain for users to speak about themselves and their beliefs from a place of authenticity and vulnerability without fear of judgements or discrimination.
Speak Freely TV envisions a decentralized place where people can be part of a friendly community in which viewers listen and can have meaningful conversations with each other about any topic they choose.
OBJECTIVES/GOALS

In order to start promoting our project to the public and incentivize participation, we've implemented an action plan in the short and longer term.
SHORT TERM
As a first step, we need to spread the word about who we are and what we are about, and in order to achieve this goal, we need to incentivize participation in the project.
In order to reach this objective, our first action plan is to organize a set of biweekly contests with specific topics which will be defined by the SFTV team. The reason for imposing topics initially is to make it easier for our audience to participate. In the longer term we hope that participants will come up with their own topics or questions, however, we will continue hosting these contests to increase interaction and our follower base.
Our first contest opens up the floor to a large audience, as the topic we chose is very broad. We will ask the question "if the entire world were listening, what would you like to say?" We hope that this question will inspire many participants to record their first SFTV video. In order to lead by example, each team member will make a video answering this question.
Each contest submission will need to be posted with the hashtag: #speakfreelytv
LONG TERM
Once we gain some momentum and our follower base increases, we intend to be able to conduct interviews to foster dialogues between individuals. These conversations can happen between total strangers from opposite sides of the globe, about any possible topic.
In addition to providing a free speech platform, we would like to reward participants who create high quality content via the curation of videos and posts which contain the hashtag #speakfreelytv. Our curation team will filter the entries and decide which videos will be resteemed by the main account on Steemit. The criteria for example are duration of the video, quality of the audio, image, and the ability of the speaker to get their point across.
We already own the domain http://speakfreely.tv and intend to create a website in the long term, once our project gains enough popularity. The aim is to spread our initiative to the "mainstream" viewers who may not yet be familiar with the Steem blockchain.
Once our platform reaches sufficient growth and popularity (to be measured by key performance indicators), we would like to create our own Speak Freely TV Smart Media Token
DELIVERABLES AND TIMEFRAME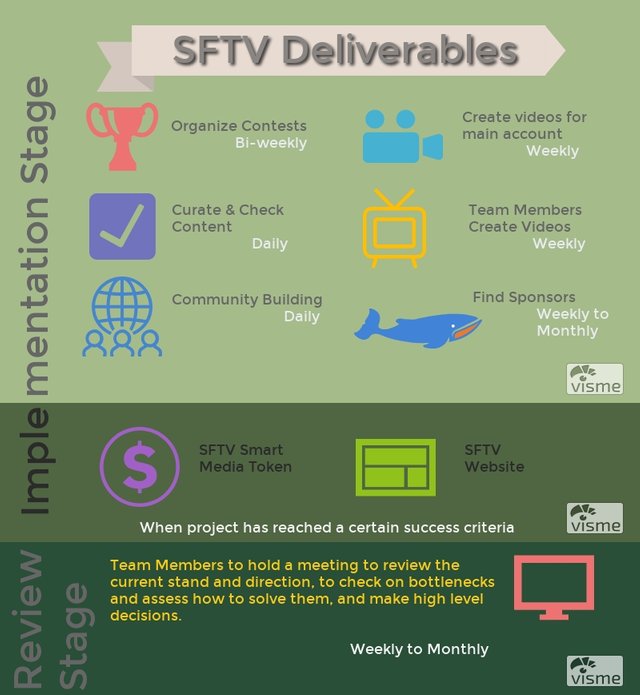 PLANNING STAGE
| DELIVERABLES | START | END |
| --- | --- | --- |
| Project Proposal | 1-June-18 | 10-June-18 |
| Individual Contribution Post | 1-June-18 | 10-June-18 |
IMPLEMENTATION STAGE
| DELIVERABLES | TIMEFRAME |
| --- | --- |
| Organize Contests | Biweekly |
| Build Community | Daily - Weekly |
| Curate Videos | Daily |
| Check Quality | Daily - Weekly |
| Find Sponsors | Weekly - Monthly |
| Create Official Videos | Weekly |
| Team Members Create Videos | Weekly |
EXPANSION PHASE
| DELIVERABLES | TIMEFRAME |
| --- | --- |
| Create SFTV Smart Media Token | TBD Community Size |
| Create Standalone Website | TBD Community Size |
CONTESTS & QUALITY ASSESSMENT
The contest will be held every 2 weeks with each contest running in 7 days. This is to allow time for the team to process the entries and announce the following contest. SFTV team will also curate and check videos that are tagged with #speakfreelytv.
COMMUNITY BUILDING & CURATION
SFTV encourages a conversation, it is not just a one way video of the speaker. This will be done through community building which will include rewarding comments and people who join the curation trail.
CONTENT CREATION
The main SFTV account will also resteem quality submissions, at the same time, content will also be created in this account. The team members will also create at least one video per week to promote the #speakfreelytv tag.
FINDING SPONSORS
To be able to boost content by participants, the team will seek sponsors through delegations and donations for the main account. This will be used to sustain the contests as the initial budget will only last up to 2 months. The team is also currently seeking partnership with Dlive A meeting with Dlive is currently being set.
REVIEW STAGE
Team Members will hold a meeting once a week to review our current stand and our direction, to review what are the bottlenecks and how to solve them, and to make high level decisions.
LONG TERM DELIVERABLES
As for the longer term, the team envisions a Speak Freely TV Smart Media Token and its own website. The SFTV Smart Media Token will be used to reward participants within and outside the Steem platforms. Its own website (will be based on the blockchain)
BUDGET
| CATEGORY | SBD | DETAILS |
| --- | --- | --- |
| Community Building | 20 | 2 SBD per contributor x 10 (initial) |
| Branding | 10 | Logo, Banner, signature, etc |
| Contest | 70 | Bi-weekly Contest Reward for the 1st 2 months |
| TOTAL | 100 | SBD |
CONTESTS
One of the biggest activity to promote Speak Freely TV would be the bi-weekly contest. As such, 70% of the initial budget is allocated for rewards. This would cover the first 7 contests and will be distributed according to the winner's rank:
5 SBD for the 1st place
3 SBD for the 2nd place
2 SBD for the 3rd place
The rewards are a total of 10 SBD per contest or week.
COMMUNITY BUILDING
People who've decided to join our curation trail or contribute to @speakfreelytv management will be incentivized in the form of upvote or weekly incentives. Depending on the level of contribution, a member could get 2 SBDs per week.
BRANDING
10 SBD is allocated to source designers in designing logo, signature, banners, etc. We will do it in-house when possible.
WEBSITE
The budget for website comes from the success of the project. With the profit we've received, we will invest them to design and host our website.
CURATION
At the beginning, Steem Power will be Delegated to the @speakfreelytv account by the team members who volunteer in order to increase voting power so that we can begin curating videos, posts and comments.
Then, with @speakfreelytv and our curation trail, we will curate high quality videos and posts and also curate comments to encourage more quality listeners.
Our curation is in the form of upvote + resteem + featured in @speakfreelytv videos/posts. The long term plan is to also feature them on our website.
SUCCESS CRITERIA
Number of visits to the webpage (in the long run)
Number of followers
Number of contest entries
Number of entries that are not part of the contest
Number of followers in the voting trail
Number of upvotes on posts
Number of comments
Post payouts
Number of resteems
Number of views
Number of valid #speakfreelytv tag users
ROLES & SUB-TEAMS
Creator and Producer - @cahlen
Originator of the project and initial contributor. Helps guide the team by hosting and directing conversation and contributing in any form the team needs (e.g. art, writing, coding, etc.).
Marketing Director - @tifaong
This person is the brain of marketing and branding. She plans the "how" to get to achieve the success criteria and at the same time ensure the correct message are spoken by every member. She then directs her team to execute the "how".
Community Chief - @amymya
As the name suggests, the chief sources for more people who wants to join the party. She will start targeting existing communities she is a part with. Then she will expand the circle. She is also the creator of Speak Freely TV Discord Channel.
They are the people who ensure the survival of the project. They determine and control the quality of videos and posts for #speakfreelytv tags and Discord channel.
Everyone on the team will create their own Speak Freely TV Videos as members of the community.
CONCLUSION

In summary, Speak Freely TV seeks to build a community of individuals who believe in the importance of speaking their minds and who wish to encourage and build relationships with others doing the same. The goal is to bring ideas out into the light of day where they are available for all to evaluate, discuss and incorporate as each individual sees fit.
In the beginning we will be focused on building that community through contests and curation incentives directed towards the current contributors on the Steem blockchain. As that solidifies, attention will begin to focus on building a more publicly accessible platform.
Feel free to get in touch with any of the team members for assistance with participation, to share ideas for improving the project or express interest in collaboration.