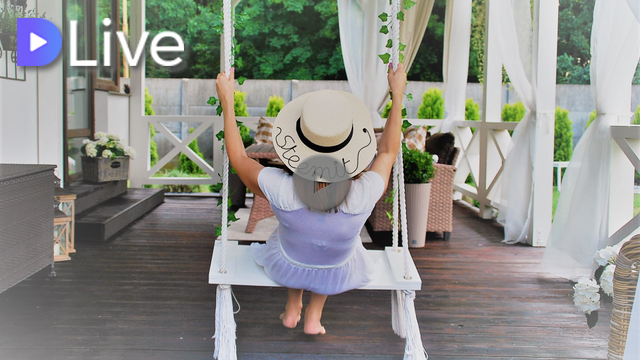 Marzenia się nie spełniają, marzenia się spełnia...
Już nie raz pisałam Wam o mojej miłości do urządzania wnętrz. Nie jestem w tym ekspertem ale mam swój styl i staram się go trzymać. Zapewne zapytacie jaki jest to styl? - Zaskoczę Was, otóż, tak naprawdę żaden! W urządzaniu moich wnętrz kieruje się jednym: ma być ciepło, miło i przytulnie!
Jakiś czas temu zabrałam Was w podróż po moim domu oraz pokazałam w jaki sposób za Steem Dollary zrealizowaliśmy wraz z mężem nasze marzenie o miejscu za domem gdzie moglibyśmy odpoczywać i zapraszać rodzinę na niedzielne obiady... Mowa oczywiście o naszej wyśnionej werandzie!
Wszystko byłoby cudownie gdyby nie fakt, iż brak dachu przez blisko dwa lata pozostawił na niej widoczne ślady i skutecznie nas zniechęcił do korzystania i przesiadywania na niej.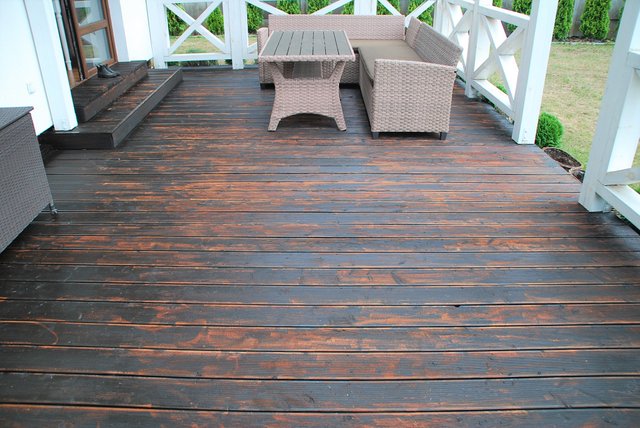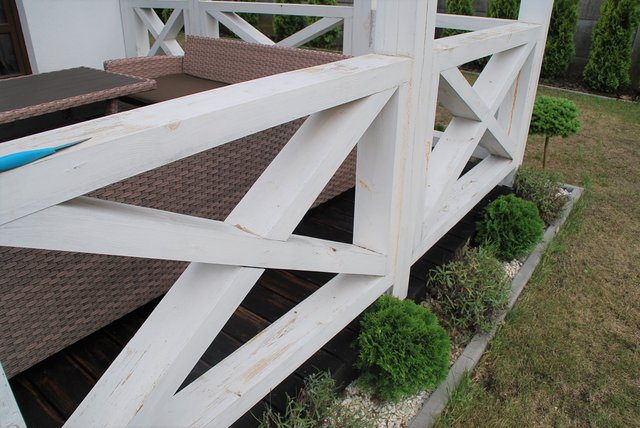 Zbyt dużo czasu jej poświęciliśmy i zbyt dużo pieniędzy zainwestowaliśmy aby ją teraz zburzyć (bo taki, prawdopodobnie, byłby jej przyszłoroczny, przykry los). Poza tym, to było przecież nasze wielkie marzenie!
A więc jaka decyzja?
BUDUJEMY DACH
Blisko miesiąc czasu, mój zdolny mąż wylewał swoje siódme poty, kładąc deski, papę i tzw gonty w 30 stopniowym upale. Później przyszedł czas na odmalowanie konstrukcji i olejowanie podłogi.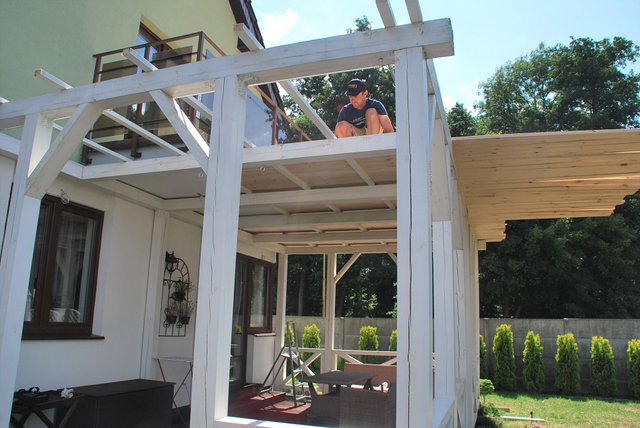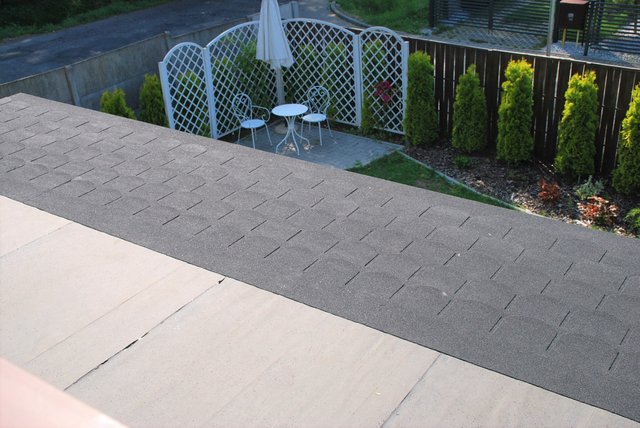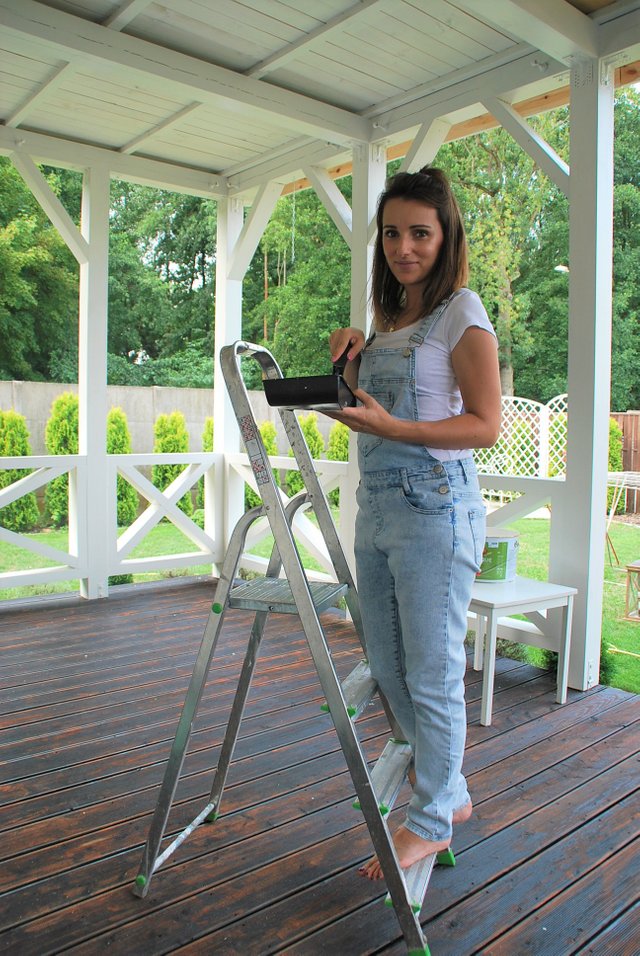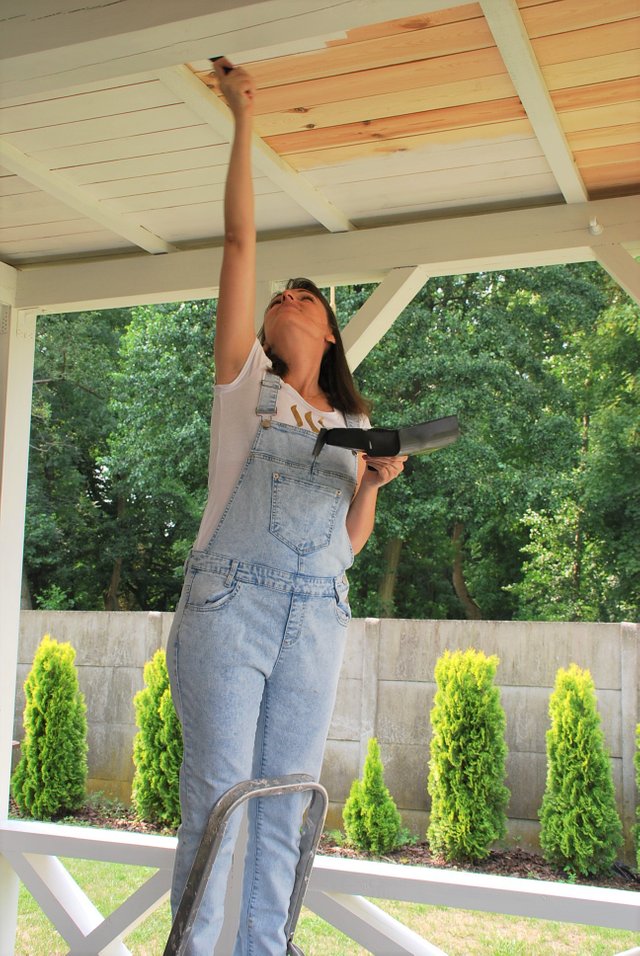 No dobra, pomalowałam jakiś 1m2 dachu i w końcu oddałam wałek w ręce kogoś bardziej wytrwałego i doświadczonego czyli mojego męża, wracając do swoich zadań specjalnych (czytaj: malowania huśtawki)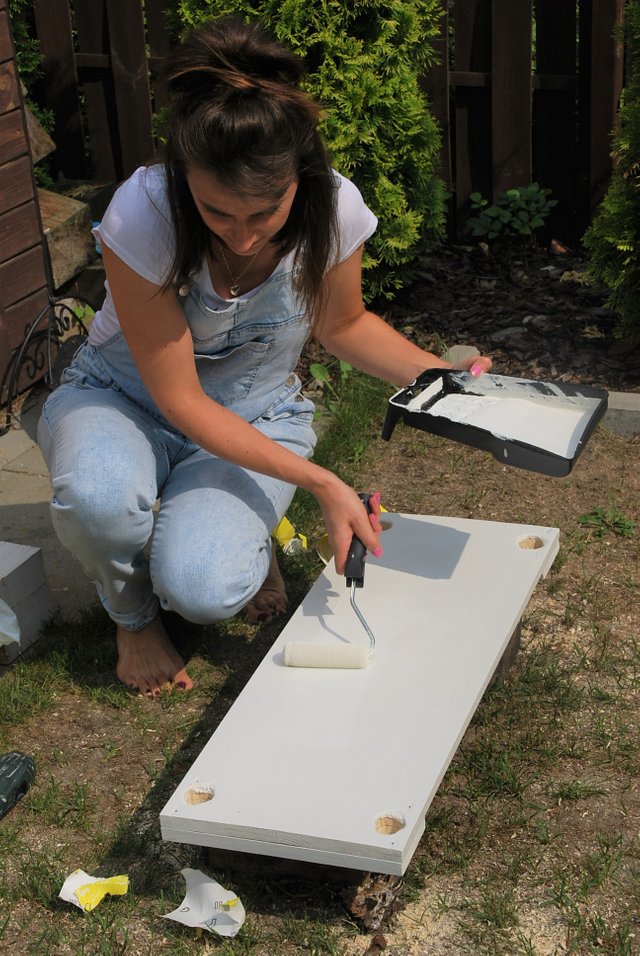 W efekcie tych wszystkich zmian, powstała duża weranda, a nawet powiedziałabym dodatkowy salonik. Uwielbiamy to miejsce i spędzamy tu prawie każdą wolną chwilę w ciągu dnia i nocy... Ba! Nawet, teraz w trakcie pisania tego postu - siedzę sobie tutaj, na mojej werandzie, popijam czerwone wino a w tle rozbrzmiewają piękne dźwięki portugalskiego Fado… Jednym słowem - jest idealnie!
Zresztą oceńcie sami!
ROK 2015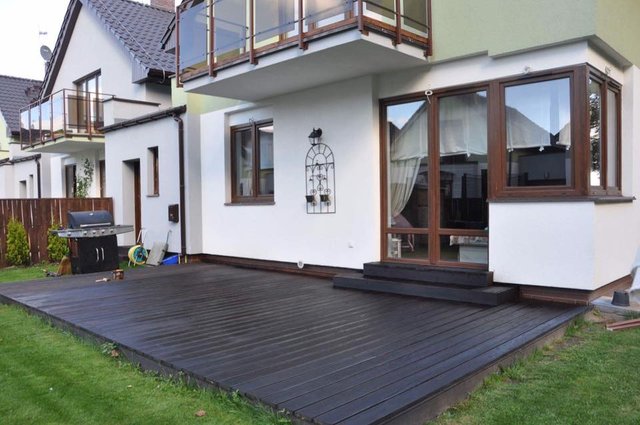 ROK 2017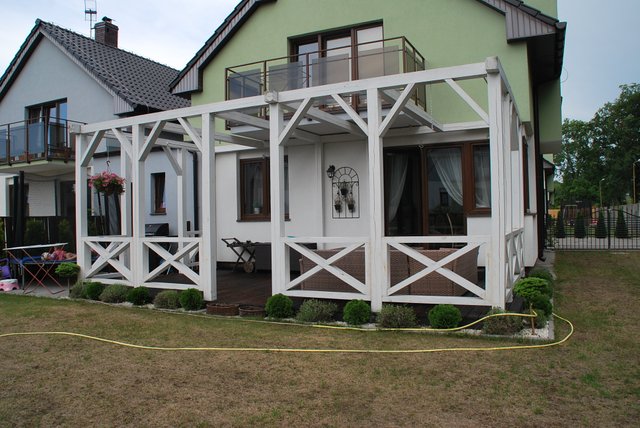 ROK 2018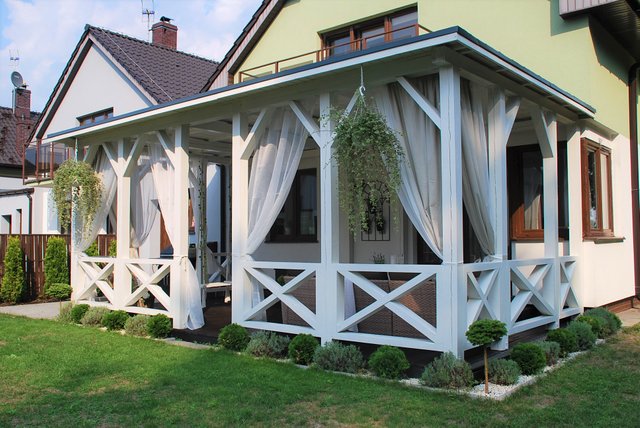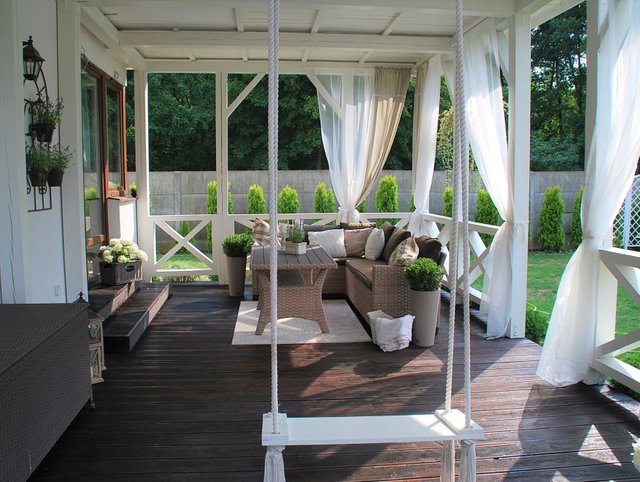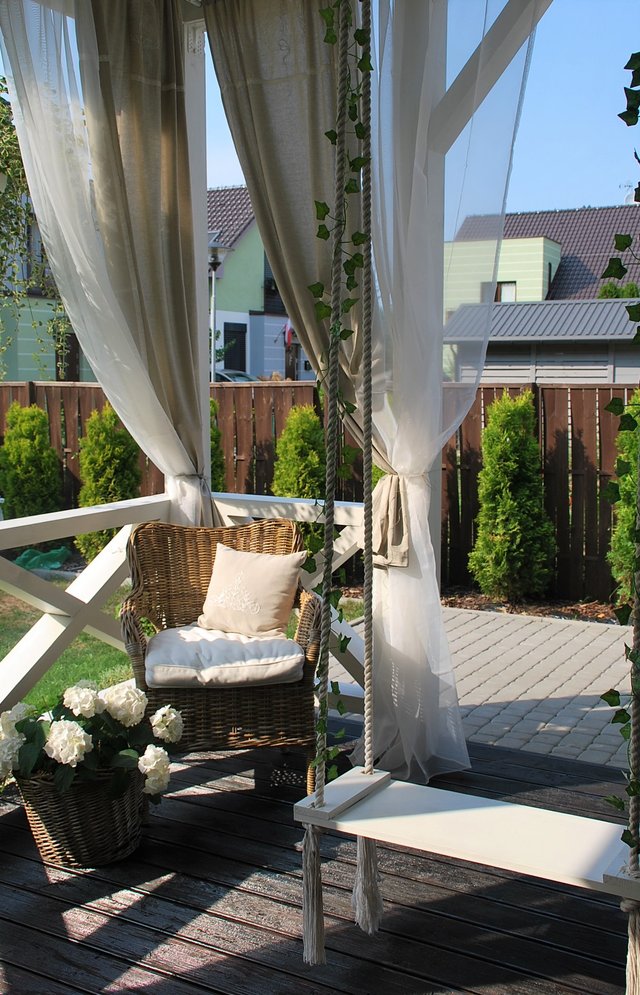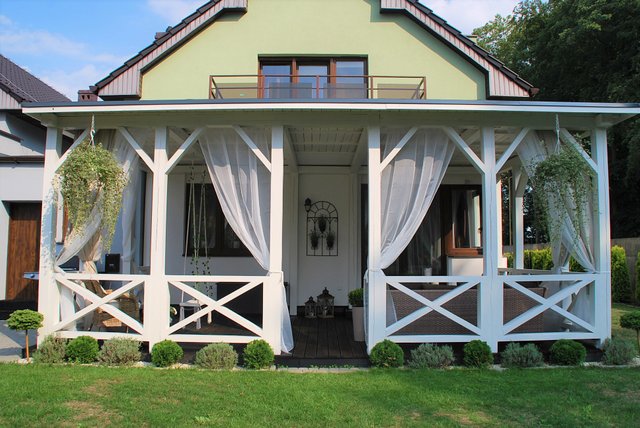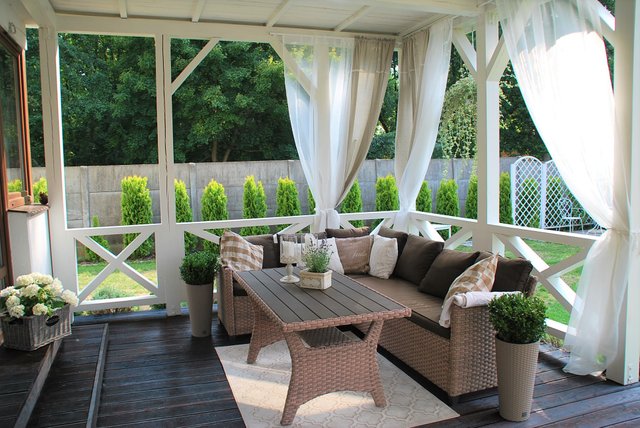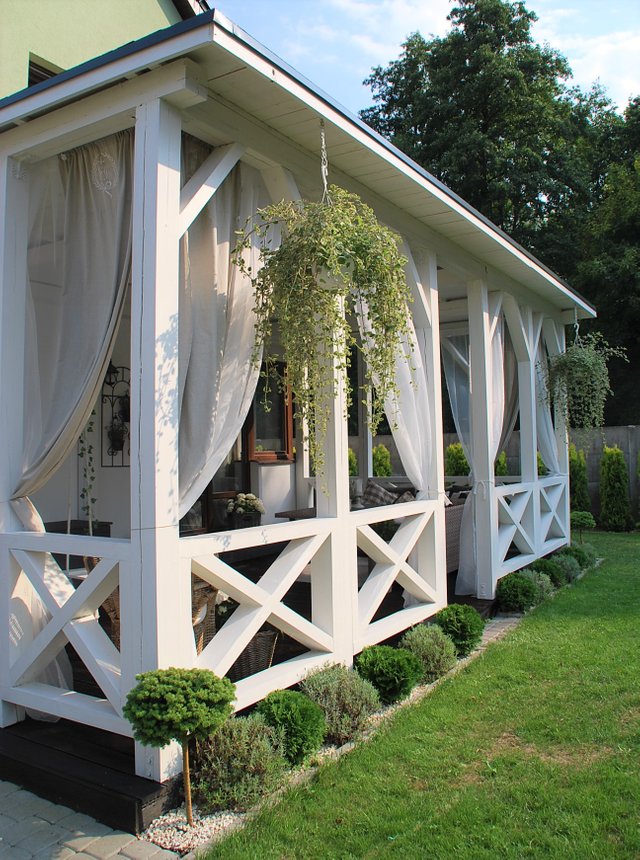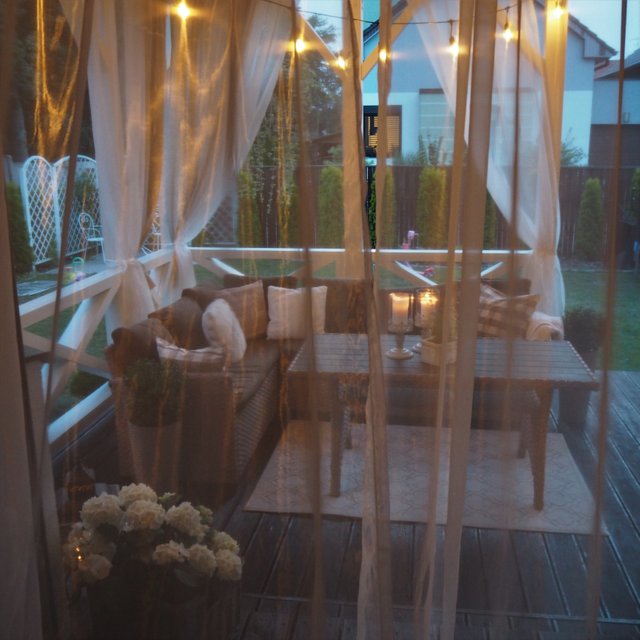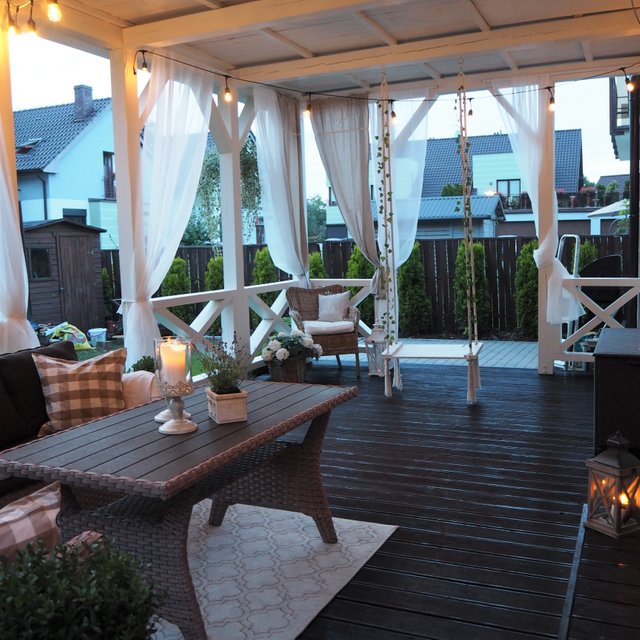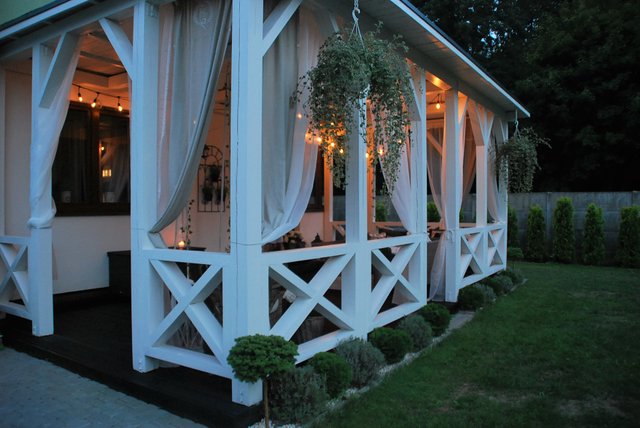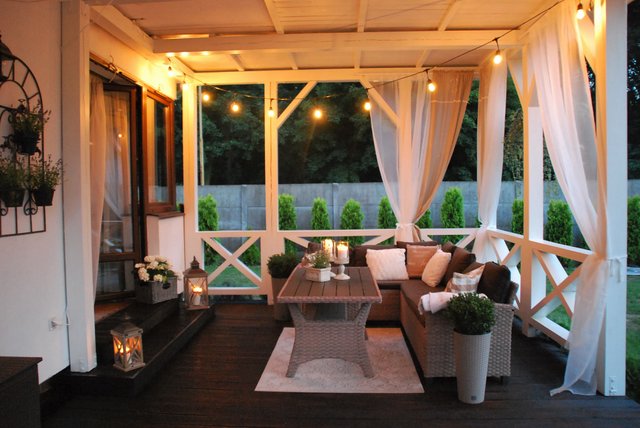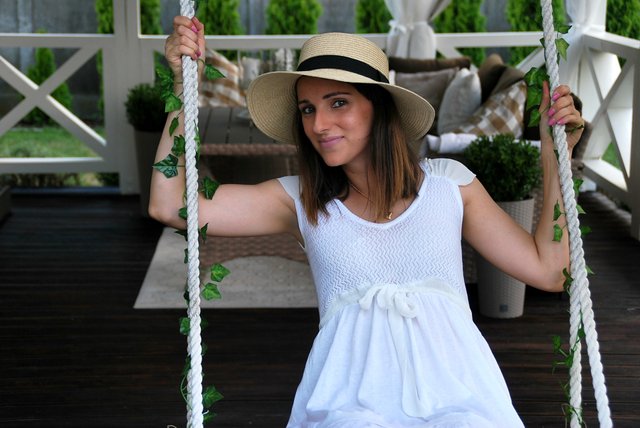 KRÓTKA VIDEO RELACJA
Jak Wam się podoba taka zmiana? Ciekawa jestem Waszej opinii i czekam z niecierpliwością na komentarze!
Ściskam,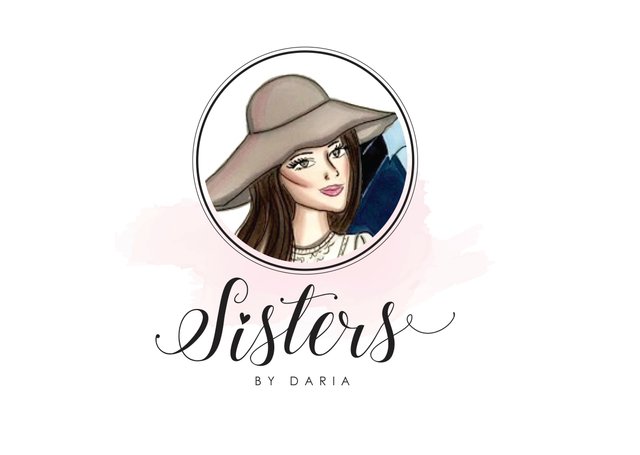 My video is at DLive