The Most Authentic Neapolitan Pizzaria in London / 最正宗的那不勒斯风味披萨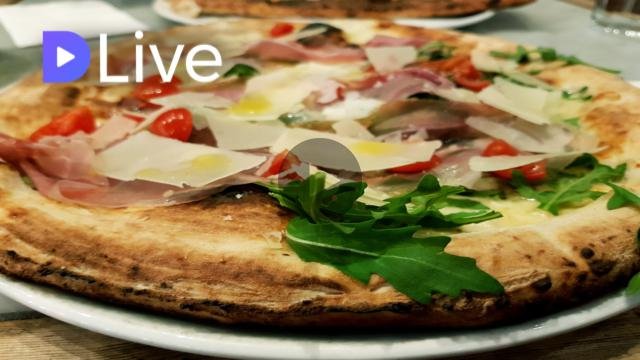 If you are into authentic Neapolitan style dough pizza, I would like to introduce you to a great place called Sacro Cuore. They pride themselves to making identical-styled pizzas to what you would normally eat in Naples, which is also the place of origin for the "Pizza". By including soft, sponge-like dough with a the choice of traditional toppings, the pizzas are guaranteed to always amaze! This is probably the best Napolitan pizza house in London, even according to all the five star rave reviews in receives too.
Located in Kensal rise, Sacro Cuore is tucked away within a street corner off the main high road. Every time I go there, it's always buzzing with long queues, even late on Monday or Tuesday nights. It just goes to show how popular this place really is! A genuine Neapolitan style recreation of pizza has become quite a popular choice of dining out lately and I am glad the establishment give it the care and attention to detail it deserves.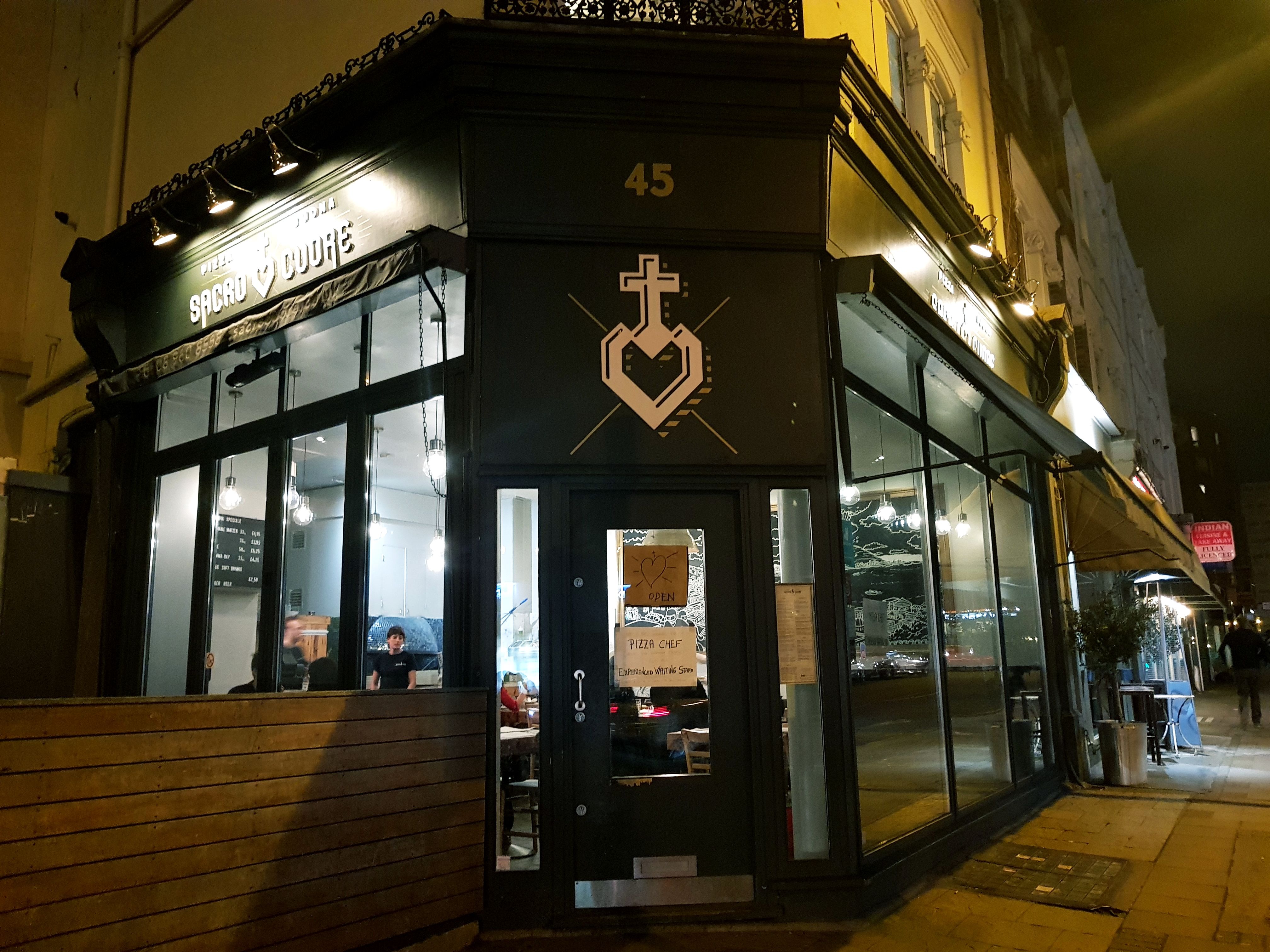 ---
The interior is not sizable by any means, with a simple wooden floor and bare tables that are packed quite tightly together. It features an open-kitchen next to the counter where sits a massive clay wood-fire oven. Perfectly suited for the job at hand.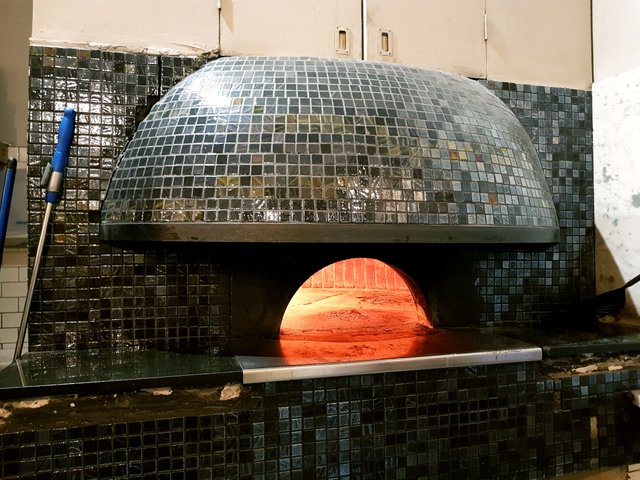 ---
Watching the chefs work at Sacro Cuore is an added bonus. I know making a good pizza is not easy per se as you have to use the correct amount of dough spread out evenly throughout, as well as have the cooking skills to ensure a consistent quality each and every time. But the chefs here make the whole process look so easy! After preparing the dough with a quality tomato sauce, as well as cheese and other optional toppings, the whole thing is slid into the back of the pizza oven. In just under a couple of minutes, a perfect pizza is retrieved and ready to make its way to your table. Yes, everything happens that fast!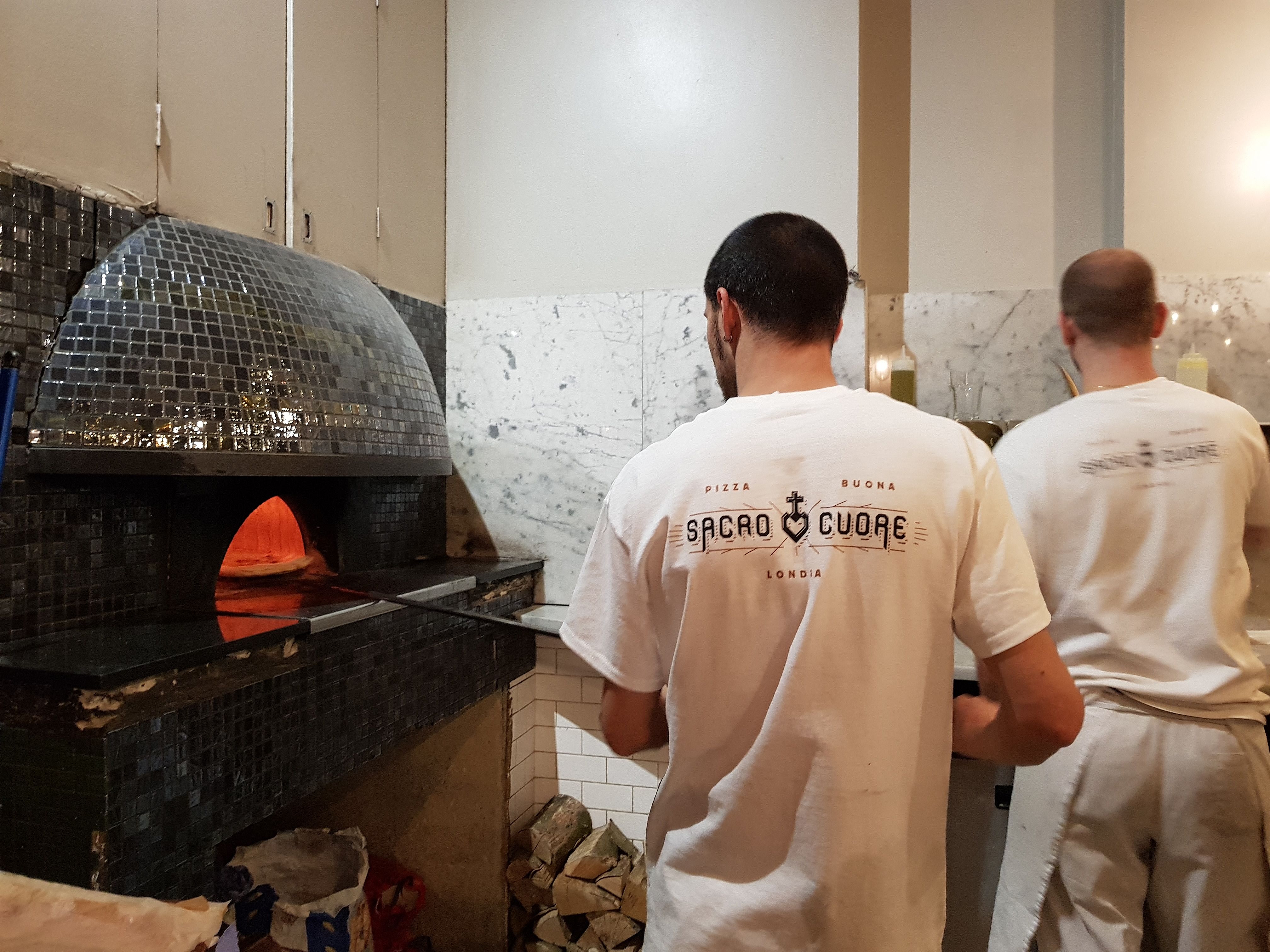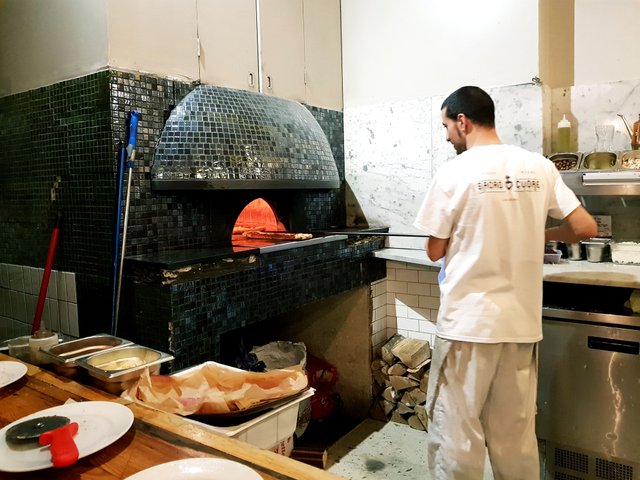 ---
Pizza
Sacro Cuore offers up a simple, short menu with a few starters and desserts for added measure. However the main reason for coming here is the fantastic pizza experience! And I have been steadily working my way through the menu here over several visitations I've made and I must say I loved each one in their own individual way.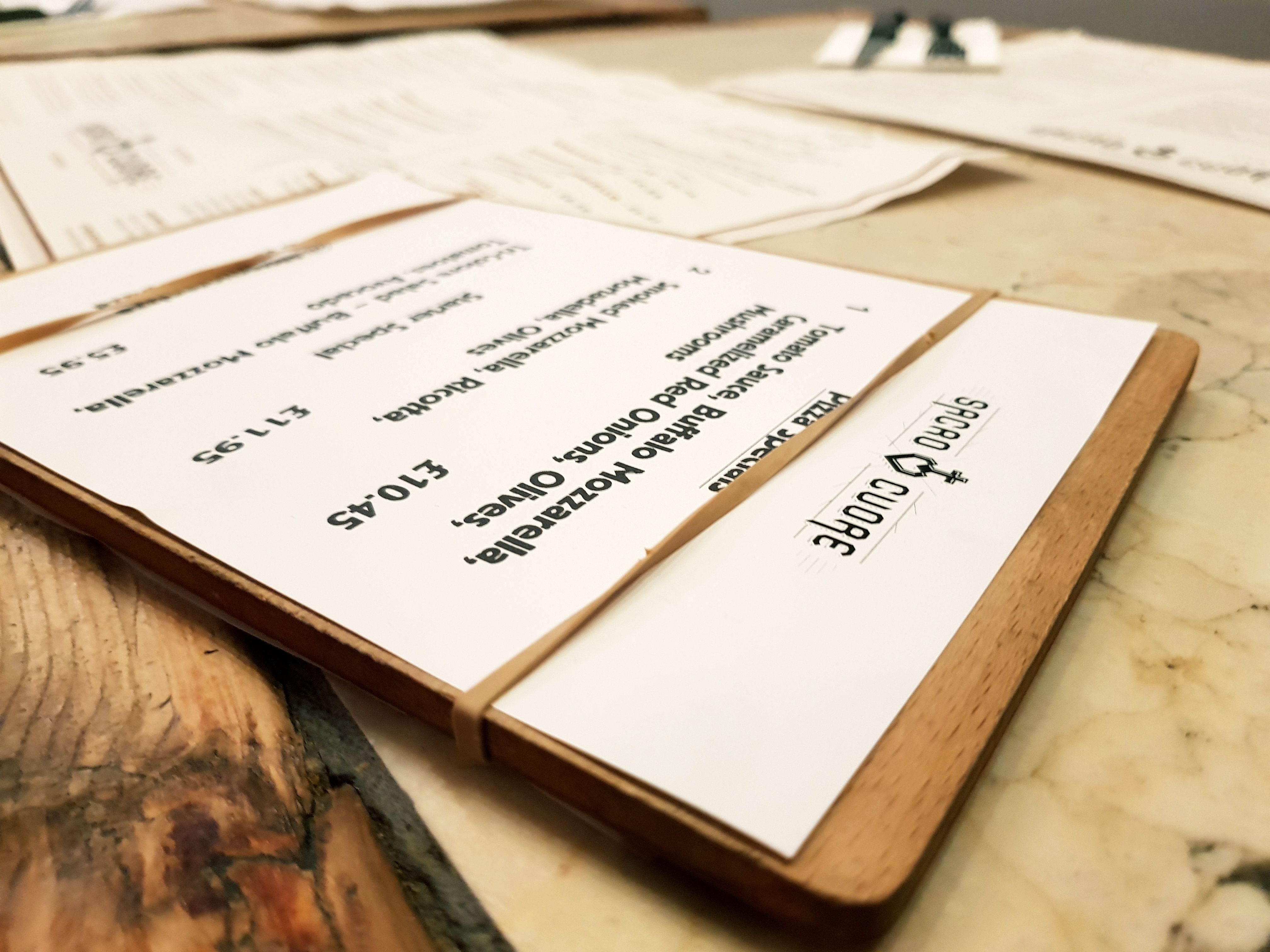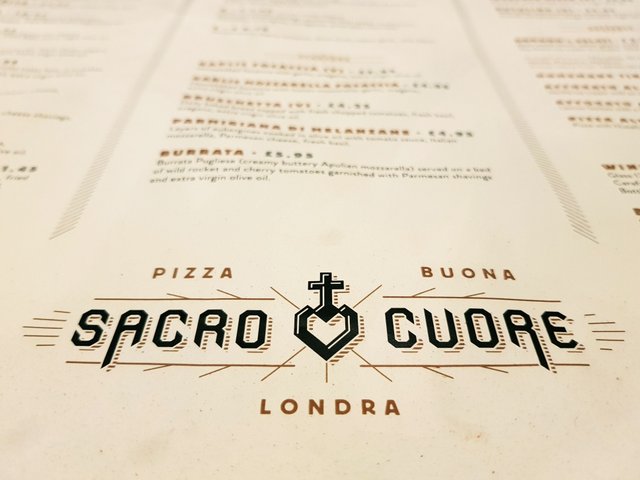 ---
Though a couple do stand out for me. Bufalina, which is a tomato sauce base with posh buffalo mozzarella and basil. The mouth-watering yet simple flavours are the best example of everything that is great about these pizzas! San Daniele, my favourite so far, has a punchy combination of Parma ham, wild rocket, cherry tomatoes, parmesan cheese shavings and fresh basil. Put simply, it is faultless.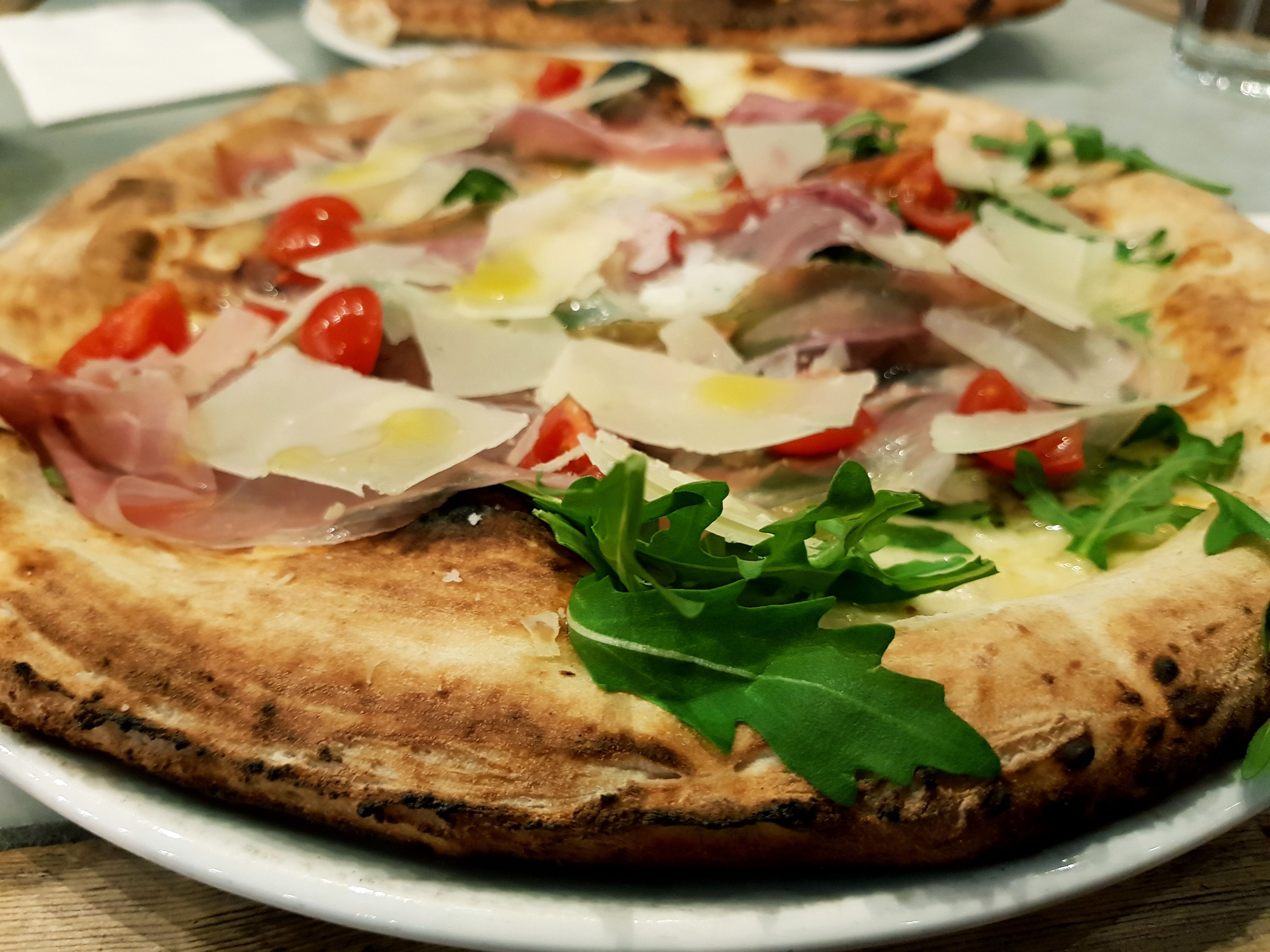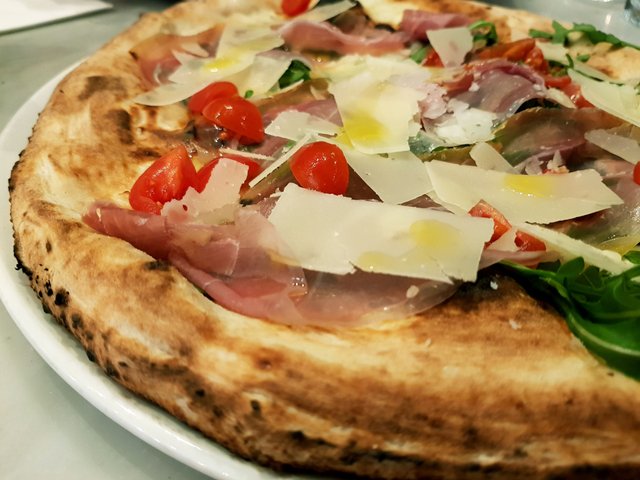 ---
@ezzy loves the Calzone Ripieno, which is a "folded" pizza containing tomato sauce, various Italian cheese (mozzarella, cotta cheese and Parmesan cheese), prosciutto cotto ham and Neapolitan salami. It is a molten explosion of cheese and juicy meat slices in your mouth.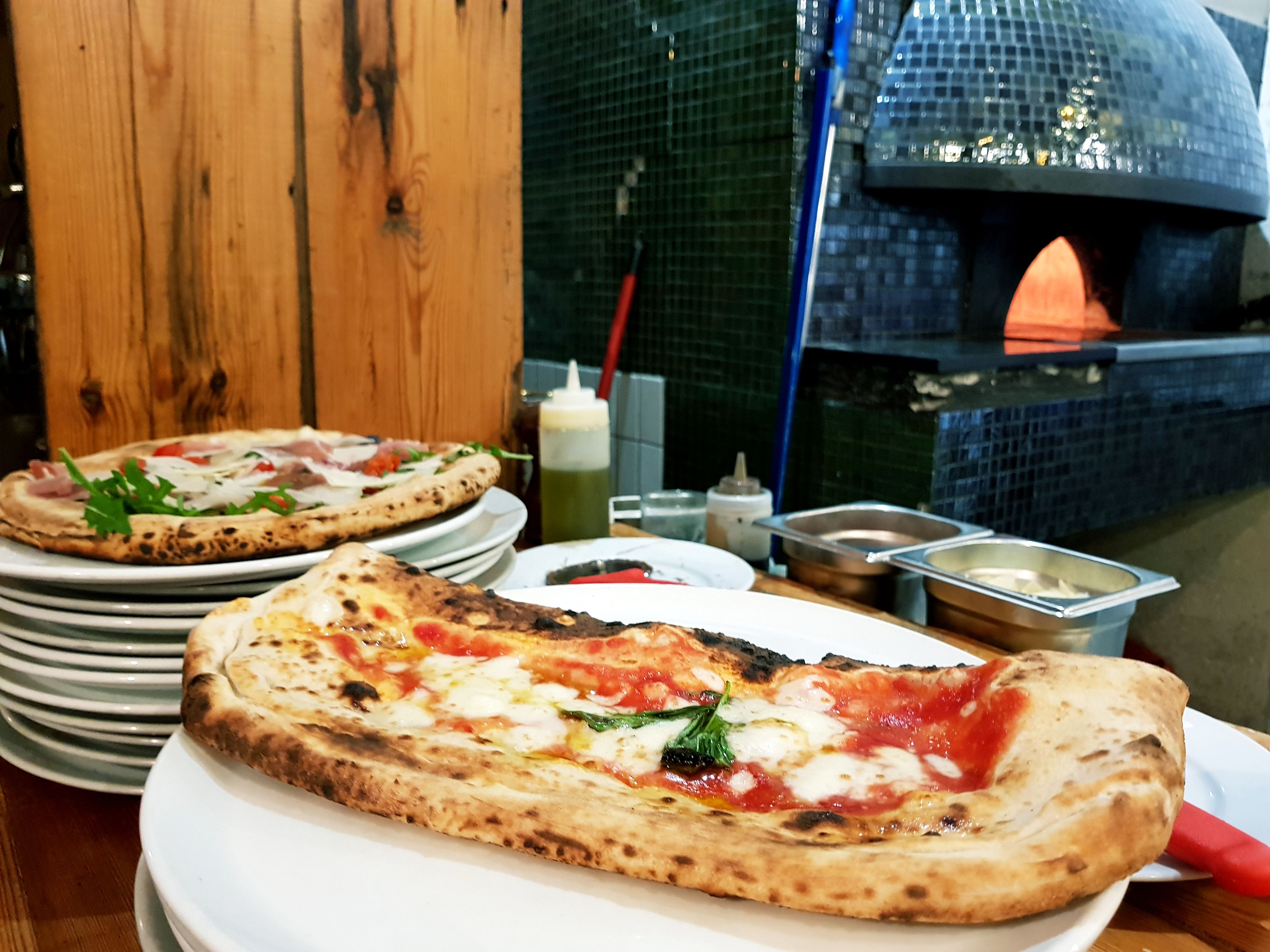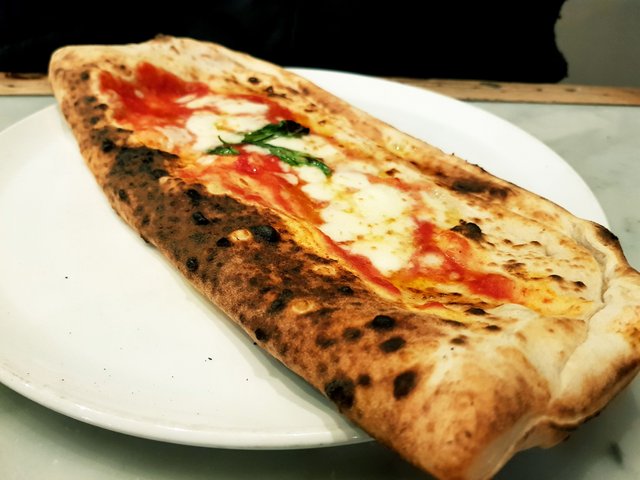 One big difference between Naples style pizza and others is it's soft and pliable texture. All the pizzas we sampled here were distinguishable by their incredible smooth bases. They are delicious from the crust up to the core with the unique palatable "chewiness" all round. It is so addictive that makes you want to keep eating until you physical cannot eat anymore, lol!
Dessert
We finished off the meal with a variety of ice creams from the legendary Oddono's. That is also not to be missed.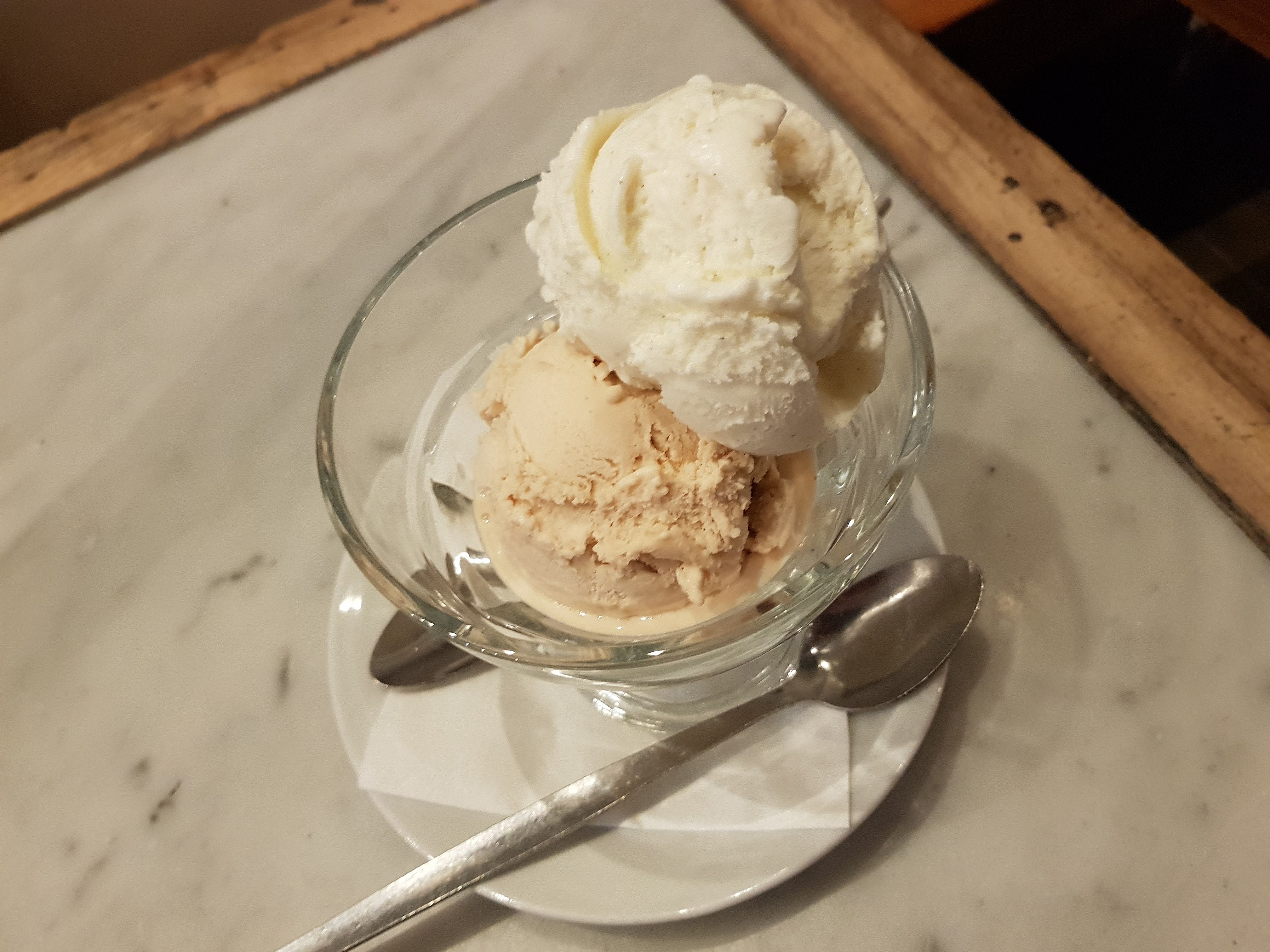 ---
We tried out another popular desserts being a super rich pizza with Nutella and almond flakes! The sticky chocolate and hazelnut sauce on top is warm and gooey, blending exquisitely with the beautiful pizza base. This one is best enjoyed hot out of the oven but can still be quite tasty for leftovers the next day.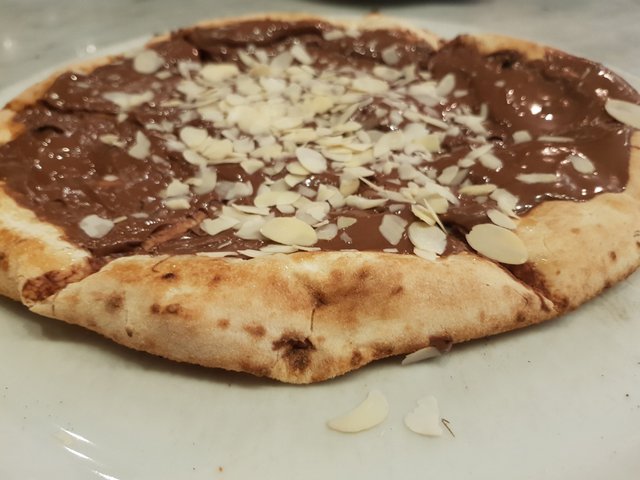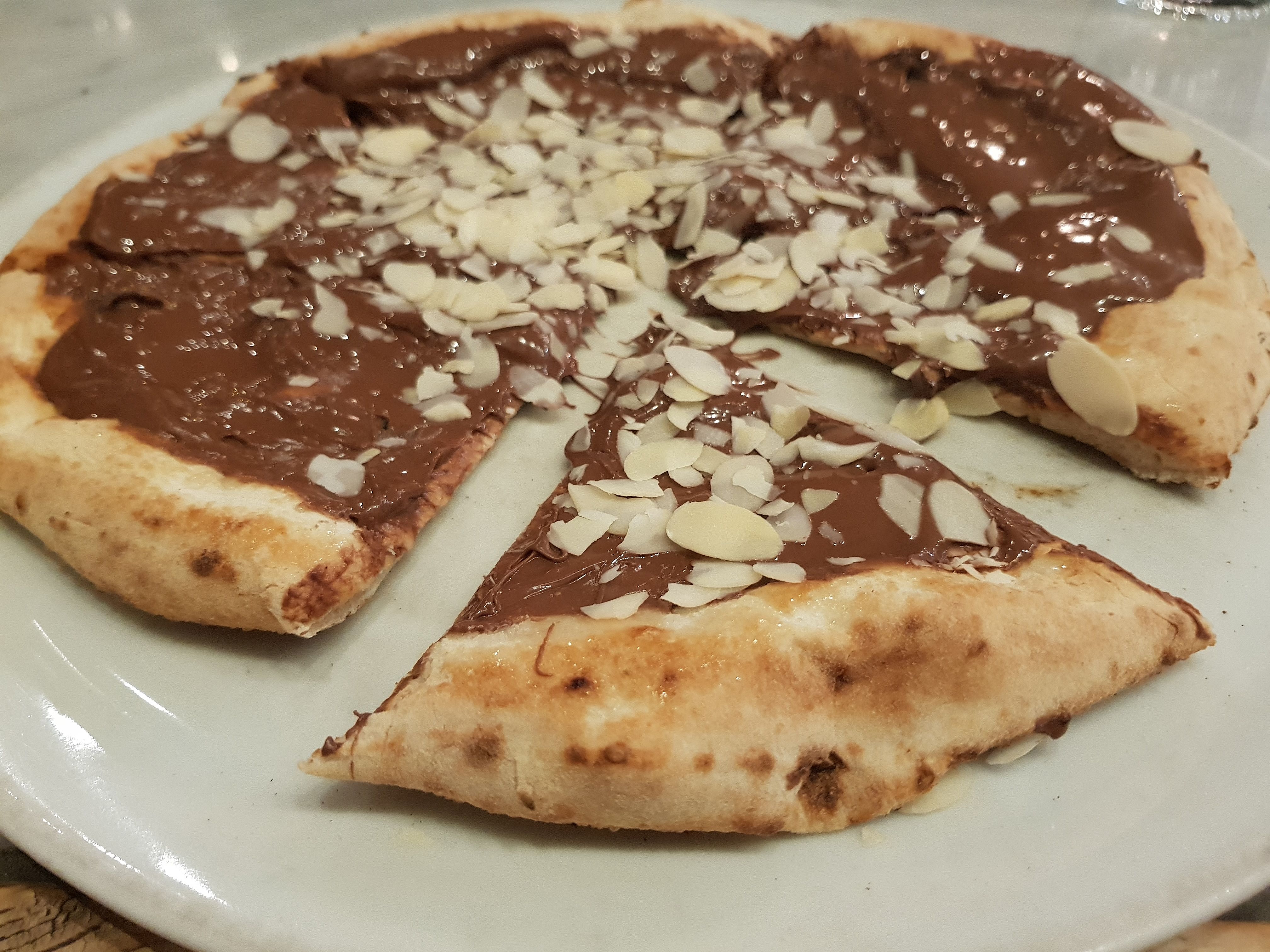 ---
Well, both of us left Sacro Cuoro highly satisfied with the food served up being definitely one of the best pizza places in town, especially in the West London area. Again, all pizzas are made with a dough that is fluffy and light, with all ingredients used fresh and delicious!
From my personal experience, the service there is very friendly, mostly being young Italians waiters. The bill with drinks came to £20 per head, which is great value for what I consider "pizza perfection".
I, for sure, will be back for more!
---
如果你喜欢正宗的那不勒斯风味披萨,我要向你推荐一家名叫 Sacro Cuore 的餐厅。大家都知道那不勒斯是披萨的发源地吧?那里有着世界上最好吃的披萨。而这家餐厅制做的披萨据说和在那不勒斯当地吃到的并无不同,主要是因为这里的厨师延续了经典的意大利那不勒斯披萨的传统食材和工艺,所以做出来的披萨口感特别好,非常受欢迎。
Sacro Cuore位于Kensal Rise 主街的拐角处。每次经过那里, 我总看到不少人排队等位,可以看出它的受欢迎程度,呵呵。店内装饰很简洁,木地板和木制桌椅。餐厅的后半部分是一个开放式厨房,配置了一个巨大的烧柴火炉。用这么传统的烤炉烧出来的披萨,一定错不了,呵呵!
开放式厨房的一个好处是可以让客人看到厨师制作正宗那不勒斯风味披萨的全过程!相信很多人也会认同,要做出好吃的披萨可不是一件容易的事哦。它80%的成功取决于面团的用料和饼基的制作,当然还有烹饪技巧才能保持始终如一的质量。这里的厨师娴熟的技艺让整个披萨制作过程看起来十分简单!他们做好面团,铺上优质的番茄酱料,mozzarella奶酪和其它香菜与配料,然后整个披萨放进烤箱。几分钟以后,一个热气腾腾的美味比萨就会送到你桌上!
Sacro Cuore 的餐牌很简单,包括几样前菜和甜点。不过来这里当然要尝他们的主打披萨咯!我在这里吃过他们家几款披萨,每种都有自己的独特口味,我都非常喜欢。
下面的两款是我的最爱,呵呵。Bufalina 是最经典的,配料十分简单,上面有番茄酱,mozzarella奶酪和几片罗勒叶。大家不要以为这是最基础的披萨哦,它也是最受欢迎的一款。在意大利番茄,罗勒叶和奶酪是最经典的配搭,简单而美味!只要你喜欢披萨,这款绝对错不了!
San Daniele 也是我的最爱,这款没有番茄酱铺底,上面有帕尔玛火腿,火箭菜,樱桃西红柿,帕尔玛奶酪以及新鲜罗勒。非常完美的组合。它不但外观色泽诱人,口感也非同一般,令人垂涎不已!
@ezzy尤其喜欢 Calzone Ripieno。它呈半月形状,有点儿像咱们的饺子,呵呵。里面用料十足,包括三种不同的意大利奶酪,火腿肉和意大利腊肠等。这款手工披萨也非常受欢迎,皮薄馅多,新鲜多汁。一口咬下去,融化的奶酪缓缓流出,超好吃!
那不勒斯风格披萨和其它披萨最大的区别是它的饼底那种柔软而有点嚼劲的口感,不会太干,不会太厚,不会太脆也不会太硬!加足新鲜馅料并在烧柴的火炉里烤,这才做出最完美的那不勒斯披萨,让我越吃越上瘾,呵呵!
除了披萨,这家店的甜点也不错。 我们尝了闻名的意大利Oddono's冰激淋,口感独特,奶味浓郁,果然是胜人一筹! 大家可别错过哦,呵呵。
我们还点了店里另一个主打甜点,就是美味的巧克力披萨。上面撒满了香香的杏仁片,实在太好吃了,是那种吃完还想把手指上沾到的巧克力酱都舔干净,哈哈!这甜点趁热吃最好,但如果吃不完,留到第二天味道也还不错。
我和@ezzy在Sacro Cuoro吃得心满意足才离开。这里的披萨是我们在伦敦吃过最正宗的那不勒斯风格披萨,无论是从柔韧适中的饼底到新鲜的配料,都非常完美!这里的服务也到位,主要是年轻的意大利服务生。个人消费大概是每人20英镑左右,挺划算的。
我一定会再回来光顾这里!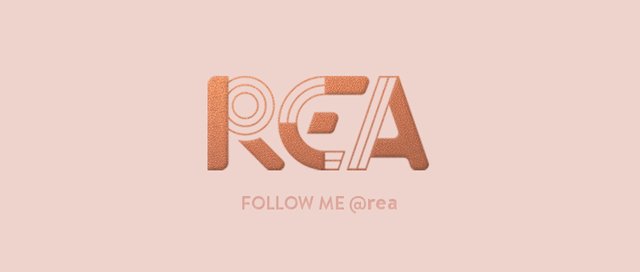 My video is at DLive