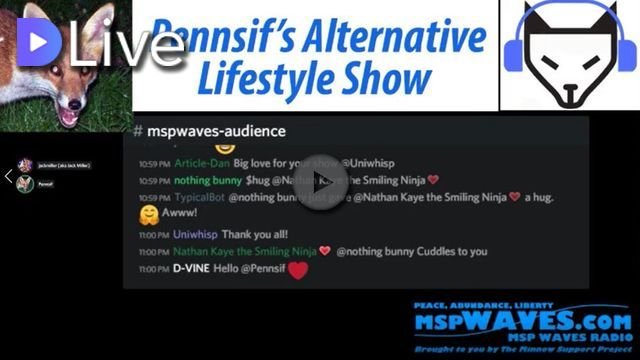 In case you missed the show here is the recording of Friday's episode of Pennsif's Alternative Lifestyle Show.
The show aired on MSP Waves Radio on Friday 29 June 2018.
The show opened with a discussion with fast-rising witness @jackmiller on the subject "How well can the steem blockchain support a Giving Economy?".
Following that Georgian homesteader @basicstoliving talked about plans for his homestead including building five dome houses with aircrete.
We had a brief chat with @trucklife-family before @asonintrigue came on to tell us about his urban homesteading, his mushroom growing enterprise and his new film with the Fringe Life Squad 'Poster Grrl'.
---
The guests on the show in order of appearance were :
Unfortunately the interview with @trucklife-family had to be cut short because of audio problems - we will be working with Aishlinn to sort that and then she will be returning in a future show.
@goldendawne too had some technical problems and will be coming on next week's show.
---
This week the show opened with the song Flame from steem musician @yidneth, and closed with the track Can You Hear Me Calling by MADEGO (@kryptoe and @nakedverse).
---
This show recording is also available on YouTube :
---
Each week the Alternative Lifestyle Show covers a whole range of topics including homesteading, prepping, homeschooling/unschooling, tiny houses, complimentary medicine, alternative energy, cooking, particularly low meat, vegetarian and vegan, permaculture and organic gardening.
If you have a passion for any of these subjects and would like to come on future shows please drop a comment below or find me on Discord at Pennsif#9921.
The Alternative Lifestyle Show is on MSP Waves Radio on Fridays, 10pm - midnight UTC.
My video is at DLive