How To Edit DLive Videos on Adobe Premiere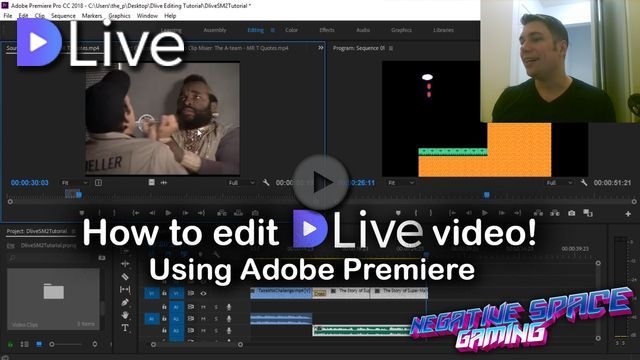 I'm asked frequently how I make my gaming videos for DLive so I finally put together a tutorial for you guys. This tutorial uses Adobe Premiere which is completely free to use for a full month. I'll research and learn my way around some open source software as well for additional tutorials down the road.
I'm also going to make some tutorials on audio editing, script writing, copyright infringement, and other categories I know really well from my full time job working in the film industry.
Music used: http://freemusicarchive.org/music/Captive_Portal/Laughing_Turkeys_-_EP/01_Intro_For_A_Nonexisting_Video_Game
https://creativecommons.org/licenses/by-sa/4.0/
Support Steem and Dlive by investing in the platform and taking time to watch and comment on other users videos and streams.
Some notable people worth your time: @jimmylin @tidylive @Dlive @techmojo @ddrfr33k @gaming-smg @gamersclassified @retro-room @themarkymark
As always I try to answer all comments personally and anything you want to know or other tutorials you want to see just let me know!
My video is at DLive