[MUCZACK DUnite] Rules Of Survival - New update Rules Of survival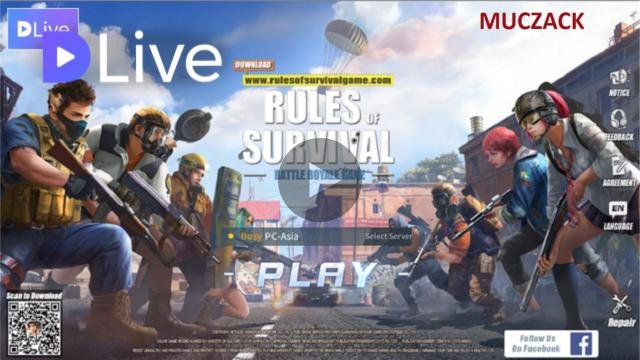 IND
Ini adalah update besar-besaran untuk Rules Of Survival 1.142919.144141.
Baru saja di perbarui hari ini dan berikut hal-hal baru yang ada pada update kali ini :
Konten Baru
[x] Fitur melompat jendela
[x] Maximum pemain pada team 5 orang ditambah menjadi 160 (sebelumnya hanya 120 orang).
[x] Fitur mencari musuh yang diincar oleh anggota team.
Pengalaman dasar
[x] Memaksimalkan jarak pandang di peta baru.
[x] Pemilihan waktu terjun payung yang tepat.
[x] Pohon menjadi pelindung lebih akurat.
[x] Kendaraan yang digunakan menjadi lebih baik saat digunakan.
[x] Sudut pandang saat turun dari pesawat lebih baik.
[x] Tampilkan nomor jumlah di daftar pick up.
[x] Waktu diarea persiapan berubah menjadi 80 detik.
[x] Pengoptimalan RAM
[x] Pengoptimalan sistem pencari
Antarmuka
[x] Icon pencarian lebih optimal.
[x] Fitur pengingat pada teman lebih optimal.
[x] Rincian diantarmuka pribadi lebih optimal
Versi PC
[x] Enhanched anti-hack
[x] Meningkatkan visibilitas karakter
Itulah semua update terbaru dari Rules Of Survival pada pc yang sudah dapat dimainkan saat ini.
berikut adalah siaran langsung saya pada game Rules Of survivla dengan update terbaru.
Kamu bisa klik pada gambar jika ingin melihat siaran langsung saya. Tulis pada komentar jika kalian ingin bermain bersama. Beritahukan saya jika ada kekurangan pada siaran langsung saya.
ENG
This is a massive update for Rules Of Survival 1.142919.144141.
Just updated today and the following new things in this update:
New Content
[x] Features jump window
[x] Maximum player on team 5 people plus to 160 (previously only 120 people).
Features search for enemies targeted by team members.
Basic experience
[x] Maximizes visibility on new maps.
[x] Selection of appropriate parachuting time.
[x] Trees become more accurate protective.
[x] Vehicles used to be better when in use.
[x] The viewing angle when getting off the plane is better.
[x] Display the number number in the pick up list.
[x] The time in preparation area changes to 80 seconds.
[x] RAM Optimization
[x] Search system optimization
Interface
[x] Search Icon is more optimal.
[x] Reminders feature on friends is more optimal.
[x] Details on personal interface are more optimal
PC version
[x] Enhanched anti-hack
[x] Increases character visibility
That's all the latest updates of Rules Of Survival on pc that can already be played at this time.
here is my live broadcast on the game Rules Of survivla with the latest updates.
You can click on the picture if you want to see my live broadcast. Write on a comment if you want to play together. Please let me know if there is any shortcoming on my live broadcast.
My live stream is at DLive