Ariel Atom V8 - Asphalt 8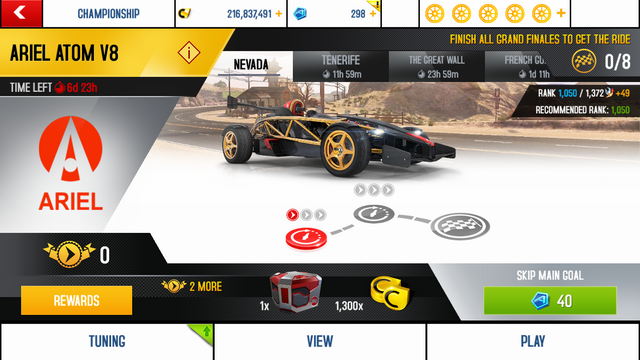 Performance
The Ariel Atom V8, as a lightweight vehicle, sports amazing acceleration. It has a strong nitro boost coupled with an extreme nitro efficiency of 6/8/10. The downside of the Atom is its mediocre top speed as a result of its large emphasis on nitro. It also has a rather stiff handling stat, compensated by a rather small drifting radius.
Official review
This is the official review of the Ariel Atom V8 on the Asphalt YouTube channel, made by ReV_Tez and published on February 28, 2018:
Time to reach end of Tokyo straight: 8.316s
Perfect nitro duration: 13.002s
Triple nitro duration: 10.131s
French Guiana lap time: 1.12.633
Final verdict: "Although The Ariel Atom V8 is not the new King of D Class, its overall performance is terrific. It is a great alternative to the Mazda RX8, however it requires 68 V8 engine cards which is excessive. The highlights of this car would be its acceleration and nitro duration!"
Usage (Multiplayer)
Usage (TLEs)
Price
The Ariel Atom V8, notably, requires a whopping 68 V8 engines in its Pro Kits formulas, beating the previous record of 60 engines held by the Arash AF10.
Championship
Ariel Atom V8 Championship Promo
Main article: Championship/Ariel Atom V8
The Ariel Atom V8's Championship was released as the 17th Championship event after the Audi R8 e-tron Special Edition's R&D as part of the Fall Out Boy Update on March 2, 2018. Players are given 7 days to complete the event.
My live stream is at DLive