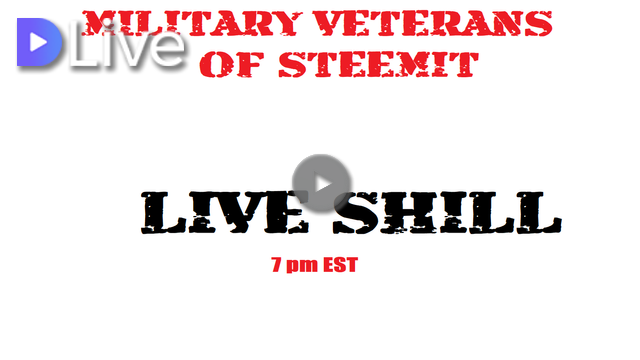 Thank you for visiting the Live Shill for Military Veterans. Specifically, I am here to let others know about the Military Veterans of Steemit. We are an active military community *from around the world on Discord supporting other military veterans.
The goal of this livestream is to display the diverse content and skills of the Military Veteran Community.
While we are an "exclusive" community, I believe the veteran community has much to offer to the Steem blockchain.
Thank you for giving me this opportunity to display this community.
If you would like to support this commmunity...delegation would be appreciated for @umvbot and @shadow3scalpel. These are two projects that upvote military veterans in a fair and equal way.
@umvbot is designed to get veterans to interact in discord. It gives equal votes but you must submit your link in the Military Veterans of Steemit Discord Room. If you are a military veteran(all Nations WELCOME) please reach out if you do not have access to the Discord Room.
The @shadow3scalpel bot upvotes verified military veterans, regardless of Discord interaction.
So, if you are a veteran...there is a little corner of the internet for you to interact with other veterans...i.e Military Veterans of Steemit.
If you would like to support Veterans from around the world...your resteem or delegation to @umvbot or @shadow3scalpel would be appreciated!
My live stream is at DLive