What is DLive?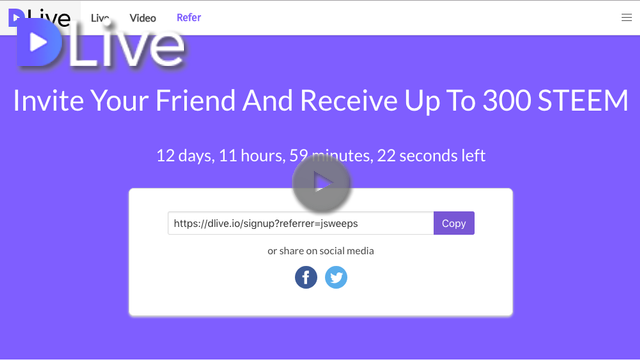 DLive is an extension of the steemit platmform but more than anything it is a decentralized means to communicate with the world. They recently put a referral program so if you are interested please sign up using my link:
https://dlive.io/signup?referrer=jsweeps
Thank you for watching Coin Stories!
Please Subscribe to be notified of all live streams.
PS
I am not a financial advisor and all opinions discussed here are entirely my own.
Please follow me on Steemit:
https://steemit.com/@jsweeps
Please follow me on Twitter:
https://twitter.com/jsweeps2334
Please follow me on Facebook:
https://www.facebook.com/CryptoCurren...
Sign up on Binance:
https://www.binance.com/?ref=10103069
Sign up on Kucoin:
https://www.kucoin.com/#/signup?r=E3bD1a
Sign up at Coinbase to buy Bitcoin, Bitcoin Cash, Ethereum, or Litecoin:
https://www.coinbase.com/join/5973ce9...
Any crypto-love would be great appreciated and will go towards motivating others to help grow this community.
BTC: 1D622NcLBhhoQLvTNa7c1NQ5t1ZrenC4c1
LTC: LXptmrSc3bV5eoaLG26dZNFS39cDjes2uM
Please email me at [email protected] if you want to chat about cryptocurrencies, life, or anything else.
My live stream is at DLive