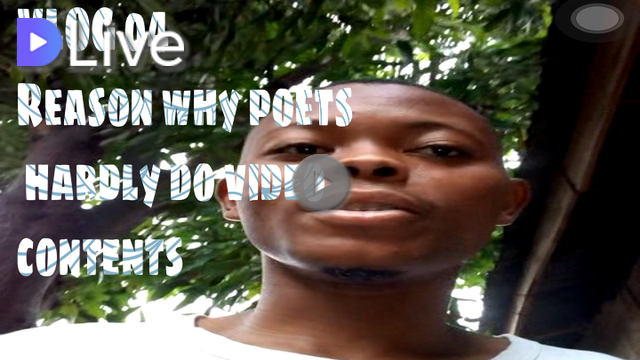 Video contenting is something I sparsely do this is because I'm a writer (A poet) It's very difficult seeing writers probably narrating their stories or poets saying their verses in a video contents, I've had the opportunity to search the dapps and see for myself but it was definitely scarce.
This is because video contenting centre on a simple theme, while writing is more of an inspiration thing. As you can see from the video I didn't include all my idea in the video, this is because the moment I was doing my video it was difficult to merge all my point of discussion in a 2:56 video because I'm used to being slower and detailed, wait for my thoughts to feed me ideas while I write.
Basically creative writing require time, break in lapses and refreshment of the mindset that's why as it's difficult to schedule the performance of a creative writing on a video content, unless you will be reading from your work which will definitely keep you distracted from your camera and which is definitely not cool.
---
Today I woke up to a delegation of 777 steempower courtesy of the dapp maestro himself @nathanmars and it's thrilling to know, it came as a surprise to me, but definitely it gladdens my heart, I promise to however use it to touch other people's content and well leave my presence in any content I visit because I believe it's valuable boy matter how small it may appear, but definitely it's many trees that makes a forest and I'll e glad to be a tree that will contribute in making someone else's forest. Thank you again @nathanmars
My video is at DLive