Twitch Vs Dlive - My experience with both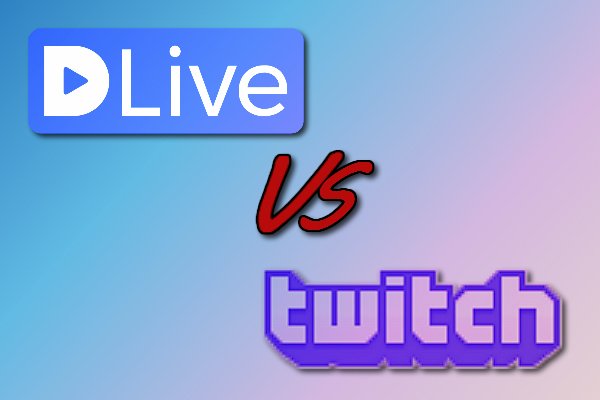 It goes without saying that Twitch is the gold standard of all available streaming platforms, and it's no surprise how this came to be as well. It all began in 2007 under the domain name Justin.tv, then a solely 24/7 live streaming platform for the life of Justin Kan, co-founder of Twitch. Then in June 2011, Twitch.tv became the spinoff and by February 2014, it was considered the 4th largest source of peak Internet traffic in the U.S., predominantly streaming video game and eSports channels. Today Twitch.tv has over 2 million broadcasters and over 15 million daily active users, as well as making up %1.8 of total US Internet traffic during peak periods. wiki
But let's be honest. Is Twitch the best platform to stream on?
I began my streaming campaign on Twitch.tv back in January 2015, just 4 months after Twitch was acquired by Amazon for a hefty $970 million. In those days it was quite the effort to get partnered, and for most of 2015 I made it my goal to achieve a partnership by streaming for 12 hours a day 6 days a week. Mind you for the first couple of months I didn't have a camera, but with the help of my community I was able to buy a Logitech C920 webcam after my channel exploded in April from streaming an early access game called 'Stranded Deep'. Shortly after that I had a green screen, and a Audio-Technica at2020 mic. Needless to say, I didn't consider myself an non-confident streamer. I made it my motivation to interact with chat, play a variety of games, and integrate new alerts, overlays, and emotes, all custom made by myself and a few dedicated viewers.
With all that effort and attention that I'd garnered, I wouldn't achieve my goal of getting partnered. Not only because the partnership requirements were much more difficult to achieve than today, but because my home life was becoming a ruin. One valuable piece of advice I have for any and every streamer is to make sure your home life is in order. Keep stress to a minimum and be uplifting and positive in your streams, or else you'll end up like me, arguing in the living room with your girlfriend mid-stream with the mic left on. Lucky for me I had a very loyal community of viewers that kept me going and relied on me for a good source of entertainment, and I did not want to let them down.
I now feel somewhat the same about DLive, but instead of my motivations being toward a partnership, or solely to my viewers, it's more oriented towards the success of the platform and the other content creators like myself. Back in 2014, Twitch had already become a success by selling out to Amazon for nearly a billion dollars, so all that had to be done from there was to build on top of what was already a viral pass-time; live streaming. Video game streams became the flagship product, soon after was music, web shows, then creative art, and today In Real Life streams allow just about anything. But what Twitch has in a variety of different services, conventions, hype, and broadcasting rights to eSports competitions, NBA, and most recently NFL games, it lacks in providing it's users the ability to provide feedback, playing an active role in contributing to the success of the platform, making suggestions with what could help make the platform better from the perspective of the everyday user.
Twitch allows for the broadcaster to have 3 ways of earning money for the content provided by the creator (not including donations or subscriptions via 3rd party services like Streamlabs, Patreon, or Gamewisp). The first way is from a viewer making a monthly subscription (as well as Twitch Prime subscription) of $5 or more for a wide variety of different perks like Discord access and exclusive custom emotes. While the second is by purchasing an in platform type of faux currency known as 'Bits' that can be distributed as the viewer pleases, with each 'Bit' being worth 1 cent, in return for special Twitch badges. The 3rd avenue is for Twitch Partners only, and that is from ad revenue, a payout that can fluctuate drastically based on the time of year. These avenues of earnings all funnel into the same avenue of being compensated by the platform, with Twitch taking their cut of up to %50 in most cases!
DLive on the other hand is a platform among other platforms that all contribute a service to the blockchain known as Steem. As a fellow Steemian I am sure you are already familiar with the Steem blockchain and the rewards associated with it, so there is no need to dive into the depths of discussing what Steem has to provide in terms of compensation. There are countless posts on that already. DLive aims to provide both live streaming and video upload services directly integrated with the Steem blockchain. In other words DLive is only a compartment of something much bigger than itself, offering rewards off the blockchain curated from other viewers (most of the time at no cost to them), in proportion to the content provided and comes in 2 different forms; Steem and Steem Dollars. Granted, the value of these tokens fluctuates based on the market value but the technology is still in it's infancy so I expect the true value of the currency to reflect within the next 5-10 years.
I first found DLive through Steemit and I consider both to be 2 invaluable avenues for success, but that's just it, those are just 2 of the many other avenues of earning Steem rewards! Not to mention building communities of like-minded individuals, all earning rewards. Put that in contrast to Twitches 3 avenues of earning fiat, with no option to earn shares in the company. As I mentioned earlier, DLive not only allows it's users to take part in the feedback discussion on Discord and Trello, they encourage it! Building a road map together, and making sure the progress is reasonable and free from conglomerate oversight are what will determine where the 2 platforms paths will end. With that being said, DLive is still in it's infancy so expect it to be a bare-bones platform to provide your content. Chat has no word-wrapping. The emojis are terrible. Live streams lack quality transcode settings. Variety of content is scarce, but mostly due to lack of users. But don't let those things rob you of the enjoyment of being a part of the snowball effect, DLive is going to be a major competitor soon!
I hope this post addresses some things that have not been discussed before when comparing these 2 streaming and video content platforms. Twitch is certainly not going anywhere anytime soon, but rather, I see them adopting things from the DLive and Steemit platform already; the adoption of tags for example. Twitch is a great place to interact with viewers, but on the flip-side, it may be hard to garner the attention many streamers hope for in the beginning, and in some cases that may last for many years. I have recently noticed streamers I have followed for years now, still only pulling single digit viewers. DLive doesn't have many users for now but I still tend to get a few people in my chat on a daily basis, and a few of those viewers have come from Twitch and are now on both Steemit and DLive!
Thanks for taking the time to read this post, I hope it opened your eyes to the differences between these 2 great platforms!