Design a Beautiful Thumbnail in Canva for Free Without Hiring a Graphic Designer!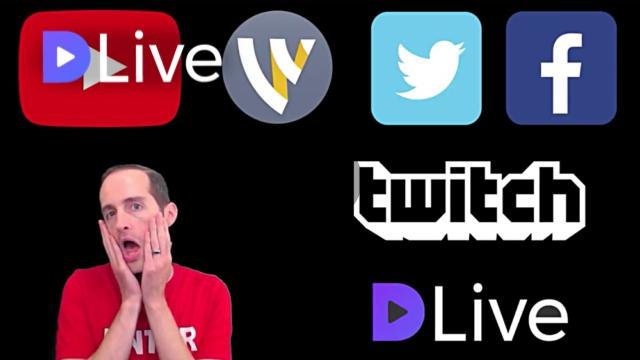 How do we make a thumbnail for our videos, live streams or posts on Steem for free using Canva without spending time and money to hire a graphic designer? Will you join me in looking at this today because I hope this is helpful seeing a process that works really well for me to make good enough thumbnails?
Design a Beautiful Thumbnail in Canva for Free Without Hiring a Graphic Designer!
---
I've seen some suggestions to obsess and try to make the absolute best thumbnail, to use cheap tricks like posting pictures of beautiful women on the thumbnail. I think an honest and a consistent thumbnail is the best approach because each thumbnail is unique. I hate using the exact same thumbnail all the time. Definitely, don't do that. Also, I'm not big on the cheap tricks because while they may work to get initial clicks or views, how many of those people will stick with you?
Having a consistent thumbnail format helps for viewers to identify, "Okay, this is the same person that I watched before on a new topic," and that's what I like to do.
What I do is I put my face on a green screen background and in order to do that I use Canva at Canva.com because it's a free completely online image designer. I have the ability to just upload the images I want on it, I have the ability to easily purchase stock photos to use within my thumbnail and I have the ability to move all that around, design it and download it quickly and easily from any device. It's wonderful.
What I do to put my face on is I just make the thumbnail in Canva, then I grab an image from the thumbnail off the Wirecast recording on the green screen, and then I've got my face on that unique thumbnail.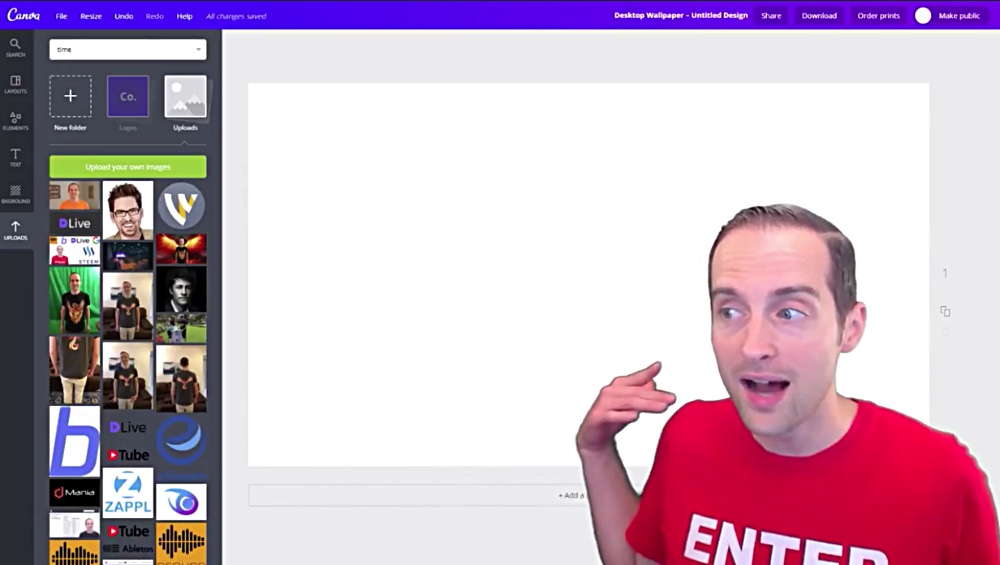 That way I've got a unique picture of my face every time. It's not that boring copy and paste professional picture you have seen people use on fifty of their different thumbnails. It's a unique fresh picture every day, which encourages me to do my hair, and it's in a different shirt, my face looks a little different every single day.
That gives it a little bit, at least subconsciously, of something interesting. It makes it more of a story and a journey instead of something boring, copied and pasted.
What I do first is pick the dimensions in Canva. I do the desktop wallpaper dimension 1920 by 1080 because this fits my monitor and that's the standard thumbnail size I do everything in. If I need a specific format somewhere else I do it, but 1920 by 1080 down-scales very easily and that's the same thumbnail I use for everything.
Once I've got a blank slate I usually use white as a background although occasionally I will change it up with something else because white is a nice consistent background and it allows me to then just throw images on like this.
I uploaded the Wirecast logo and what I'm going to do is make my live-streaming course thumbnail right now.
What I will do is just throw some logos on it representing what the course is about.
For example, the course has Dlive on it. It's got Wirecast and now what I do on Canva, I want to grab the YouTube logo and make it a little smaller. I want the Facebook logo because the course shows how to do live streaming on Facebook. So, I will grab the Facebook logo off of here.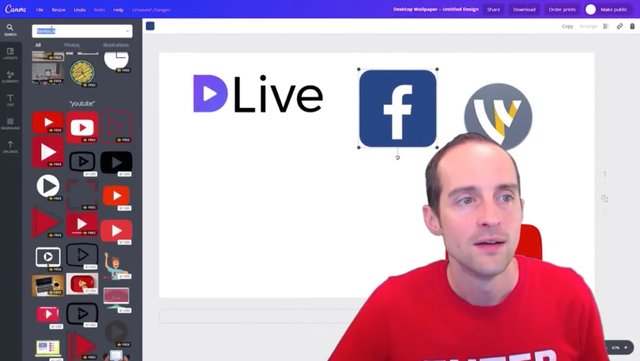 You want to grab the free one, not something that's paid, that someone else has created. I need the Twitter logo as well.
Now, each of the logos can have various conditions. I'm showing how to use Facebook, Youtube and Twitter in this video tutorial here, which is a part of my "Complete Live Streaming Course."
Then, I try to make the logos about the same size and it doesn't need to be absolutely perfect. A little imperfection can actually draw people to us because our world is filled with people not wanting to be vulnerable and imperfect.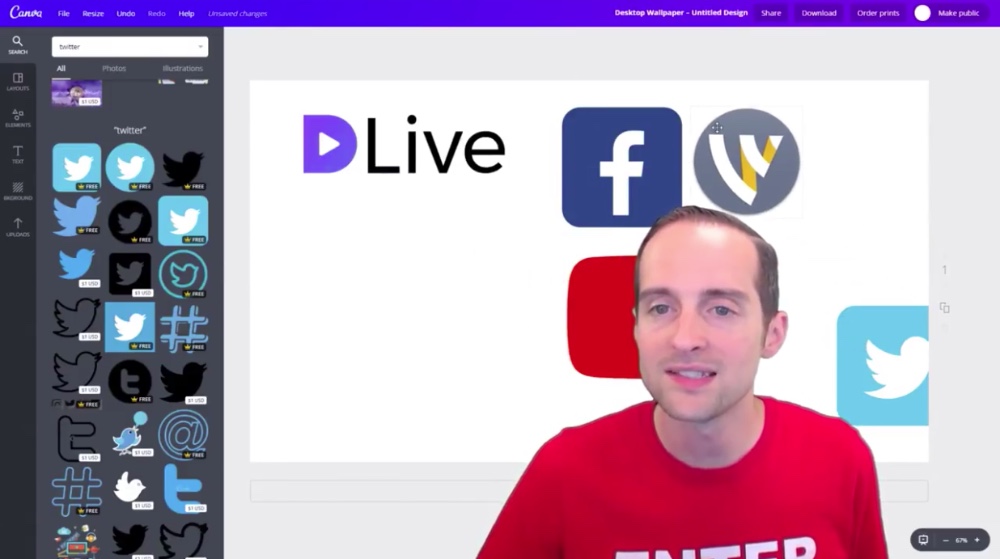 I don't stress on trying to make things the exact perfect dimensions. If I can take a second with it to make it about the same size, then I try to do that.
I have got this handful of logos and I can basically just throw them all over the screen because they are the things I'm teaching.
I could also look for an illustration, something like "live streaming" to add to the thumbnail. That reminded me that I want Twitch on here too, so I need the Twitch logo.
No one has put the Twitch logo on Canva, so I'm just going to google "twitch logo" and grab it from there. That's the same one that's available on the Twitch website for free at Twitch.tv.
I will grab that same logo and I can just upload it.
I've got the Twitch brand downloadable assets on here from the googling. I can do the combo logo or I can do Twitch and I'm going to just grab the Twitch one. We are going to go white with print screen.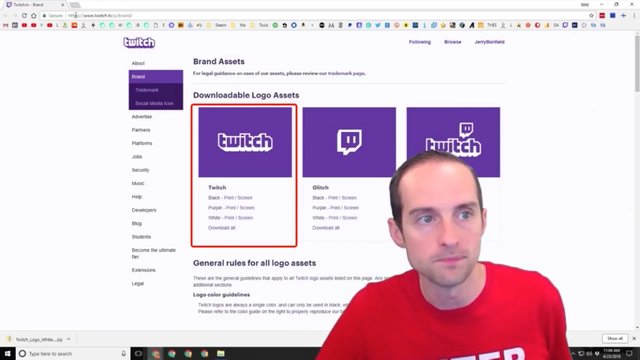 Now, I've got the Twitch logo white screen, so I should be able to then upload it in Canva. Oh! That's not good!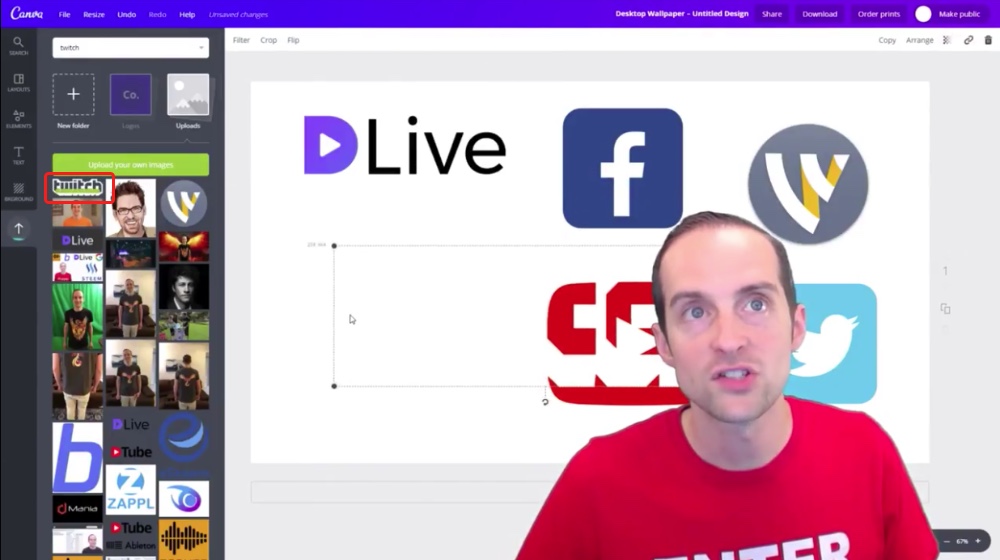 Whatever I just did is not what I wanted to do. Alright, I ought to go get the black one. Let us download the black one, and it's in some weird format. I'm not even going to put Twitch on the thumbnail. This is how you really make something through all of the inconveniences in life. I will just try to change the whole background to black.
Now, the Dlive logo doesn't work.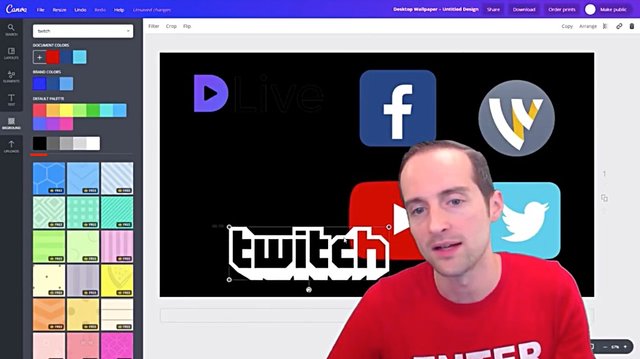 The Twitch logo looks good, so I might do a black background, but I need to get a different Dlive logo.
Now, I got to google "Dlive logo." Alright, I got a black background Dlive logo, let me upload that.
Look, it's not the same color black. Really? What am I supposed to do with that? This is like a grey.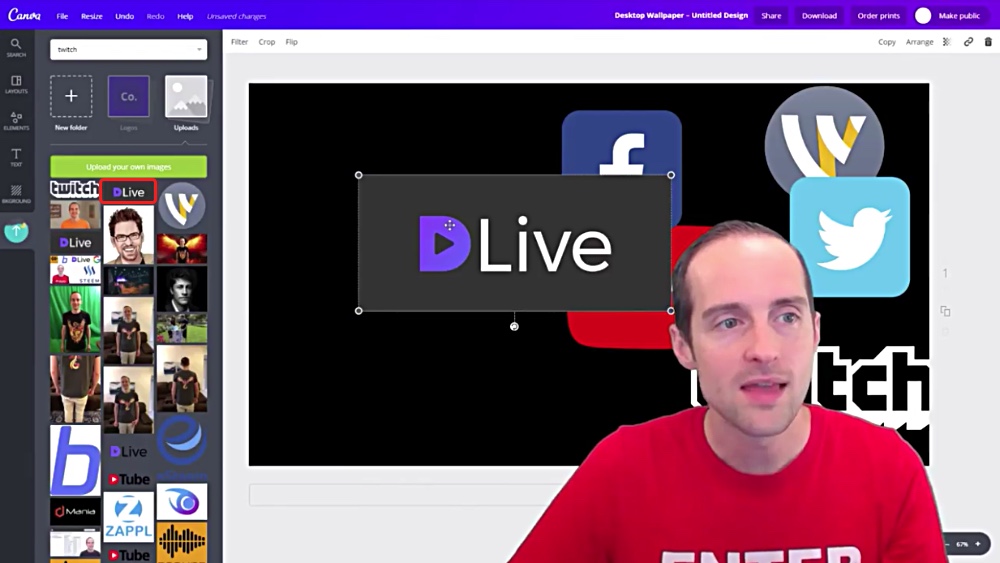 I'm going to open this up in Snagit and change this grey into a real black.
Look! Now it's black.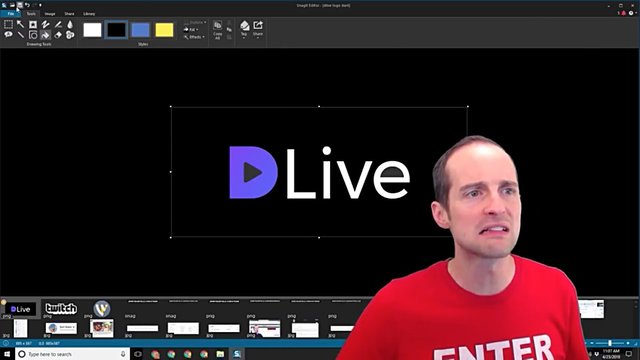 How do you like that, huh?
I need to save it as a different name "Dlive logo dark black" and I'm just going to save this on the desktop.
All logos are on there now.
It's all done!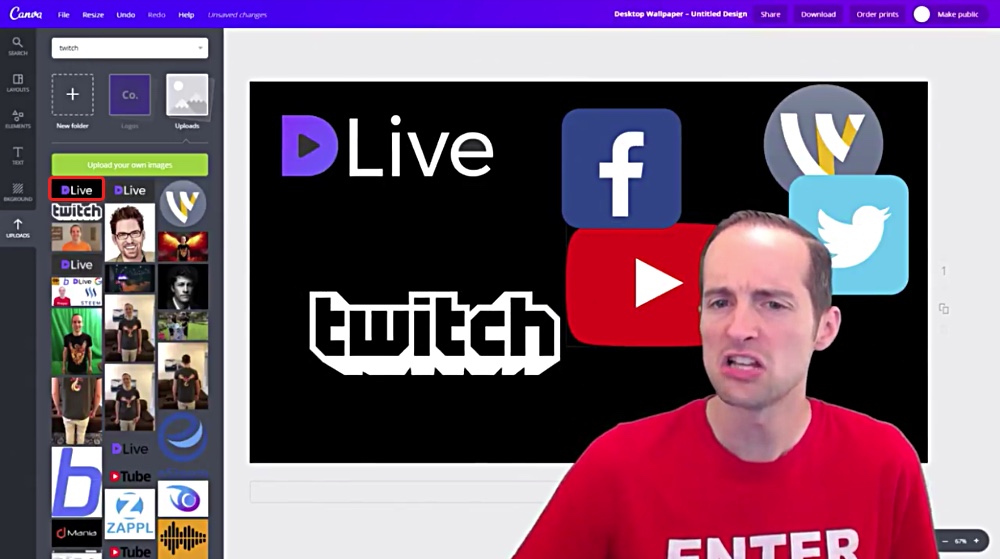 I guess I'm going to use a black background instead of a white one.
Look at this now, it normally doesn't take this long.
It's just not perfect and nothing I do is perfect. If you expect stuff I do to be perfect, you are going to be disappointed.
I just move stuff around on here, I'm no graphic designer.
I just move stuff around until it looks half way decent.
What if I throw the YouTube logo really forward?
You know what?
This is just looking sloppy and that's fine. I make stuff that looks sloppy.
I'm proud of what I do. Sloppy, sloppy worker.
Let's put all these logos in line at the top.
We almost got it!
Almost got it!
It is coming together.
Now, for positioning, I am going to put the YouTube logo over here, throw the Facebook logo over there, throw the Twitter and the Wirecast logo in the middle.
There!
Now, you see, this is actually starting to look good.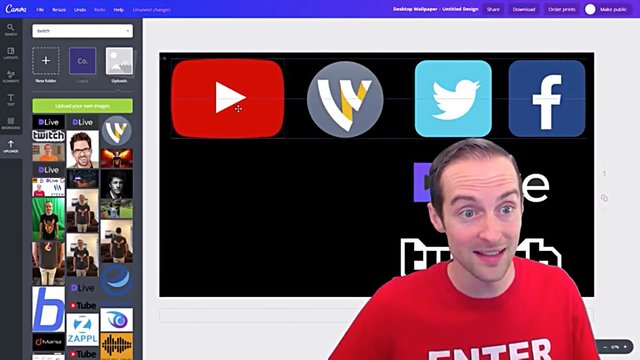 "How do you like that, huh?"
Scarface line.
"What? Why are you doing a Scarface line?"
This is stand-up comedy routine.
"Is this stand-up comedy routine or is this a thumbnail tutorial?"
I don't care. Whatever you want to make.
Now, look!
Look at this thumbnail.
Bam!
"He's got a beautiful thumbnail. Your thumbnail sucks."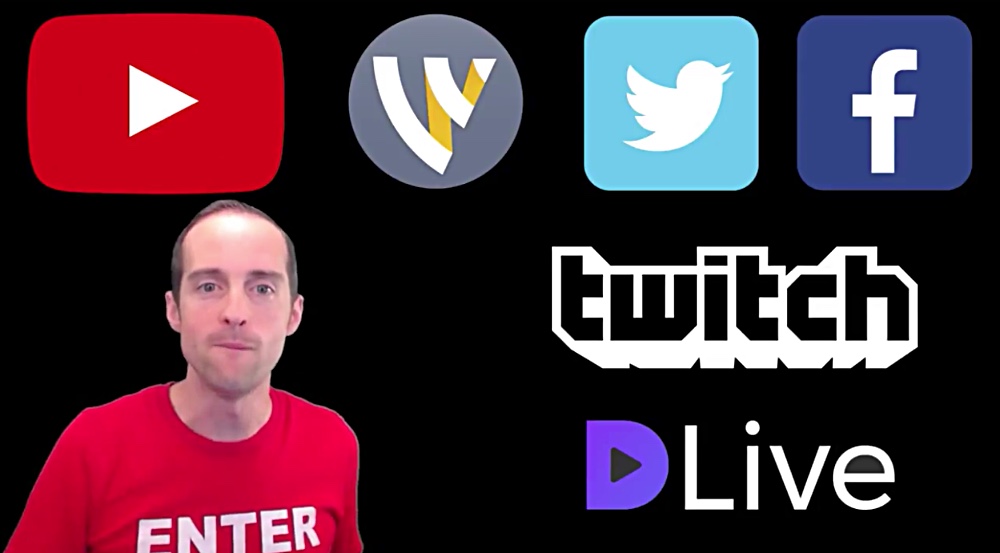 Look at that.
Bam!
That is a sexy thumbnail.
"Sexy and I know it."
Wow!
That is how you make a thumbnail!
From now on that is how you make a thumbnail.
Now, look at this, what I do is smile.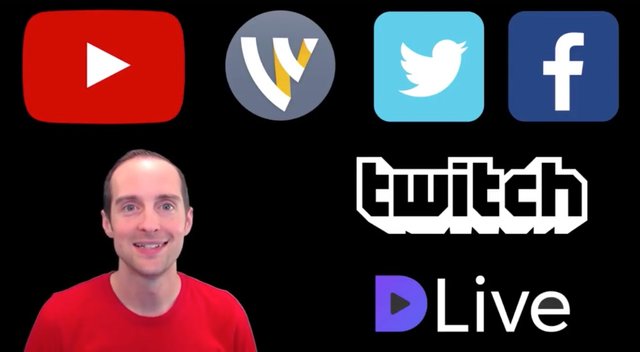 All I need to do now is go into Camtasia or Snagit because it will save the file, and then I don't have to manually edit it.
I will go in and just take that one screenshot.
What I do is I record this in Wirecast and I've got my green screen on it.
Bam!
I just stand back and take a beautiful picture.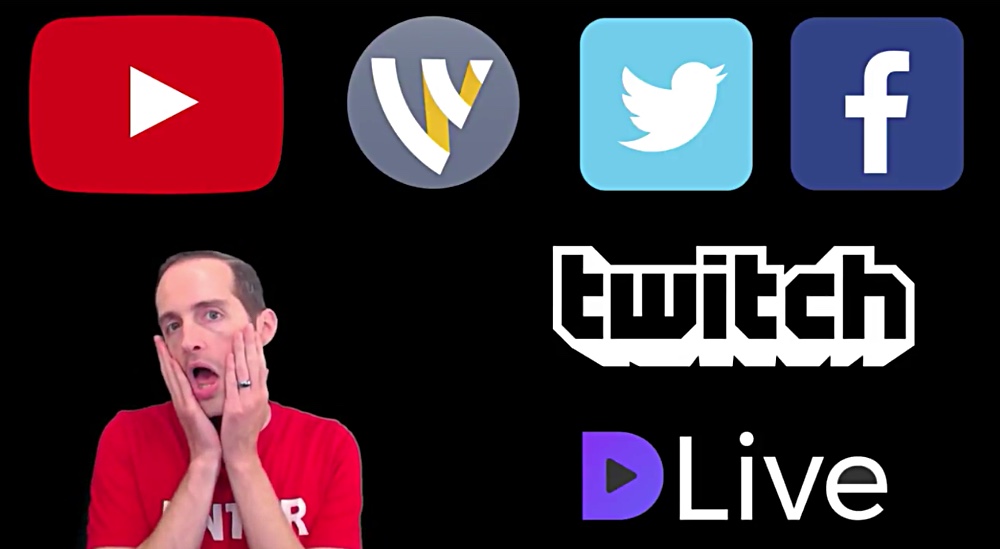 "You're ugly, Jerry. I don't like your face or your hair. You suck."
I take a beautiful picture, and then I got a thumbnail from there.
You can see this didn't take very long, even with things not going how I planned.
Yes, everything is not perfectly exactly spaced out correctly.
I could have moved Wirecast over.
I could adjust it a little bit.
I could move the Twitter over, so the Twitch is lined up.
I could put the YouTube a little closer to the edge.
I could probably put it like that.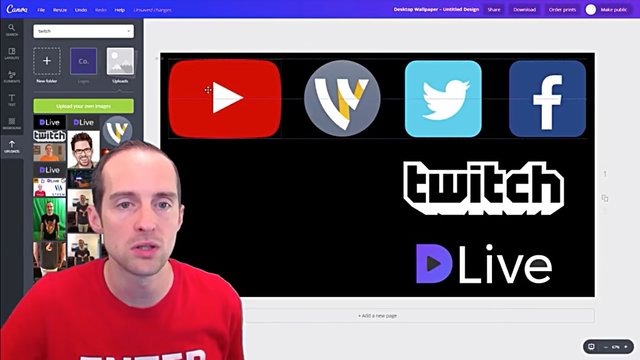 If you want to get perfectionist, then let's do it like this.
Now, I smile or go back a little bit.
It says, "Enter Zen" on my shirt, let's just show "Enter."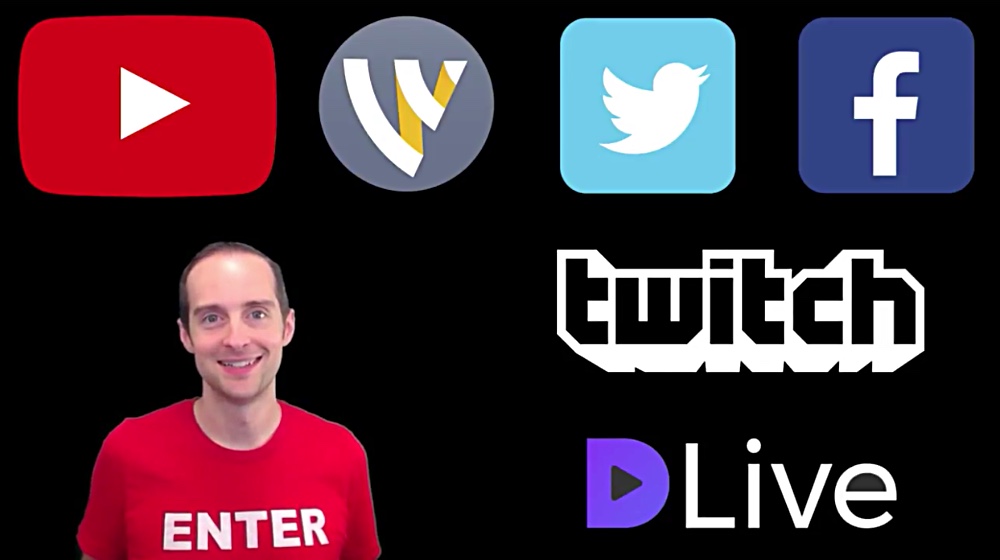 I like the ones where I'm laughing too, if I can make myself laugh, because then people tend to be attracted to that.
You can see the emotion immediately in the thumbnail.
This is how I make a thumbnail.
You may say, "You said really quickly."
It's fifteen minutes, but we had fun, right?
This is how I make a beautiful thumbnail and it has everything, it has all the basics.
I like to just put logos on stuff because I'm doing a "Complete Live Streaming Course." The course is about how I use all these things to live stream. It is about YouTube, Wirecast, Twitter, Facebook, Twitch and Dlive.
Alright, I'm done. I love you.
Thanks for reading this and watching the video! This is how I make all my beautiful thumbnails. If you found this post helpful on Steem, would you please upvote it and follow me because you will then be able to see more posts like this in your home feed?
Love,
Jerry Banfield with edits by @gmichelbkk on the transcript from @deniskj
Shared on:
Let's stay together?
Our Most Important Votes on Steem are for Witness!
My video is at DLive