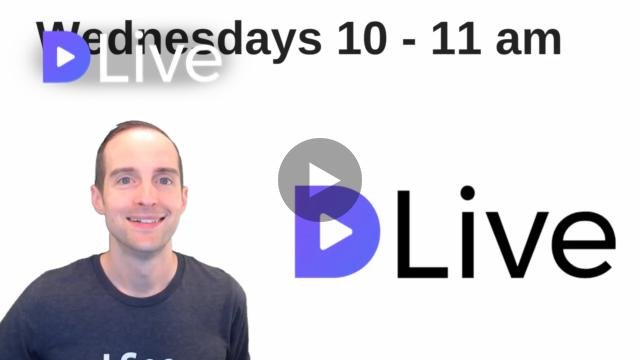 Will you join us every Wednesday 10 am to 11 am eastern time on @dlive because we will gather for a live question and answer session? The live show will start at approximately 30 minutes before the time this post went live with the eastern time zone in the USA currently being UTC -4 as explained at https://en.wikipedia.org/wiki/Eastern_Time_Zone.
To participate during the live stream, any comment posted on the Steem post featuring the live stream will immediately appear as a comment which I intend to read and respond to!
When you have questions you want me to be prepared to answer at the beginning of the live stream this coming Wednesday, will you please share them in the comments here because I will then begin with questions asked here when starting the live stream and then continue answering questions live? Each week going forward we will then start with unanswered questions from the last live stream and go forward from there.
If you would prefer to join me live with a video call, will you please become a partner with me as explained at https://jerrybanfield.com/partners/ because every partner will be invited to join us on a video call during the live stream to help with asking and answering questions?
To host the video call, I use Zoom at https://zoom.us/download which my friend @terrybrock recommended for video interviews because it is way easier to record than with Skype!
If you are interested in learning how to live stream, I am filming a complete video course which will show all of the equipment, software, production processes, and mindsets empowering me to go live on six websites at once! Many of the video lectures will be released for free on Steem at https://www.dlive.io/@jerrybanfield over the next month as I am filming them!
While the live stream will be available on the following platforms in addition to @dlive, I will read comments and questions first from Steem with @dlive!
https://www.youtube.com/jerrybanfield
https://www.facebook.com/jbanfield
https://twitter.com/JerryBanfield

/
If you have asked questions repeatedly that I have not seen or answered, I appreciate your patience and I hope you will continue to make the effort on the live streams because I intend to be available every week on these live streams to answer as many questions as possible for you!
Thank you very much for learning about our new live show and I hope to see you there!
Love,
Jerry Banfield
PS: If today is a day to celebrate easter for you as it is for me, I hope you have a Happy Easter!
My video is at DLive