English

One of my last articles was followed by an interesting discussion with @schlees in the comments section about whether 'leopard slugs' (Limax maximus) actually eat living 'Spanish slugs' (Arion vulgaris). Although the technical literature says yes, I stick to the fact that it isn't the case. Indeed, 'leopard slugs' sometimes try to overwhelm 'Spanish slugs', but regularly fail to penetrate the elastic skin of the nudibranches with their bites which in addition is made very slippery by viscous mucus.

Tonight, I managed to document that by making a video. After I had opened the lid of the composter, a 'Spanish slug', surprised by it, rolled up to its typical semicircular defensive position. However, it hadn't expected the approaching 'leopard slug', which immediately started its attack, so that it took the 'Spanish slug' a few seconds to move to escape. After a short pursuit, the 'leopard slug' soon realized that there was nothing to get and continued on its way in another direction.

By the way, if you have never been able to watch the impressive mating of two 'leopard slugs' before, here there is the opportunity to catch up.

Deutsch

Auf einen meiner letzten Artikel folgte im Kommentarbeich eine interessante Diskussion mit @schlees darüber, ob 'Tigerschnegel' (Limax maximus) tatsächlich lebende 'Spanische Wegschnecken' (Arion vulgaris) fressen.
Obwohl die Fachliteratur das bejaht, bleibe ich dabei, dass es nicht der Fall ist.
Tatsächlich versuchen 'Tigerschnegel' des Öfteren, 'Spanische Wegschnecken' zu überwältigen, scheitern aber regelmäßig daran, mit ihren Bissen die elastische und des zähflüssigen Schleims wegen glitschige Haut der Nacktschnecken zu durchdringen.

Heute Nacht gelang es mir, das mittels eines Videos zu dokumentieren.
Nachdem ich den Deckel des Komposters geöffnet hatte, rollte sich eine davon überraschte 'Spanische Wegschnecke' zu der für sie typischen Halbkreisverteidigungsstellung zusammen. Mit dem angreifenden 'Tigerschnegel', der sofort begann, sie mit Bissen zu traktieren, hatte sie wohl nicht gerechnet, so dass es ein paar Sekunden dauerte, bis sie sich in Bewegung setzte, um zu fliehen.
Der Schnegel merkte nach kurzer Verfolgung relativ bald, dass nichts zu holen war und setzte seinen Weg in anderer Richtung fort.

Wer übrigens noch nie die eindrucksvolle Paarung zweier Schnegel boebachten konnte, hat hier die Gelegenheit dazu, das nachzuholen.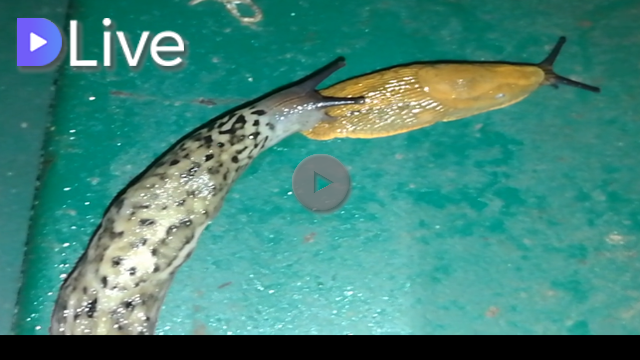 | | |
| --- | --- |
| Race at snail's pace. | Wettrennen im Schneckentempo. |

My video is at DLive

---
You can watch my video at vimeo now:
---
Schnegel&Wegschnecke from jaki01 on Vimeo.
---