Xi'an UAVS Performance-西安无人机表演之人山人海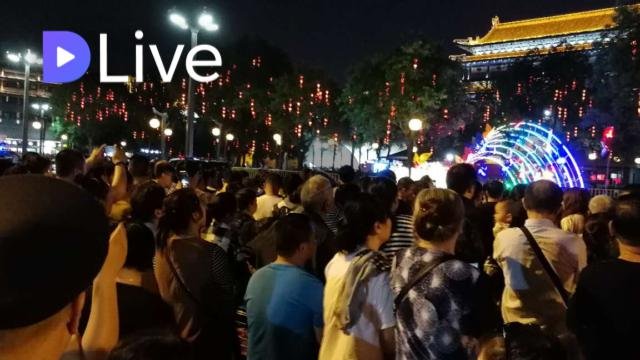 Hi Steemians
    It has long been known that Xi'an will perform 1374 UAV shows at 8:30 pm on May 1st. In all expectations, the City Wall International Cultural Festival contains the most simple and good wishes of the workers. The first show is the charm of the Chinese culture and the charm of the ancient capital of Xi'an.
    Let's enjoy the great performance of the UAV in the South Gate of Xi'an.
    Today, no more than 6 p.m., the South Gate of the city wall is already in the sea of people. The whole city of Xi'an has taken armed police and security, in order to maintain the order of the evening and ensure the safety of the tourists. The beginning was a dance performance. The 8:30 UAV performance was expected to be released at 9 minutes and 08 minutes. First 1374 unmanned aerial vehicles will take off from the wall of the south gate and the extension area of the East and West, and gather to the South Gate in formation flying performance. The content will reflect Xi'an's most China, run Xi'an, new era, city tower, big wild goose pagoda, camel, 5. 1, 1374 and so on, each picture is beautiful and lifelike, let the people one Straight screaming, it's an unparalleled show.
    Why is it 1374 UAVS? It is said that the circumference of the Xi'an city wall is 13.74 km. In addition, the large-scale construction of Xi'an Ming wall is between Ming Hong and Wu seven to eleven years (1374-1378). Xi'an is the ancient capital of 13 dynasties, then, of which 74 UAVs will carry the red silk flying in the main hall performances, meaning the 74 signed "The Belt and Road" cooperation documents with China's national and international organizations and the development of prosperity.
    Is it particularly meaningful, especially exciting? This evening's UAV performance is likely to be a Guinness world record. It's a great pleasure and a pleasure to be here to share it with @jaffer to share the beautiful and perfect air performance party.
    Thank you for your reading. Your praise and support are my constant motivation to create.
    很早就听说西安在5月1日当天晚上8点半在南门城墙处将会上演1374架无人机表演秀。在万众期待中,城墙国际文化节蕴含劳动者的最朴实和善良的心愿,首秀就是无人机的光影盛典满载中华文化的魅力和西安古都的神韵。
让我们一起欣赏下全程的无人机表演,在西安南门的巨大盛典。。。
    今天还不到下午6点,城墙南门已经人山人海,西安市整个出动了武警和保安,为了维护当天晚上的秩序和保证游客人民的平安。最开始的是一段舞蹈表演,本来预计8点半的无人机表演在9点08分正式上映。首先1374架无人机将从南门城墙上以及东西延伸区域起飞,汇聚至南门上空编队飞行表演,内容将体现西安最中国、奔跑吧西安、新时代、城楼、大雁塔、骆驼、5·1、1374等图案数字,每幅图片都美轮美奂,栩栩如生,让众人一直尖叫不停,真是一场无与伦比的盛典玩会。
    为什么是1374架无人机呢?据说是因为西安城墙周长为13.74千米,另外,西安明城墙大规模筑城工程是在明洪武七年至十一年(1374-1378)间。西安还是13朝古都,届时,其中74架无人机将载着红丝绸在主会场表演飞行,寓意74个与我国签署"一带一路"合作文件的国家和国际组织同发展、共繁荣。
    是不是特别的有蕴意,特别的让人激动人心。今晚的无人机表演有可能是一个吉尼斯世界纪录,真开心和荣幸能够在这里一起见证,在这里@jaffer分享给大家,让我们一起共享这个美丽而又完美的空中表演晚会。
    感谢你的阅读,你的点赞和支持是我一直坚持创作的动力。
My video is at DLive