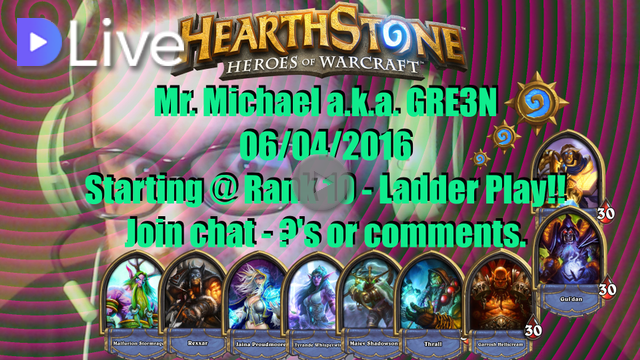 Hello gamers!
It has been a long day for me. I had to get my car towed from work, just finished my food from lunch time, had to get a ride home and now its time to relax and forget life's roller-coasters with some ranked Hearthstone!! lol
I'm back starting @ rank 10!
Let's see what the HS gods have in store for me this season.
I will be playing Druid and Warrior in the beginning, if they do the trick i'll continue to push the ranks, if not I will be trying other heroes as well. Lets see what the meta throws at me this time.
Any questions or comments please join chat!!
What decks and heroes do you like this meta??
I'm ready for the next expansion already, are you!?
---
http://www.mrmichaelsclothing.com
See the link above, plug in your e-mail address. I am working very hard on launching an awesome clothing store full of shirts and hoodies for men & woman to enjoy! All designed by me. :) When it launches everyone who has put in there e-mail will be notified.
THANK YOU SUPPORTERS!!!
Everyone who supports my streams will not be forgotten, I have a lot planned, stay tuned!!!!
Some of my Art on instagram, follow me:
underscoregre3nunderscore
Steemit Blog:
http://www.steemit.com/@gre3n
Discord:
gre3n#3058 - Feel free to add me as a friend.
As always,
Work hard, stay humble and Steem & D-Live on!!
Never give up, keep pushing, even when your goals seem impossible, stay positive and continue forward. When you finally strike gold, when things start to finally go your way (no matter what your striving for), the feeling of accomplishment is one of the best feelings you will ever feel.
My live stream is at DLive