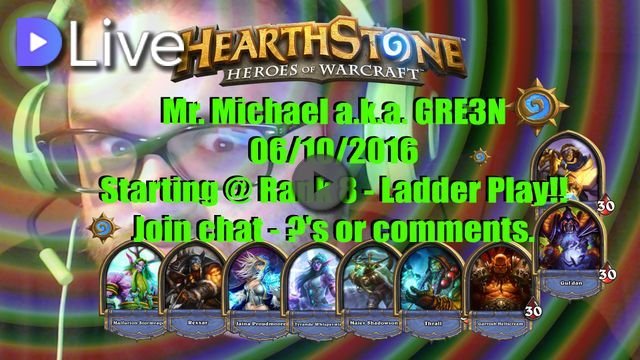 Hello Gamers!!
I am back a little early today, I need to Hearthstone. Still a lot of time left in this months season. I am starting at Rank 8 this stream.
I am going to try my luck with Druid, Warrior & Warlock. I will dabble with some other heroes as well. I added HS Deck tracker to the stream, so you all can see exactly what I am playing.
If you have any questions about the game or comments, join me in the chat! I will be checking both chat and the main Steemit blog post page for this stream.
---
THANK YOU SUPPORTERS!!!!
Everyone who supports my streams & blog will not be forgotten, I have a lot planned, stay tuned!!!! (All proceeds are funding designs, t-shirt creation and art projects.)
Discord:
gre3n#3058 - Feel free to add me as a friend.
My Links:
http://www.steemit.com/@gre3n/
https://www.instagram.com/gre3n/
https://dlive.io/@gre3n/
http://www.mrmichaelsclothing.com
The link above is my online store for my new clothing brand launching soon!! Please check it out, and don't forget to submit your e-mail!!
MMC Links:
https://www.facebook.com/mrmichaelsclothing/
https://www.instagram.com/mrmichaelsclothing/
As always,
Work hard, stay humble and Steem & D-Live on!!
Never give up, keep pushing, even when your goals seem impossible, stay positive and continue forward. When you finally strike gold, when things start to finally go your way (no matter what your striving for), the feeling of accomplishment is one of the best feelings you will ever feel.
My live stream is at DLive