[Changes!] Stream Schedule - Week 20 (14/05-20/05)
A new week, a new week of DLive streams!
First of all I want to congratulate the winners and thank all the participants of the giveaway last week. Hope you all had a blast just like me. I will do another giveaway once I reach 600 followers!
This week we're going back to a classic streaming schedule. So, like always, come check me out if you find any of these games interesting.
Have a great week!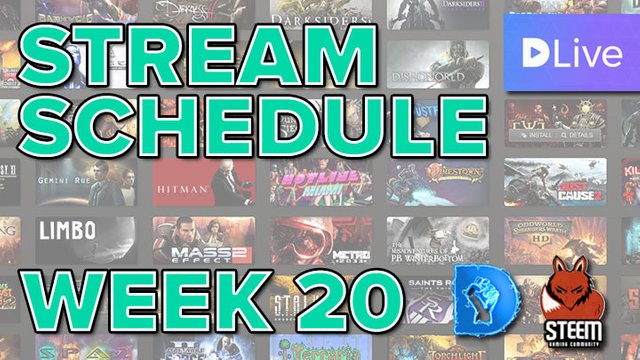 Stream Schedule Week 20
This is the stream schedule for week 20 (14h of May- 20th of May). All times are CET or UTC+1:
14/05: Darwin Project (14:00-16:00)
15/05: Throwback Tuesday: Morrowind Overhaul (19:00-21:00)
16/05: Hunt: Showdown (20:00-22:00)
17/05: No stream
18/05: Dark Souls 3 DLC (13:00-15:00)
19/05: No stream
20/05: No stream
And last, but not least, a big shoutout to the SteemGC and DUnite communities. If you want to meet fellow Steemit gamers, make sure to check out the SteemGC Discord channel or DUnite Discord channel!