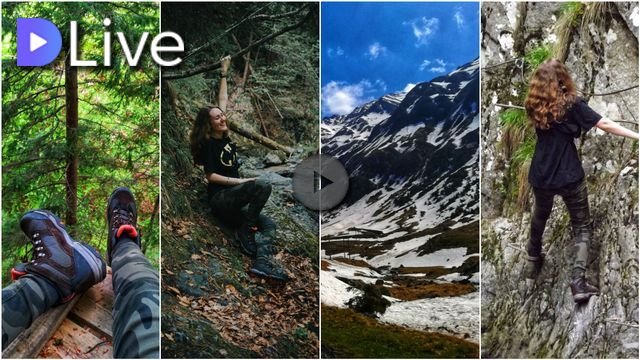 This one of THE MOST exciting circuits I've been through! I swear!!!
No..really now.
Valea lui Stan (Stan's Valley) is one of the most fascinating trail you could enjoy in the beautiful mountains from Romania, and this time is about Fagaras Mountains.
This beautiful journey is not too difficult if we look at all the issues as there are like 5-6 hours the whole circuit - just the medium level for an interesting adventure (not too short but not too long as well), a total of 14km climbed & walked, around 5 times when you will pass over the water and another 5 times when you will climb the stones with the water under your feet, lots of resistant ladders, wires and hooks made of metal and ready to sustain your weight and actually not to only one person but to an entire group of 20-30 people.
The whole circuit will bring to your attention no less than 4 majestic waterfalls, lots of pools, a peaceful glade where you can take a break and a dam with a grandious view to the Vidraru Lake.
What's even more interesting is that to some people which are adrenaline addicts, they tend to add some more activities like diving under the waterfalls and taking a fresh cold bath which I love and I definitely need to try this someday!
Going back to the difficulty of this route..there is none, or almost none - because the whole effort you need is in your arms to hold these hooks and wires and A LOT of attention to where you place your foot before you make the next move. And I'm not kidding. When I firstly visited this place I have fallen from a stone because my boots where wet and I didn't pay enough attention, so better don't rush yourself and be very careful. There is only one part where you may get a little bit tired and that's when you start making your way to the glade because you will need to follow a trail through the forest on a fairly tilted surface which it takes around 30-40 mins.
I don't want to fill this post with too many details as I have already written about this HERE which I kindly invite you to read about it if you haven't already and then of course, to enjoy the video I have uploaded with the entire trip on Valea lui Stan.
As you might have already read, I loved this place way too much and I said that I definitely need to return here one day but with more people so that's how I decided to celebrate my birthday. Yes, my b-day, because I can't stay away from the mountains and adventure not even on this special day, I decided that together with a beautiful group of friends to spend a night here and enjoy the wonderful circuit together. Which bi the way, is one of the most arranged mountain trails from Romania.
You can see my first adventure to this place HERE;
The day when I returned to Valea lui Stan and how I celebrated my b-day HERE;
And the link to the video on YouTube in case that it doesn't load on @dlive, down below:

The video was recorded with my old camera, the very first GoPro released which is around 8 years ago.
Edited in: Videopad Editor
I want to say sorry for the shaky video, the camera doesn't have any stabilization included and that's pretty hard for me being always in the movement. But I'm still saving and hoping that one day I can buy a proper stabilizator so my videos will be easier to be watched.

All rights reserved.

You can find me on:
↪ DLive: https://dlive.io/@gabrielatravels
↪ Steemit Blog: https://steemit.com/@gabrielatravels
↪ Discord: GabrielaTravels#0104
↪ Facebook: https://www.facebook.com/gabrielaistraveling/
↪ YouTube: https://www.youtube.com/gabiivdesign
↪ Instagram: https://www.instagram.com/gabriela.tv/
↪ PayPal/Contact: gabriela.valceanu19@gmail.com
My video is at DLive