Fugue State Audio - Monday Night Noise Session 008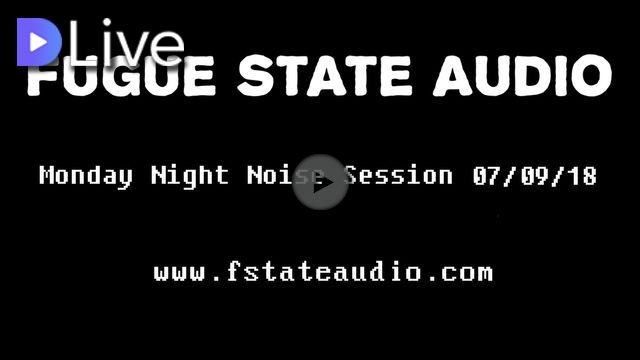 Welcome to the latest episode of Monday Night Noise Sessions! This is sort of a second take of MNNS 006, using a very similar setup, including de la Mancha's Erratic drum plug-in. This one also throws in an Android app called Granular and swaps out Buffer Synth 2 for a MIDI-controlled comb filter effect from Mutagene called Mukoco. I also swapped out the kick drum sample, and added some fx, EQ, & compression to the drums to make them stand out more. I'm much happier with this one.
If this is your first time here: Monday Night Noise Sessions are recorded live, using a mix of hardware and software. I lack the bandwidth to do a proper live stream, so the videos are pre-recorded, but no editing is done to the performance.
Further details:
Audio gear/software used:
Kurzweil K2000S
DIY modular (Lunetta-style CMOS and analog stuff)
Behringer Virtualizer Pro & Composer Pro
Yamaha EMP700
Alesis Midiverb & NanoCompressor
ADA S-1000 delay
Korg KP-1 Kaoss Pad
Novation Nocturn
Tapco MIX260fx (12 channel mixer)
Android tablet running Granular
Plogue Bidule (VST host/DAW) with following plugins:
Subtek CMX844 (VST mixer)
Tiny God Heartburn (VSTi)
de la Mancha Erratic (VSTi)
Mutagene Mukoco
Cockos ReaEQ
Cockos ReaComp
SimulAnalog Ob PS-1
SimulAnalog Tube Screamer
Negspect Atlantis Filter
Smartelectronix Cyanide 2
ArcDev ET-301
DashSignature Morphing Delay
Audio Damage Rough Rider
Airwindows Density
Nomad Factory Bus Driver
Variety of Sound EpicVerb
JB Barricade
Voxengo SPAN
Video was captured with OBS, titles and waveform display added in kdenlive. The visualizer in the corner is VSXu: http://www.vsxu.com/
My video is at DLive