Fugue State Audio - Monday Night Noise Session 002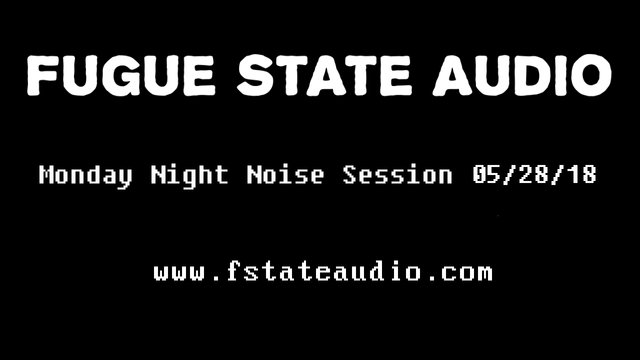 Second episode of Monday Night Noise Sessions, recorded "live", no editing (I lack the bandwidth to do a proper live stream). Audio is a mix of hardware and software. Video is an OBS screen capture of the program I was using to generate/process the sound (Plogue's Bidule), with VSXu providing additional visuals.
This time around, it's a bit of drone that gets noisier towards the end.
Further details:
Audio gear/software used:
Kurzweil K2000S
Casio CZ-1000
DIY modular (Lunetta-style CMOS and analog stuff)
Korg KP-1 Kaoss Pad
Behringer Virtualizer Pro & Composer Pro
Yamaha EMP700
Alesis Midiverb & NanoCompressor
ADA S-1000 delay
Tapco 12 channel mixer
Plogue Bidule (VST host/DAW) with following plugins:
Humanoid Sound Systems Scanned Synth Pro
ConcreteFX Kubik
TAL Bassline
Signaldust Dust EQ
Cockos ReaEQ
OhmForce Frohmage
Nomad Factory Bus Driver
Tiny God Tiny Chorus
MDA ThruZero Flanger
Variety of Sound EpicVerb
Kjaerhus Classic Delay
Voxengo Vintage Modulator, SPAN
JB Barricade
Video was captured with OBS, titles added in kdenlive. The visualizer in the corner is VSXu: http://www.vsxu.com/
My video is at DLive