Fugue State Audio - Monday Night Noise Session 004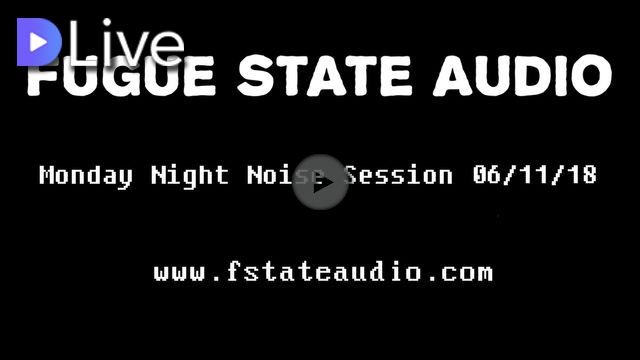 Welcome to the latest edition of Monday Night Noise Sessions! Most of the sounds in this one come from the hardware side of my setup. There is a drone from the K2000S which is mostly there to prop up the low end, while the Lunetta-style modular (plus an analog filter) is doing much of the rest. If you aren't familiar with Lunettas, it's basically very simple synth modules made from CMOS logic chips. Mine has appeared in every one of this Monday Night Noise videos so far. The only other sound source is Tiny God's Heartburn VSTi. I also switched out the standard Bidule mixer for Subtek's CMX844, so that I can use my Nocturn to control levels. I've actually been using the Nocturn for one thing or another in all of these, I just kept forgetting to list it.
I did find some new video stuff to play with, but I wasn't really happy with the stuff I was getting from it, mostly because I had no idea what I was doing. :) So, yet again, visual effects are provided with VSXu.
If this is your first time here: Monday Night Noise Sessions are recorded live, using a mix of hardware and software. I lack the bandwidth to do a proper live stream, so the videos are pre-recorded, but no editing is done to the performance.
Further details:
Audio gear/software used:
Kurzweil K2000S
DIY modular (Lunetta-style CMOS and analog stuff)
Behringer Virtualizer Pro & Composer Pro
Yamaha EMP700
Alesis Midiverb & NanoCompressor
ADA S-1000 delay
Novation Nocturn
Tapco 12 channel mixer
Plogue Bidule (VST host/DAW) with following plugins:
Subtek CMX844 (VST mixer)
Tiny God Heartburn (VSTi)
Cockos ReaEQSimulAnalog Univibe
DestroyFX BufferOverride
DashSignature Morphing Delay
Nomad Factory Bus Driver
Kjaerhus Classic Delay
Variety of Sound EpicVerb
JB Barricade
Voxengo SPAN
Video was captured with OBS, titles added in kdenlive. The visualizer in the corner is VSXu: http://www.vsxu.com/
My video is at DLive