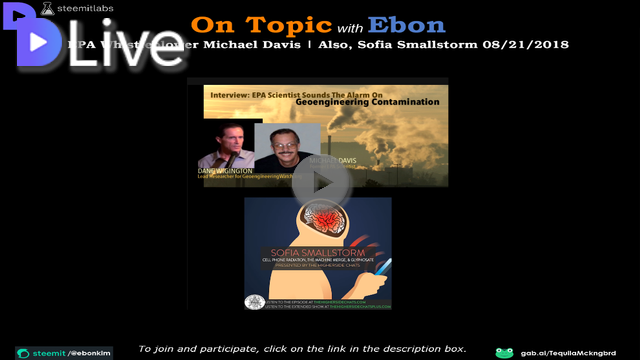 On Topic with Ebon | EPA Whistleblower Michael Davis | Also, Sofia Smallstorm 08/21/2018 Part 2.
Links:
Interview: EPA Scientist Sounds The Alarm On Geoengineering Contamination (Dane Wigington):

Sofia Smallstorm | Cell Phone Radiation, The Machine Merge, & Glyphosate
(TheHighersideChats):

Join from PC, Mac, Linux, iOS or Android: https://zoom.us/j/428164321
Or iPhone one-tap:
US: +16699006833,,428164321# or +16465588656,,428164321#
Or Telephone:
Dial(for higher quality, dial a number based on your current location):
US: +1 669 900 6833 or +1 646 558 8656
Meeting ID: 428 164 321
International numbers available: https://zoom.us/u/V6xQ7cEO
---
I have been spending a lot of time on activism, and I'm working on software on the side. If you can do so, please donate what you can so I can continue doing what I am doing without interruption. Thank you!
Ebon's Patreon Page:
https://www.patreon.com/EbonKim
Donate to Ebon via Cryptocurrency (VTC is my coin of choice for now):
Bitcoin - 1ApKJB4QqnpkEfcf3eFs4N7aZAXx7wMsa8
Vertcoin - VukY5pQ9rt9VX8yj5xTs598nzGzJtYWyWn
Contact me via e-mail: ebonkim@protonmail.com
Please subscribe and follow me on my main and back-up YouTube channels for my livestreams:
Ebon Kim:
https://www.youtube.com/user/ebonkim/videos
Tequila Mockingbird:
https://www.youtube.com/channel/UCnjuqVOyDwc8N7v5ALLmhLQ/videos
I will also be using DLive for livestreaming and uploading, as well as uploading to this account for any livestreams on my other channel.
Steemit:
https://steemit.com/@ebonkim
DLive:
https://dlive.io/@ebonkim
DTube:
https://d.tube/#!/c/ebonkim
GAB:
https://gab.ai/TequilaMckngbrd
Twitter:
https://twitter.com/TequilaMckngbrd
Bitchute:
https://www.bitchute.com/channel/tY09uJ6T19dM/
Minds:
https://www.minds.com/TequilaMckngbrd
Anyone who tries to disrupt the conversation, or take away another's right to free speech, will be kicked out. Those who personally attack others will be warned, timed out, and finally banned, if the behavior persists.
My live stream is at DLive