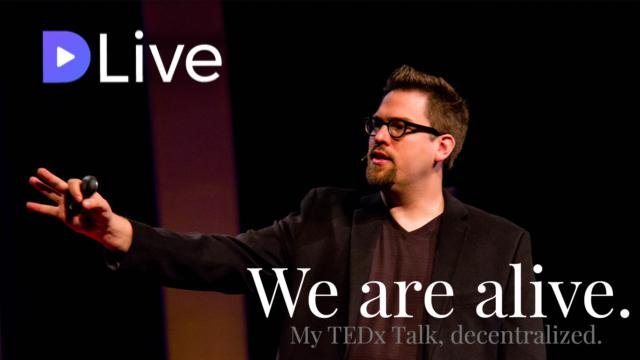 Around the tubes down his throat, he mouthed three words to me: "We are alive." 17 years ago today, my life changed forever.
Filmed in 2013 at TEDxSBU, this is the entire decentralized TED Talk that I delivered about taking creative risks, valuing life, and doing something that matters.
I have decided to decentralize this speech I gave. Twenty thousand people have had a chance to watch it on YouTube, and most of those have been exposed to a commercial on that network. The words and images are mine, and the recording was streamed live on the Livestream network, as well as on the TEDx website. The edited version has been available for nearly five years, and is available with a standard YouTube license. I believe this is fair use, but I'd be happy to have a conversation with you about that.
While I am very grateful for the TED corporation, I just don't want people who are watching my story to be exposed to unrelated advertising; the profits from which go to a private corporation.
A few quotes from the speech, in case you want to skip around:
0:11 "We hit that tree with the sound of lightning."
0:37 "My dad had a decision to make. If he went one degree to the left, I would probably be dead today."
2:13 "His eyes blinked open, like he was seeing the light of day for the first time."
2:27 "Then he said three words that I'll never forget: 'Are we dead?'"
4:08 "He said another three words that changed the rest of my life. But he said them around two-inch tubes that were going down his throat to keep his lungs inflated. He mouthed to me, 'We are alive.'"
4:45 "I blinked my eyes open that day ... and I've devoted myself ever since – and for the rest of my life I devote myself – to things that matter."
10:38 "Don't die before you're dead. Don't settle."
14:13 "All of the amazing things you've done – they make up your wingsuit. So, when you're standing on a metaphorical cliff, looking out over the world, you don't have to worry, because this wingsuit is there... You can fail, but you're not going to fall. You've got this wingsuit underneath you. Leap!"
16:54 "Creativity can heal us. Creativity can inspire us every day to blink our eyes open – it inspires me to get out of bed in the morning."
17:08 "Listen to your own music as if you've never heard it before."
Let me know what you think about decentralization, life, creativity, death, and anything else.
Take good care, and catch you on the flip side.
We are alive!
My video is at DLive