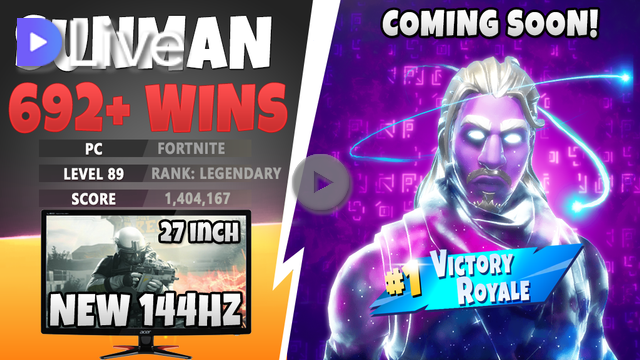 We need about 8 more wins in total to complete yet another milestone of about 700 Total Wins! tbh I never thought I would reach that number after playing 2.8 Seasons. Its literally Insane!!
Very soon I will have the Galaxy Skin so until then be patient :D
WEDNESDAY AND THURSDAY I MOST LIKELY WILL NOT BE STREAMING BECAUSE OF MY WORK SCHEDULE.
---
Thank you for Watching my Stream
Don't forget to VOTE & FOLLOW for more Awesome Streaming Content :)
Thank you for Donating :) I really Appreciate it!

~Ingame Stats~
21.00% Winrate
3.61 K/D
508 SOLO WINS
107 DUO WINS
77 SQUAD WINS
11,855 Kills
TRN Rating: 4.969
~PC Specs~
i5-4460 CPU @ 3.20GHz
AMD Radeon (TM) R9 380 Series
RAM 8.0 GB
Cam: Razer Kiyo
Mice: Razer Deathadder Chroma
Headset: Razer Electra V2
Monitor: Acer Predator GN276HL - 27 Inch
---
If you wanna play with me add me on Fortnite: Dlive.io_Sunman and hit me up ;)
---
Atm I'm Saving up for Second Monitor :) Thank you for your Contribution so far!
https://fundition.io/@beyondthecrypto/bipdf6nrr
---
Timezone: (Central European Time Zone)
These are my Streaming Hours (GMT+2):
Monday: | 2:00🇵ᴍ- 8:00🇵ᴍ |
Tuesday: | 2:00🇵ᴍ - 8:00🇵ᴍ |
Wednesday: No Stream
Thursday: | 2:00🇵ᴍ - 8:00🇵ᴍ |
Friday: | 2:00🇵ᴍ - 8:00🇵ᴍ |
Saturday: | 11:00🇦ᴍ - 7:00🇵ᴍ | (Midday Break 1 Hour) |
Sunday: | 11:30🇦ᴍ - 7:00🇵ᴍ | (Midday Break 1 Hour)
My live stream is at DLive