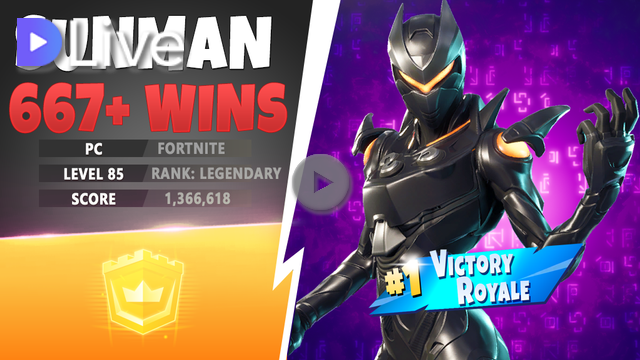 I LOVE THIS PURPLE CUBE! :D Fingers crossed for the Dlive Campaign :) Today i will only stream till 6pm GMT+2 because i have to go somewhere early and so i started streaming earlier today.
---
Thank you for Watching my Stream
Don't forget to VOTE & FOLLOW for more Awesome Streaming Content :)
Thank you for Donating :) I really Appreciate it!

~Ingame Stats~
21.00% Winrate
3.51 K/D
485 SOLO WINS
106 DUO WINS
76 SQUAD WINS
11,552 Kills
TRN Rating: 4.949
~PC Specs~
i5-4460 CPU @ 3.20GHz
AMD Radeon (TM) R9 380 Series
RAM 8.0 GB
Cam: Razer Kiyo
Mice: Razer Deathadder Chroma
Headset: Razer Electra V2
---
If you wanna play with me add me on Fortnite: Dlive.io_Sunman and hit me up ;)
---
Atm I'm Saving up for Second Monitor :) Thank you for your Contribution so far!
https://fundition.io/@beyondthecrypto/bipdf6nrr
---
Timezone: (Central European Time Zone)
These are my Streaming Hours (GMT+2):
Monday: | 2:00🇵ᴍ- 8:00🇵ᴍ |
Tuesday: | 2:00🇵ᴍ - 8:00🇵ᴍ |
Wednesday: No Stream
Thursday: | 2:00🇵ᴍ - 8:00🇵ᴍ |
Friday: | 2:00🇵ᴍ - 8:00🇵ᴍ |
Saturday: | 11:00🇦ᴍ - 7:00🇵ᴍ | (Midday Break 1 Hour) |
Sunday: | 11:30🇦ᴍ - 7:00🇵ᴍ | (Midday Break 1 Hour)
My live stream is at DLive