Custom Camaro With Insane 32-Inch Wheels | RIDICULOUS RIDES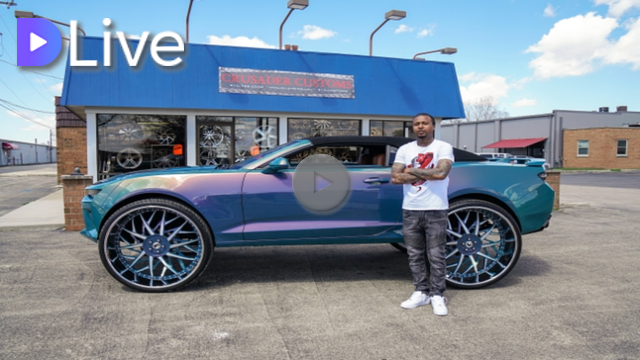 Hi Steemians and Dlivers,
Car fanatic Corey Jones has customised a brand new Chevrolet Camaro with a giant set of 32- inch wheels.
Featuring ultra-fine leather seats, three speakers and two 27-inch TV's in each door, Corey's latest design boasts a convertible top that can be manoeuvred with an Xbox One controller.
36-year-old Corey resides in Illinois and has managed Crusader Customs for the past 10 years, building all sorts of outlandish custom rides.
But his latest masterpiece is by far the most extravagant yet, turning heads wherever it goes.
Corey told Barcroft TV: "This car is internationally known from every country, to everybody.
"You don't see too many 32s, especially on a Camaro.
"It's a 2016 Camaro with a custom paint job and modified suspension for the wheels. Basically, it's just a fun car and something that a lot of us love to do."
Corey's inspiration for such original designs started when he was a young boy watching the low-riders on TV.
"I've had a passion for cars ever since I can remember", he said.
"Once I got a little older, I bought my first vehicle and started making some money. I just started doing crazy stuff.
"Now, I use the car as if it's one of my toys. And it's awesome to have a toy that I can get in and drive around for real."
Despite the size of the rims, the car maintains a respectable horsepower of 325.
Corey said: "I'm more than satisfied with the performance of the car too.
"People should see that everything is custom. I got the wheels painted to match the car.
"The doors don't even have handles – I have little buttons on the inside that I push and pop them open.
"And the interior has the two-tone peanut butter leather, some of the most expensive leather you can get."
Corey and his Crusader team put a lot of time and money into bringing their initial design ideas to life. And Corey remains hesitant to reveal the exact worth of the car now.
He said: "The money I spent, that was a lot. I bought the car in the first place.
"But I try not to keep track. When you do something you love, the money really doesn't matter.
"It's just fun. When you're out there on the street and have a car sitting up like a truck – no matter how people look at it, you're going to stand out.
"I mean, you wouldn't believe how much hate I get for it sometimes, being a sports car. Some people will love it, others won't.
"But the most important thing is that you, yourself, appreciate what you have built."
Enjoy!
Barcroft Team
My video is at DLive