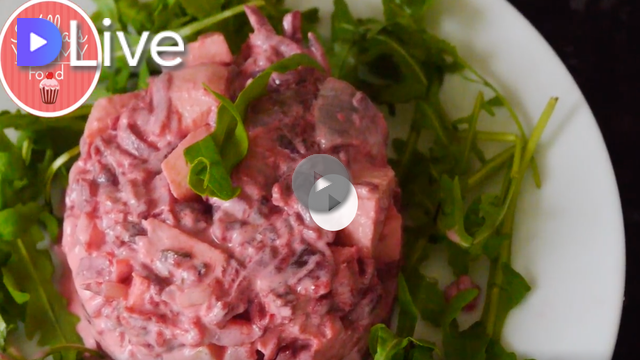 This is a really delicious fresh apple, beetroot and herring salad. It is not very common and you have probably never tried this combination, but it really works. You have the sweetness from the beetroot, saltiness and mildness from the herring and that tartness from the green apple. Green apples add the crunch to this salad and all ingredients work really well together. You can have this in summer and winter.
Ingredients :
2-3 large cooked beetroots
2-3 pieces of marinated herring ( can use already in a cream sauce)
3 green apples
Mayo (1-2 tbsp)
Salt & Pepper per taste
Directions:
Step 1 : Boil your beetroot in advance. It takes 40 min to boil beetroot in simmering water. Or you can buy store bought ones. Grate your beetroot into a large bowl and set aside.
Step 2: Chop and peel your green apples and cut into small pieces.
Step 3 : Chop your herring into small pieces and add into the beetroot together with the apple.
Step 4 : Add mayo, season it well and mix everything together.
Step 5 : Serve with rocket or spinach salad and enjoy fresh.
My video is at DLive