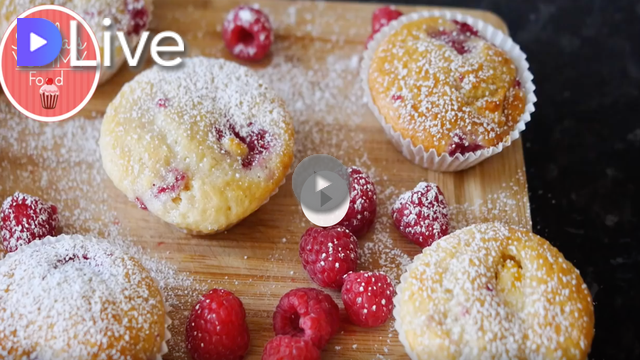 The freshness of the raspberries beautifully complement the scrummy white chocolate. A great combination fo ingredients all within one scrummy muffin!! Made these for my friends and they just loved them! I find that it's best if you keep the white chocolate in large chunks as this tastes best once cooked. Makes approx. 12 muffins. The white chocolate and raspberries compliment each other beautifully in these tasty muffins.
Ingredients
200 gr OR 1.5 cups of plain flour
100 gr OR 1/2 cups sugar
200 gr OR 1 cup brown sugar
2 teaspoons baking powder
½ teaspoon salt
1 eggs
125 ml OR 1/2 cup buttermilk
45 ml OR 1/4 cup oil
1/2 teaspoon vanilla
50-100 gr OR 1 cup white chocolate disks (or chunks)
125 gr OR 1 cup fresh raspberries
Directions
Step 1: Preheat your oven to 190 C / 375 F.
Step 2 : Line muffin tins with cupcake paper liners and set aside.
Step 3: Whisk together dry ingredients in a large bowl.
Step 4: In another bowl, whisk together eggs, buttermilk, oil and vanilla. Add liquid mixture to dry ingredients and mix with a spoon or rubber spatula until just combined.
Step 5 : Carefully fold in white chocolate and raspberries.
Step 6 : Fill each muffin 2/3 of the way. Bake for 15-20 minutes or till toothpick inserted in center comes out clean.
Step 7 : Cool down for a 5-10 minutes, then remove to wire rack to continue cooling.
My video is at DLive